Death toll from attack on Mali herders rises to 157
DAKAR (Reuters) - The death toll from Saturday's attack by unknown gunmen on villagers in central Mali has risen to 157, a government spokesman said on Tuesday, confirming it as one of the worst recent atrocities in a country beset by ethnic violence. The attack took place as a U.N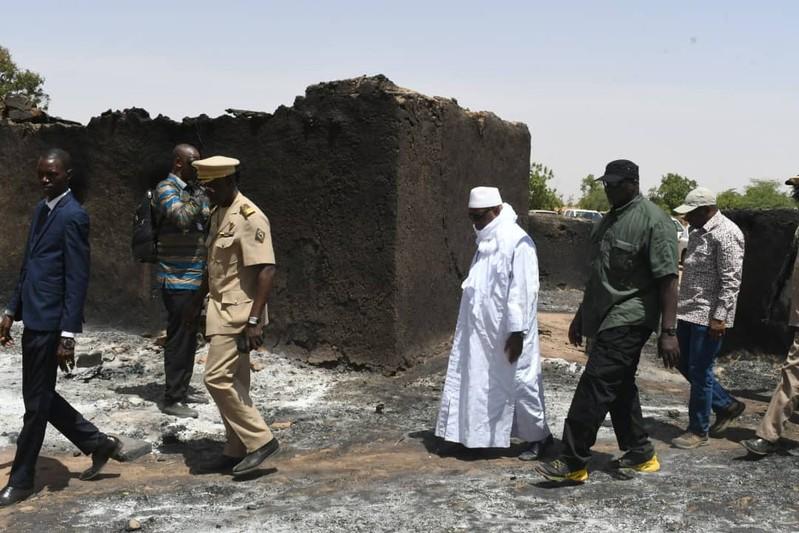 DAKAR (Reuters) - The death toll from Saturday's attack by unknown gunmen on villagers in central Mali has risen to 157, a government spokesman said on Tuesday, confirming it as one of the worst recent atrocities in a country beset by ethnic violence.
The attack took place as a U.N. Security Council mission was visiting the West African gold-producing country to seek solutions to violence that has killed hundreds of civilians last year and is spreading across West Africa's Sahel region.
An official from a nearby town said on Saturday that armed men, dressed as traditional Donzo hunters, attacked villages populated by rival Fulani herders, many of whom they suspect of harbouring Islamist extremists - charges the Fulani deny.
The attack came less than a week after a deadly assault by jihadists on an army post killed at least 23 soldiers, also in Mali's central region. That attack was claimed by an al Qaeda affiliate.
"The official death toll is 157," said government spokesman Amadou Kotia. Officials on Saturday said that about 134 had been killed, though they expected that number to rise.
Jihadist groups linked to al Qaeda and Islamic State have exploited ethnic rivalries such as those between Fulani and Donzo in Mali and its neighbours Burkina Faso and Niger in recent years to boost recruitment and render vast swathes of territory virtually ungovernable.
French forces intervened in Mali, a former French colony, in 2013 to push back a jihadist advance from the desert north but the militants have since regrouped and expanded their presence into central Mali and the neighbouring countries.
Some 4,500 French troops remain based in the wider Sahel, most of them in Mali. The United States also has hundreds of troops in the region.
(Reporting by Tiemoko Diallo; Writing by Edward McAllister; Editing by Sandra Maler)
This story has not been edited by Firstpost staff and is generated by auto-feed.
World
BAGHDAD (Reuters) - Rockets hit near U.S. forces and contractors in Iraq on Wednesday, including an air base north of Baghdad and a military base at Baghdad International Airport, the Iraqi army and security officials said. The army reported at least three rockets hit Balad air base, where U.S
World
By Silvia Ognibene and Silvia Aloisi FLORENCE, Italy (Reuters) -Italian police have arrested a Chinese couple accused of running a leather goods business which exploited immigrant workers it employed to make handbags for a Burberry supplier, according to an arrest warrant seen by Reuters. Tax police in Florence said in a statement that the two Chinese nationals were arrested on Wednesday as part of an investigation into alleged labour exploitation and tax fraud and that restrictive measures had been imposed on two other family members, including a ban on them leaving Italy
World
WASHINGTON (Reuters) - The United States on Wednesday blacklisted four Nicaraguans, including a daughter of President Daniel Ortega, as Washington warned it would continue to use diplomatic and economic tools against members of the leftist government engaged in repression. The U.S. State Department called on Ortega to release detained presidential candidates as well as other civil society and opposition leaders arrested over the past week in what Washington called "an increasing wave of repression." "There are costs for those who are complicit in the regime's repression.