Days after Helsinki summit, Russia shows off Putin's 'super weapons'
MOSCOW (Reuters) - Russia on Thursday broadcast a series of videos showing the testing and operation of a new generation of nuclear and conventional weapons, days after Vladimir Putin and U.S. President Donald Trump discussed how to avoid an arms race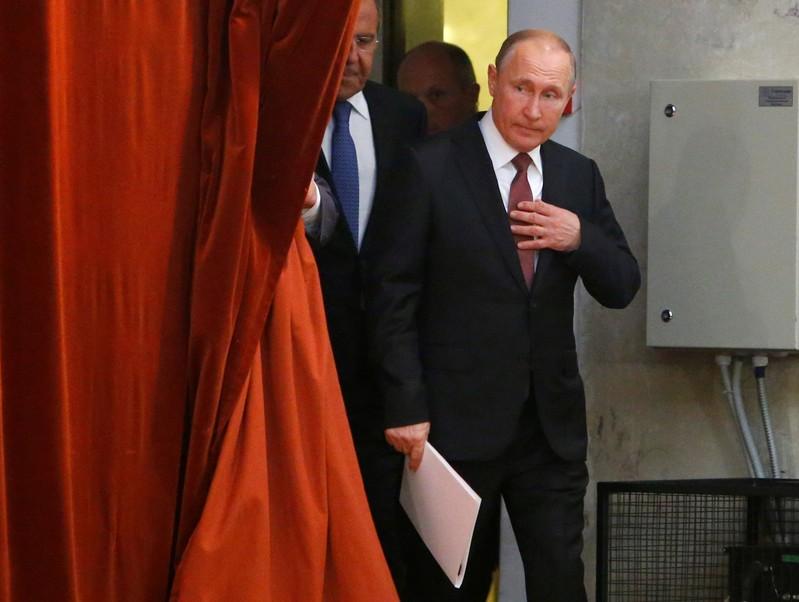 MOSCOW (Reuters) - Russia on Thursday broadcast a series of videos showing the testing and operation of a new generation of nuclear and conventional weapons, days after Vladimir Putin and U.S. President Donald Trump discussed how to avoid an arms race.
President Putin announced an array of new nuclear weapons in March in one of his most bellicose speeches in years, saying they could hit almost any point in the world and evade a U.S.-built missile shield.
Both he and Trump, who held their first summit in Helsinki on Monday, have spoken of the need to avoid an arms race, and Putin has spoken of the urgent need to work to extend the new START strategic arms reduction treaty.
On Thursday, the Russian Defence Ministry aired Hollywood-style footage of many of the new weapons Putin unveiled in March being tested or in action.
It showed a Russian MiG-31 fighter jet taking off from an airfield carrying the new Kinjal hypersonic missile and then launching it while airborne.
MiG-31 jets which patrol the Caspian Sea have been armed with the Kinjal since April, the Interfax news agency reported.
The ministry also said it was preparing to conduct flight tests of a new nuclear-powered cruise missile, the Burevestnik or Storm Petrel.
The first footage of a live launch of the Avangard hypersonic missile, which Moscow says boasts "a glider manoeuvring warhead," was also aired along with a clip of the heavy Sarmat intercontinental ballistic missile. I
Putin's boasts about the new weapons have been greeted with scepticism in Washington, where officials have cast doubt on whether Russia has added any new capabilities to its nuclear arsenal beyond those already known to the U.S. military and intelligence agencies.
(Writing by Tom Balmforth; Editing by Andrew Osborn)
This story has not been edited by Firstpost staff and is generated by auto-feed.
Find latest and upcoming tech gadgets online on Tech2 Gadgets. Get technology news, gadgets reviews & ratings. Popular gadgets including laptop, tablet and mobile specifications, features, prices, comparison.
Business
By Jessica Resnick-Ault NEW YORK (Reuters) - Oil prices strengthened on Wednesday, as OPEC and its allies were seen complying with a pact to cut oil supply in September, even as concerns loomed that recovery in fuel demand will be stalled by soaring global coronavirus cases. Early in the day crude was boosted by a bullish stock market. Even as equities whipsawed on pandemic worries, oil stayed higher, buoyed by expectations that OPEC could staunch a supply glut
Business
By Tina Bellon and C Nivedita (Reuters) - Tesla Inc will further cut the price of its Model S "Long Range" sedan in the United States to $69,420, the electric carmaker's chief executive, Elon Musk, announced in a tweet https://bit.ly/2H0JCP0 on Wednesday. The anticipated drop marks the second time this week Tesla has cut the price for the high-end sedan, following a 4% cut of the Model S's price in the United States on Tuesday to $71,990.
World
By Jeff Mason DES MOINES, Iowa (Reuters) - Under siege over his handling of the novel coronavirus pandemic, President Donald Trump on Wednesday cited what he said was his son's mild bout of the virus as a reason why American schools should reopen as soon as possible. Trump made the comment about his son, Barron, as the president swept into Iowa on a mission to shore up support in battleground states that he won in 2016 but is in danger of losing to Democrat Joe Biden barely three weeks before the election. First lady Melania Trump announced in a statement earlier in the day that the virus that struck both her and her husband had also infected their 14-year-old son