Damascus condemns White Helmet evacuation as "criminal operation"
BEIRUT (Reuters) - The Syrian government on Monday condemned the evacuation of hundreds of Syrian White Helmet rescue workers and their families with the help of Israeli soldiers, calling it a 'criminal operation' undertaken by 'Israel and its tools'. The rescue workers and their families crossed out of Syria into the Israeli-occupied Golan Heights before arriving in Jordan over the weekend, fleeing an offensive by Syria and its Russian ally to take control of southwest Syria from rebels. Israel said it had helped with the evacuation at the request of U.S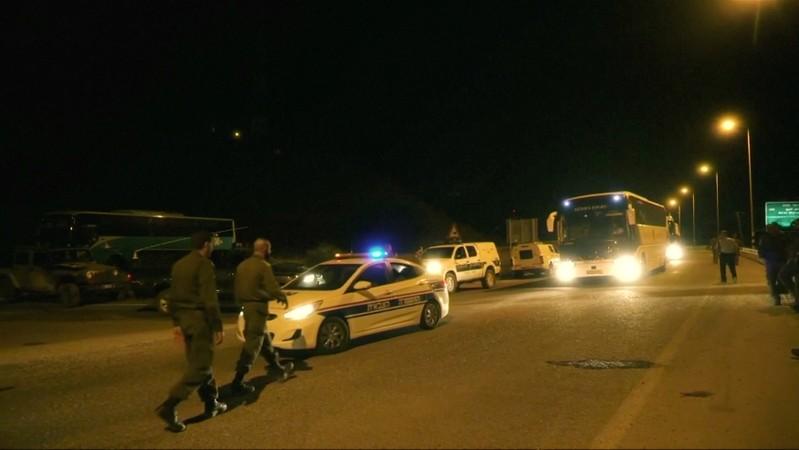 BEIRUT (Reuters) - The Syrian government on Monday condemned the evacuation of hundreds of Syrian White Helmet rescue workers and their families with the help of Israeli soldiers, calling it a "criminal operation" undertaken by "Israel and its tools".
The rescue workers and their families crossed out of Syria into the Israeli-occupied Golan Heights before arriving in Jordan over the weekend, fleeing an offensive by Syria and its Russian ally to take control of southwest Syria from rebels.
Israel said it had helped with the evacuation at the request of U.S. President Donald Trump and other leaders - and there had been fears that the rescue workers' lives were at risk.
The Syrian government has accused the White Helmets, also known as Syria Civil Defence, of being a Western-sponsored terrorist organisation. President Bashar al-Assad has called the White Helmets part of al Qaeda in Syria.
The White Helmets was established as a rescue service in rebel-held areas of the country, where its volunteers have often worked to save people trapped under the rubble of government bombardment.
Syrian state news agency SANA, citing a foreign ministry official, said the evacuation "exposed the true nature of the organisation known as the White Helmets", calling it a risk to stability and security "because of its terrorist nature".
The group said its people and buildings have been specifically targeted by the Syrian government and its allies throughout the more than seven-year-old war.
In a statement on Monday the group said during the southwest campaign four of its volunteers were killed and dozens injured, four White Helmet centres were hit and rescue vehicles were destroyed by Syrian government bombardment.
"Since our formation, 251 volunteers have been killed in the line of duty, the majority from 'double-tap strikes'," the group said.
The White Helmets said 98 male and female volunteers and 324 family members were now in Jordan, having travelled through the occupied Golan Heights.
As Assad has won back areas such as eastern Aleppo and Ghouta, the rescue workers have left on buses to rebel-held areas of the north as part of agreed surrender deals, along with fighters and civilians who fear a return of government rule.
In the southwestern campaign, however, the White Helmets said the deals agreed "did not include any guarantees of safe passage for displaced humanitarian workers to other areas of Syria", making the international evacuation necessary.
"It was the only alternative for our trapped volunteers who would otherwise have faced detention or death at the hands of the Syrian regime and its ally Russia," it said.
A Jordanian government source said the evacuees will be kept in a "closed" location in Jordan and resettled in Britain, Germany and Canada within three months.
A second non-Jordanian source said the original plan had been to evacuate 800 people, but only 422 made it out as operations were hampered by government checkpoints and the expansion of Islamic State in the area.
(Writing by Tom Perry and Lisa Barrington; Editing by Andrew Heavens and Ros Russell)
This story has not been edited by Firstpost staff and is generated by auto-feed.
Find latest and upcoming tech gadgets online on Tech2 Gadgets. Get technology news, gadgets reviews & ratings. Popular gadgets including laptop, tablet and mobile specifications, features, prices, comparison.
Business
By Jessica Resnick-Ault NEW YORK (Reuters) - Oil prices strengthened on Wednesday, as OPEC and its allies were seen complying with a pact to cut oil supply in September, even as concerns loomed that recovery in fuel demand will be stalled by soaring global coronavirus cases. Early in the day crude was boosted by a bullish stock market. Even as equities whipsawed on pandemic worries, oil stayed higher, buoyed by expectations that OPEC could staunch a supply glut
Business
By Tina Bellon and C Nivedita (Reuters) - Tesla Inc will further cut the price of its Model S "Long Range" sedan in the United States to $69,420, the electric carmaker's chief executive, Elon Musk, announced in a tweet https://bit.ly/2H0JCP0 on Wednesday. The anticipated drop marks the second time this week Tesla has cut the price for the high-end sedan, following a 4% cut of the Model S's price in the United States on Tuesday to $71,990.
World
By Jeff Mason DES MOINES, Iowa (Reuters) - Under siege over his handling of the novel coronavirus pandemic, President Donald Trump on Wednesday cited what he said was his son's mild bout of the virus as a reason why American schools should reopen as soon as possible. Trump made the comment about his son, Barron, as the president swept into Iowa on a mission to shore up support in battleground states that he won in 2016 but is in danger of losing to Democrat Joe Biden barely three weeks before the election. First lady Melania Trump announced in a statement earlier in the day that the virus that struck both her and her husband had also infected their 14-year-old son