On Thursday, America watched in horror as a sniper gunned down twelve police officers as they worked to protect a peaceful protest against police violence in Dallas, Texas. The terrifying scene was instantly captured and streamed online as protestors ran screaming in fear. With five officers dead and seven injured, this has become known as the deadliest incident for police since 9/11. The massacre ended with the bombing of the suspect following unsuccessful negotiations. Prior to his death, he expressed his frustration and anger with white people, and his desire to kill white cops.
Thursday's events were just the latest spat of violence, finishing off a week of bloodshed. Just one day after Americans celebrated their freedom, a black man, Alton Sterling, was held down on the ground and slain when an officer fired multiple shots into his chest and back following a concerned emergency call. It was later found that, while in possession of a firearm, Sterling had not touched it during the encounter and had been shot to death while effectively being bound by two officers. One of the officers involved in this incident had been in trouble in the past for shooting another black man.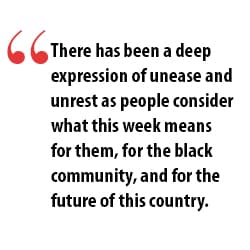 Only two days later, another black man named Philando Castile was shot while reaching for his wallet after informing a police officer during a traffic stop that he was licensed to carry a concealed weapon and that he had one in the car with him. His girlfriend who was in the car with him, along with her four year old child, were witness to his final moments – along with everyone watching her Facebook Live video stream, which captured her interaction with a police officer who held a gun on the car as her boyfriend died in the passenger seat.
As the week's events unfolded, reactions began to pour out on social media – fear, frustration, anger, and mourning were predominant. People called for solidarity and unity, grieved for the lost, and had important discussions about race in America. The video footage of the two police killings racked up millions of views. More than that, though, there has been a deep expression of unease and unrest as people consider what this week means for them, for the black community, and for the future of this country.
There has been an increase in warnings of the unsustainability of this culture of killing, calls to action to rise up and make a change, and calls for revolution that echo political activists in recent months. While some are calling for a revolution of love, others are calling for action, any action, that will create change in a society that has otherwise been stonewalling the black community for years in the face of an increasingly dangerous and unstable social environment. As the death toll increases, so does the frustration and the fear, and the very real need for serious and immediate change.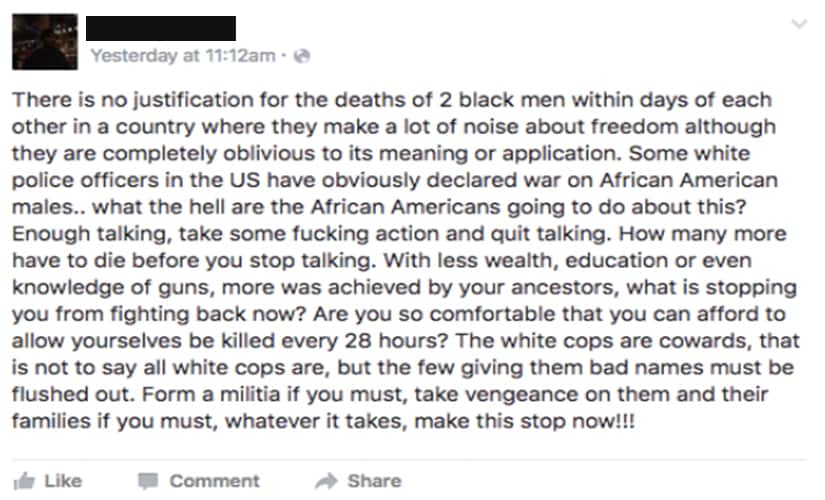 What is important to remember is that these events did not occur in a vacuum. America is no stranger to racial tension and has not, even after hundreds of years, managed to rid itself of the oppression, segregation, and discrimination that has plagued the black community (among several others) throughout this country's history. In 2014, riots in Ferguson, Missouri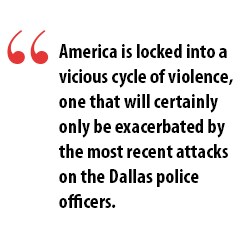 brought the Black Lives Movement to the national stage and sparked nation-wide protests and campaigns against police brutality and the grossly disproportionate killing of black people by authorities. According to one study, a black person is three times more likely to be killed by a police officer than a white person and that jumps up to five times if you compare unarmed black people with unarmed white people. Another study found that unarmed black men are at a staggeringly high risk – they are seven times more likely to be killed than unarmed white men, despite making up only thirteen percent of the US population. Police killed nearly a thousand people last year alone, and nearly 600 so far this year. The number of black people killed this year has already surpassed last year's total.
It is within this climate that the slaughter of the Dallas police officers must be viewed and mourned. Protesters and the black community have condemned the actions of the sniper and have asked the nation to remember that these were the actions of a single person and not representative of either them or the Black Lives Matter movement. Notwithstanding this, and evidence that the shooter was not affiliated with the movement, critics of BLM have already begun circulating petitions for naming the group a terrorist organisation, trashing the movement on social media, and using the hashtag #BlueLives to counter #BlackLivesMatter. At the same time, Bill Johnson, executive director of the National Association of Police Organisations, made a statement that police "feel unfairly painted with a broad brush", a response that, no matter how valid and true, can feel laughably ironic in the face of broad racial profiling. After Dallas, many were also quick to notice – and condemn – the lack of response from second amendment enthusiasts or the NRA (which has since offered a statement calling for a thorough investigation into the Minnesota shooting) in regards to Castile, even after releasing a statement in support of the Dallas police.
While issuing such a statement was absolutely correct, silence can sometimes be more deafening than words, and the silence of many of those outside the black community in the wake of the murders of Sterling and Castile was heard throughout the land this week, particularly in contrast to their outcry after Dallas.
Even taking down the suspect was not free from controversy and racial overtones, as many draw a parallel between this shooter and Dylan Roof.

As strong as the response has been calling for compassion and unity in these past few days, how America as a nation has responded, or failed to respond, to these atrocities might prove to be a bigger divide.
Only time will tell if the massacre in Dallas has brought tensions in this country past the point of no return. What we do know right now is that America is locked into a vicious cycle of violence, one that will certainly only be exacerbated by the most recent attacks on the Dallas police officers.
The author holds a Master's degree in Human Rights and is pursuing a Juris Doctor at Washington University School of Law. She tweets @at_ashmoore
Firstpost is now on WhatsApp. For the latest analysis, commentary and news updates, sign up for our WhatsApp services. Just go to Firstpost.com/Whatsapp and hit the Subscribe button.
Updated Date: Jul 09, 2016 15:16:36 IST