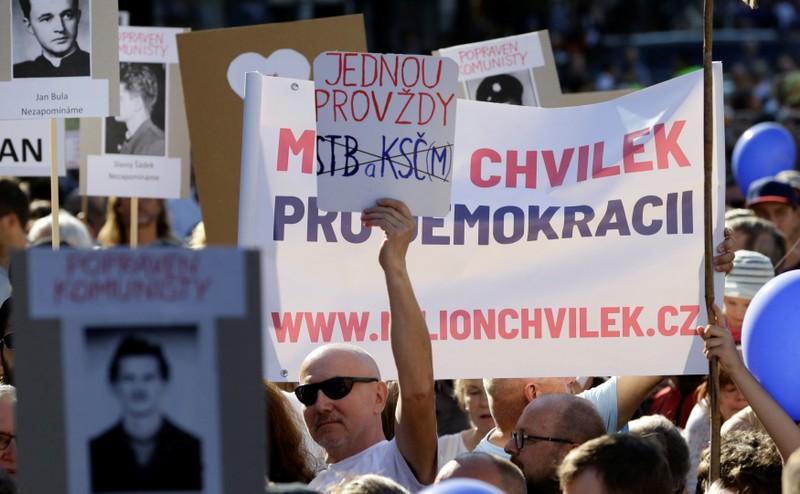 PRAGUE (Reuters) - Thousands of Czechs protested against Andrej Babis in dozens of cities on Tuesday, a day before his second appointment as prime minister and his second attempt at forming a government.
Babis and his ANO party won the most seats in parliament in elections last October but lacked a majority. He has run a caretaker administration since their minority government lost a no-confidence vote in January.
Other parties shunned ANO because Babis faced criminal charges dating back a decade. He denies the charges.
President Milos Zeman is due to appoint Babis prime minister again on Wednesday, after Babis reached an agreement on a coalition with Social Democratic party (CSSD). The agreement is now subject to a referendum among CSSD members. The result is expected in mid-June.
The two parties will only have 93 votes combined in the 200-seat lower chamber of parliament, so they will still need to lean on the Communist party for support.
The prospect of Communists, who ran Czechoslovakia's Soviet-era dictatorship before 1989, getting a share of power again sparked Tuesday's protests.
The largest crowd assembled in Wenceslas Square in downtown Prague, where people listened to speeches and songs criticising and mocking Babis over his past as a Communist party member.
"I don't care about politics at all really, but now I feel that it is necessary for the future of my children to go to the streets," Vaclav Bozdech, 56, told Reuters at the protest in Prague.
(Reporting by Jiri Skacel, writing by Robert Muller, editing by Larry King)
This story has not been edited by Firstpost staff and is generated by auto-feed.
Firstpost is now on WhatsApp. For the latest analysis, commentary and news updates, sign up for our WhatsApp services. Just go to Firstpost.com/Whatsapp and hit the Subscribe button.
Updated Date: Jun 06, 2018 03:05:33 IST