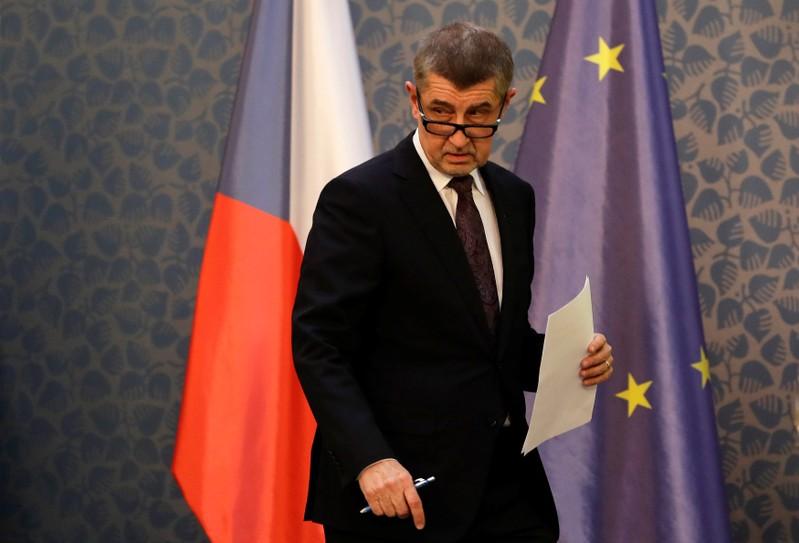 By Robert Muller
PRAGUE (Reuters) - Leaders of the centre-left Czech Social Democratic Party have agreed to return to talks with Prime Minister Andrej Babis's ANO party on forming a new government, they said on Friday.
The Czech Republic has lacked a fully-fledged government since an election in October gave the centrist ANO movement a victory which fell short of an overall majority in the lower house of parliament.
A one-party ANO minority cabinet lost a confidence vote in January and has ruled in a caretaker capacity since.
Most parties have refused to form a cabinet with ANO if Babis, the party's billionaire founder, remains as prime minister.
They cite conflicts of interest stemming from his business activities and police charges that he broke rules to qualify for a 2 million-euro European Union subsidy a decade ago. He denies any wrongdoing.
The Social Democrats (CSSD), who led the previous government with ANO but were trounced by the coalition partner in the election, walked away from previous talks with Babis earlier this month.
Babis has since conceded a key CSSD demand, the right to nominate the interior minister, and offered four other portfolios in the 15-member cabinet to bring the party back to the table, Social Democrat leader Jan Hamacek said.
The Social Democrats say that the interior minister position is necessary to guarantee Babis's party cannot interfere with investigation of the alleged fraud case.
Hamacek said the party leadership supported the decision with 14 to 5, with 7 abstentions, signalling unease about any deal, which would also have to win support in a party referendum.
"It was not an easy decision to make," Hamacek told reporters. "Restarting talks of course does not mean that we are entering the government."
He said the party wanted to prevent an alternative scenario of ANO seeking support from the Communists and the far-right, anti-NATO and anti-EU SPD party.
"Rejecting to negotiate would open the door to a government that would lean on the extremist SPD party and let's not have any illusions about what such arrangement would do to the Czech republic's reputation," Hamacek said.
ANTI-NATO
Still, a government of ANO and the Social Democrats would have only 93 votes in the 200-seat lower house, and the plan is to rely on support from 15 votes held by the Communist party in the initial vote of confidence.
It would be the first time the anti-NATO and pro-Russian party had enjoyed any share of power since the end of its one-party rule in 1989. But its strength has otherwise been in decline and its election results last year were its worst in the post-communist era.
The party has said it would pressure the government to change its foreign policy, for example by trying to reduce participation in foreign military missions without a United Nations mandate.
Babis has shown willingness to work with fringe parties but has insisted he will not alter the course of the EU and NATO member country's foreign policy.
(Writing by Jan Lopatka; Editing by Angus MacSwan)
This story has not been edited by Firstpost staff and is generated by auto-feed.
Firstpost is now on WhatsApp. For the latest analysis, commentary and news updates, sign up for our WhatsApp services. Just go to Firstpost.com/Whatsapp and hit the Subscribe button.
Updated Date: Apr 21, 2018 01:06 AM