Cyprus leader Nicos Anastasiades looks for allies ahead of presidential polls that could define peace talks with Turkish Cypriots
Incumbent Nicos Anastasiades will face Leftist-backed candidate Stavros Malas in a presidential runoff on 4 February, election results suggested on Sunday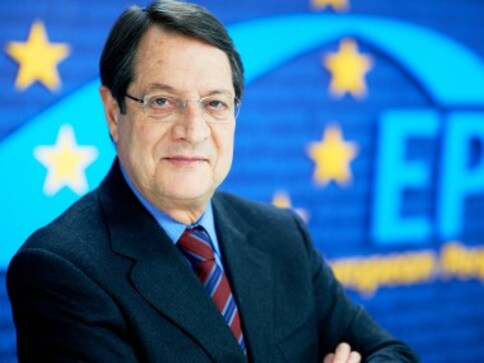 Athens: Incumbent Nicos Anastasiades will face Leftist-backed candidate Stavros Malas in a presidential runoff on 4 February, election results suggested on Sunday, in a race which could define whether peace talks with Turkish Cypriots can resume this year.
With around 85 percent of ballots counted, Anastasiades, 71, led Malas, 50, with centrist Nikolas Papadopoulos in third.
The top two candidates will have a week to try and win over the runners up, who have taken a harder line negotiating a peace deal to end a conflict which has outlived the Cold War and strained relations between NATO allies Greece and Turkey.
Campaigns are typically dominated by the division of Cyprus in 1974 between its Greek Cypriot and Turkish Cypriot population following a Turkish invasion triggered by a brief coup engineered by Greece.
Cyprus's president typically represents the Greek Cypriot community in reunification talks with the Turkish Cypriot side.
Those talks, which also included Greece, Turkey and former colonial power Britain, collapsed in acrimony last year amid disagreement over the role Turkey would play in a future reunited country.
"It seems that there will be another initiative, or at least an attempt by the international community to jumpstart the peace talks again," said Ahmet Sözen, professor of political science and international relations at Eastern Mediterranean University in northern Cyprus.
No leader in either the Turkish or Greek Cypriot community could afford the luxury of rebuffing a call from the United Nations, Sözen said.
However, the campaign's tone has been particularly bitter. Third-placed Papadopoulos has accused Anastasiades of making too many concessions to Turkish Cypriots and Malas of being too malleable in seeking to resume talks as soon as possible.
Although both Cypriot sides have agreed in principle to unite Cyprus as a two-state federation, there are profound differences on how it will work in practice, even among the same community.
At issue are geographical boundaries, property rights of thousands who were forced to leave their homes in conflict, rights to physical settlement, voting processes and whether other countries should maintain troops on the island.
At present, Cyprus's two main ethnic groups are separated by a United Nations peacekeeping force, one of the oldest in the world. Many worry the present status quo is not sustainable.
"Things might look stable, but things are not static," said Sözen.
A Turkish Cypriot community generally not prone to angry demonstrations, the north was rattled last week by an attack by individuals on a Turkish Cypriot newspaper critical of Turkey's campaign in northern Syria.
Separately, up to 5,000 Turkish Cypriots demonstrated in freezing rain on Friday to protest Monday's protest and perceived Turkish interference in their affairs.
World
Experts say inflation is much higher than official statistics, and the independent Inflation Research Group on Monday put the annual rate at an eye-watering 186.27 per cent
World
The importance of the Gas Interconnector Greece-Bulgaria pipeline, which was completed in July, has significantly risen after Moscow decided to turn its natural gas deliveries into a political weapon
World
The talks comes a day after the Turkish President Recep Tayyip Erdogan raked up the Kashmir issue during his address at the high-level UN General Assembly session and urged for the establishment of a "fair and permanent" peace and prosperity in Kashmir