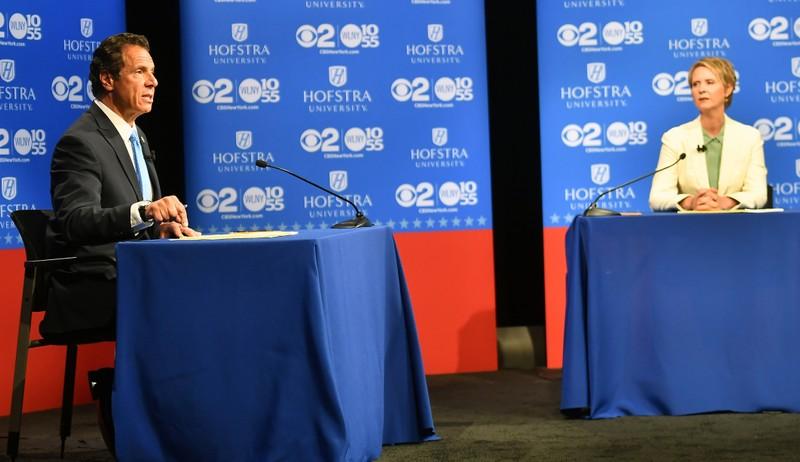 By Jonathan Allen
HEMPSTEAD, N.Y. (Reuters) - New York Governor Andrew Cuomo and challenger Cynthia Nixon argued over who is the stauncher opponent of U.S. President Donald Trump on Wednesday in their first and only debate in the campaign for the state's Democratic gubernatorial nomination next month.
Cuomo, who is seeking a third term as governor, promised he would not run for the U.S. presidency in 2020, despite expectations to the contrary.
He described Trump, a Republican, as "the largest threat" faced by New Yorkers, a greater danger than climate change, extreme weather or terrorism. He pointedly criticised Trump for his anti-immigration rhetoric and desire to limit access to abortion.
"Nobody has stood up to Donald Trump like I have," he said at the debate at Hofstra University on Long Island, which was to be broadcast on a tape delay later on Wednesday by CBS News.
Nixon, an actress and activist who is seeking office for the first time, scoffed at Cuomo's depiction of himself as a fierce opponent of the president.
"You stood up to him about as well as he stands up to Putin," she said, referring to Russian President Vladimir Putin, with whom Trump appears to have developed a close relationship. "We need to oppose Donald Trump not just with rhetoric but with policy."
The debate comes just over two weeks before the Sept. 13 gubernatorial primary, where voters will pick the Democratic Party's candidate for the November election. It may be Nixon's best opportunity to convince voters she has a chance of upsetting Cuomo.
Three polls in recent months all had Nixon trailing Cuomo by more than 30 percentage points.
Nixon interrupted Cuomo's answers on several occasions, visibly irritating him.
"Can you stop interrupting?" Cuomo snapped at one point.
"Can you stop lying?" Nixon shot back.
"Yeah," Cuomo said. He hesitated for a moment. "As soon as you do."
Cuomo, a native of New York's borough of Queens, comes from one of the state's most powerful Democratic families. Cuomo, whose father, Mario Cuomo, was a three-term New York governor and regarded as a liberal lion, has a long record of government service and had raised nearly 50 times more money than Nixon, according to financial disclosures filed last month.
Nixon is best known for her portrayal of lawyer Miranda Hobbes on the HBO show "Sex and the City," for which she won an Emmy.
Nixon, a Manhattan native, said during the debate that New Yorkers should vote for her because she has been a longtime champion of causes such as abortion access, better funding for schools and equal rights for gay and lesbian people.
Dutchess County Executive Marc Molinaro is the Republican nominee in the gubernatorial race. There are also a few independents in the race.
(Reporting by Jonathan Allen; editing by Frank McGurty and Leslie Adler)
This story has not been edited by Firstpost staff and is generated by auto-feed.
Firstpost is now on WhatsApp. For the latest analysis, commentary and news updates, sign up for our WhatsApp services. Just go to Firstpost.com/Whatsapp and hit the Subscribe button.
Updated Date: Aug 30, 2018 04:05:31 IST