Cuba's new president names cabinet resembling Castro's
HAVANA (Reuters) - Cuba's new President Miguel Diaz-Canel named his cabinet on Saturday, keeping a majority of ministers from predecessor Raul Castro including in the key posts of defense, interior and foreign relations, signaling continuity rather than change. Diaz-Canel, 58, who replaced Castro in April, announced the new cabinet at the start of Cuba's national assembly meet that will also discuss a draft of the new constitution, designed to replace the Communist-run island's Soviet-era Magna Carta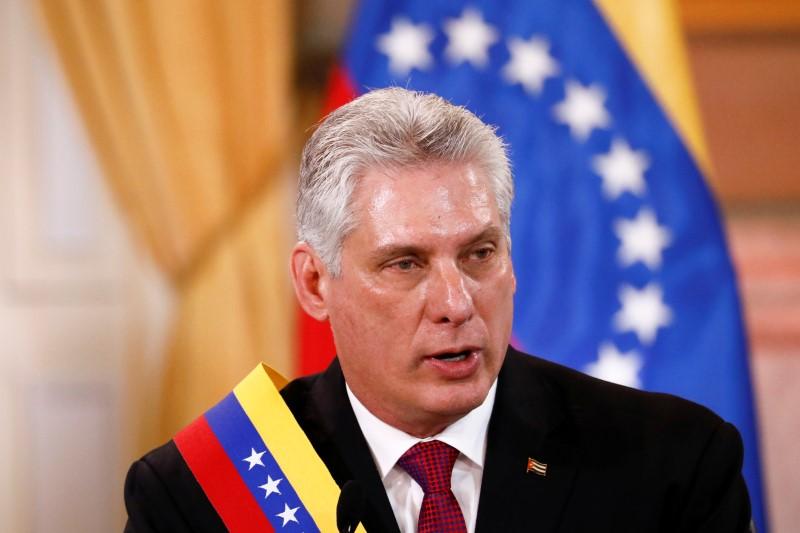 HAVANA (Reuters) - Cuba's new President Miguel Diaz-Canel named his cabinet on Saturday, keeping a majority of ministers from predecessor Raul Castro including in the key posts of defense, interior and foreign relations, signaling continuity rather than change.
Diaz-Canel, 58, who replaced Castro in April, announced the new cabinet at the start of Cuba's national assembly meet that will also discuss a draft of the new constitution, designed to replace the Communist-run island's Soviet-era Magna Carta.
All except one of the former vice presidents on the council of ministers - Marino Murillo, the head of the Communist Party's reform commission - will remain in place.
These include revolutionary commander Ramiro Valdes, 86, and former economy minister Ricardo Cabrisas, 81, suggesting the generational renewal that Cuba's leadership has called for will be gradual, like the market reforms of its economy.
Two younger officials, Roberto Morales, 51, and Ines Maria Chapman, who were previously named to the council of state, Cuba's highest executive body, will join them as vice presidents.
Nine of out 26 ministers are new, including Alejandro Gil, moving up a rank to economy minister, and Alpidio Alonso as culture minister.
The new constitution will include the recognition of private property, something Cuba had long rejected as a vestige of capitalism, and will create the position of prime minister alongside the president, according to state-run media.
(Reporting by Sarah Marsh, Nelson Acosta and Marc Frank, Editing by Franklin Paul)
This story has not been edited by Firstpost staff and is generated by auto-feed.
Find latest and upcoming tech gadgets online on Tech2 Gadgets. Get technology news, gadgets reviews & ratings. Popular gadgets including laptop, tablet and mobile specifications, features, prices, comparison.
Business
By Jessica Resnick-Ault NEW YORK (Reuters) - Oil prices strengthened on Wednesday, as OPEC and its allies were seen complying with a pact to cut oil supply in September, even as concerns loomed that recovery in fuel demand will be stalled by soaring global coronavirus cases. Early in the day crude was boosted by a bullish stock market. Even as equities whipsawed on pandemic worries, oil stayed higher, buoyed by expectations that OPEC could staunch a supply glut
Business
By Tina Bellon and C Nivedita (Reuters) - Tesla Inc will further cut the price of its Model S "Long Range" sedan in the United States to $69,420, the electric carmaker's chief executive, Elon Musk, announced in a tweet https://bit.ly/2H0JCP0 on Wednesday. The anticipated drop marks the second time this week Tesla has cut the price for the high-end sedan, following a 4% cut of the Model S's price in the United States on Tuesday to $71,990.
World
By Jeff Mason DES MOINES, Iowa (Reuters) - Under siege over his handling of the novel coronavirus pandemic, President Donald Trump on Wednesday cited what he said was his son's mild bout of the virus as a reason why American schools should reopen as soon as possible. Trump made the comment about his son, Barron, as the president swept into Iowa on a mission to shore up support in battleground states that he won in 2016 but is in danger of losing to Democrat Joe Biden barely three weeks before the election. First lady Melania Trump announced in a statement earlier in the day that the virus that struck both her and her husband had also infected their 14-year-old son