COVID masks adorn healing trees in updated pagan rite
By Pascal ROSSIGNOL HASNON, France (Reuters) - It is a ritual steeped in pagan mystery, updated for the coronavirus age.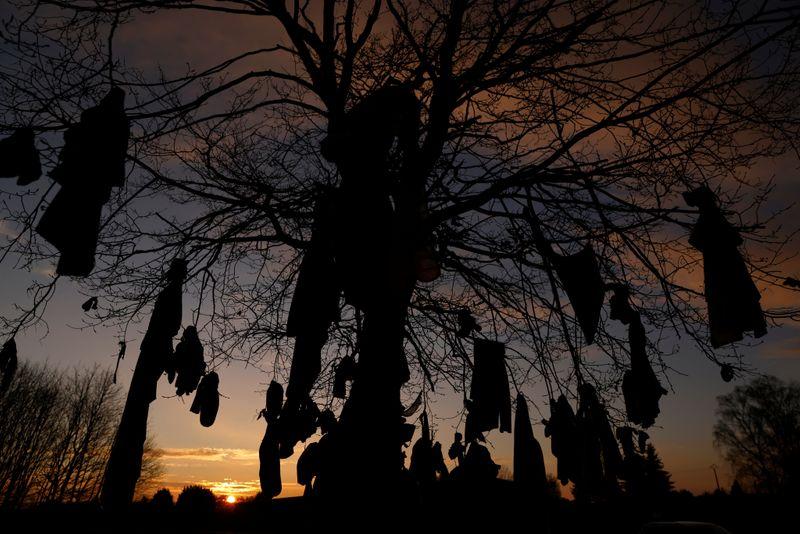 By Pascal ROSSIGNOL
HASNON, France (Reuters) - It is a ritual steeped in pagan mystery, updated for the coronavirus
age.
Sick people in northern France occasionally leave garments in healing trees or "arbres à loques" in the hope of a cure, following a tradition that persists since pre-Roman times.
But locals who pay attention have noticed a recent change.
"The new development in 2020 is COVID masks," said Bertrand Bosio, who runs Nord Fantastique, a Facebook page devoted to the region's ancient sites and lore.
Tied to the branches of the healing tree in Hasnon, southwest of Lille, surgical masks can be clearly seen among items of clothing that range from socks to underwear - often left, Bosio said, by people suffering from fertility problems.
In another departure from ritual, the votive masks are hung "preventatively", Bosio believes - or perhaps hopes - rather than by COVID-19
sufferers who ought to be self-isolating.
Known as rag trees in Ireland, one of several other countries where the practice survives, the arbres à loques show pagan and Christian influences. Despite appearances, which can be disconcerting, they still bring people hope, he said.
"What's interesting about this place is that the ritual is still very much alive in our times," Bosio added.
"People turn to the healing tree when medicine has reached its limits, and when science has let them down."
(Writing by Laurence Frost. Editing by Jane Merriman)
This story has not been edited by Firstpost staff and is generated by auto-feed.
Find latest and upcoming tech gadgets online on Tech2 Gadgets. Get technology news, gadgets reviews & ratings. Popular gadgets including laptop, tablet and mobile specifications, features, prices, comparison.
Business
By Aditya Kalra NEW DELHI (Reuters) - India's tobacco industry will object to a proposal to ban smoking zones in hotels and prohibit advertising at cigarette kiosks as the government steps up anti-smoking efforts, two executives said on Wednesday. India has over the years introduced tobacco controls and launched campaigns to deter its use, but enforcement of the law has been a challenge.
World
HONG KONG (Reuters) - Over 50 pro-democratic activists in Hong Kong were arrested on Wednesday for breaking the city's contentious national security law, local media reported, in the biggest crackdown yet against the democratic opposition under the new law. The arrests in the Asian financial hub included well known democratic figures and former lawmakers James To, Lam Cheuk Ting and Lester Shum, according to the Democratic Party's Facebook page and public broadcaster RTHK. Police did not immediately respond to requests for comment.
World
BRASILIA (Reuters) - Brazil's syringe manufacturers said on Tuesday they will supply 30 million syringes and needles for the country's COVID-19 vaccination program after the government said it would requisition surplus supplies. Executives of the three main manufacturers met with President Jair Bolsonaro at the Health Ministry and it was agreed that each would supply 10 million syringes to cover the initial stages of the vaccination plan.