Corrected: Girl dens blaze fresh trail into Boy Scouts of America
(Corrects ages for Cubs Scouts to 5 to 10 years old, not 7 to 10 years old. Corrects enrollment of girls to 4,500, not 3,000.) By Katharine Jackson MCLEAN, Va.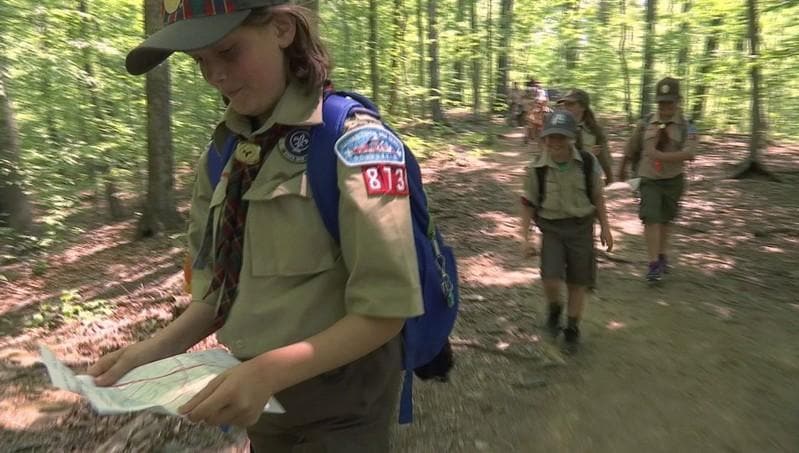 (Corrects ages for Cubs Scouts to 5 to 10 years old, not 7 to 10 years old. Corrects enrollment of girls to 4,500, not 3,000.)
By Katharine Jackson
MCLEAN, Va. (Reuters) - On a frontline of the gender equality battle in the United States is Den 13, a suburban Virginia Cub Scout unit made up of girls on their way to next year becoming the first female Scouts in the Boy Scouts of America.
The girls, who are 8 to 10 years old, say they appreciate the outdoor challenges of scouting: finding the route to a waterfall on a wrinkled map, crossing a creek and encountering a snake.
After more than a century as a bastion of boyhood, the Boy Scouts of America announced in October that this year it would begin letting girls join the 5- to 10-year-old Cub Scouts. More than 4,500 girls joined an Early Adopter program this spring.
In 2019, the girls of Den 13 in McLean, Virginia, will be among the first female members of the newly named "Scouts BSA" program, which until the change will still be called "Boy Scouts" and only admit boys aged 11 to 17.
Scouting alongside boys is no issue for 10-year-old Dani Hyder.
"I don't really mind as long as I get to do it," she said. "I don't care what gender the people I'm doing with are."
Like others in her den, 10-year-old Lilly Rumpf went on hikes and family camping trips, but watched from the sidelines as her brother rose through the ranks of the Boy Scouts.
"It was like he got to do all the cool things, and I didn't," she said. "So when I got involved in this, it was really cool."
Boy Scouts of America said admitting girls is making life easier for families with brothers and sisters who want to follow the same path.
"I think our program offers both genders exactly what we want young people to learn and embrace as they grow up," said Les Baron, scout executive for the Boy Scouts National Capital Area Council.
The move comes as attitudes toward gender change and after decades of declining membership. Boy Scouts of America now has about 2.3 million members, a drop of about one-third since 2000. The organization decided to admit openly gay scouts in 2014, and last year welcomed transgender members.
As Boy Scouts of America widens its scope, the Girl Scouts of the USA is reaffirming its commitment to girls.
"Girl Scouts has always proudly owned the 'Girl' in Girl Scouts, and our programming is, and always will, reflect the fact that we are girl-led and girl-centric," the organization said in a statement.
The Boy Scouts held annual meetings in Dallas last week with many awaiting news of a uniform change with different cuts for girls and alternatives like Capri pants and "skorts," or skirts with shorts inside.
For now, the Den 13 girls wear shirts embroidered with "Boy Scouts of America," standard olive shorts, resting their ponytails and braids on plaid neckerchiefs.
Heading to the waterfall, Den 13 took a wrong turn down a dead end trail.
"I kind of like that we got lost," said Hiro Rose, enjoying the river view. After consulting their map, the girls quickly found their way.
For Dani, the best part of the hike was obvious. "Actually having a snake crawl, like slither across my shoe."
(Reporting by Katharine Jackson; Editing by Mary Milliken and Lisa Shumaker)
This story has not been edited by Firstpost staff and is generated by auto-feed.
World
Reports suggest that they captured President Alpha Conde and dissolved the government, bust the ground situation remains unclear
News & Analysis
NEW YORK (Reuters) -The price of cryptocurrencies plunged and crypto trading was delayed on Tuesday, a day in which El Salvador ran into snags as the first country to adopt bitcoin as legal tender. Shares of blockchain-related firms also fell as crypto stocks were hit by trading platform outages. But the major focus was on El Salvador, where the government had to temporarily unplug a digital wallet to cope with demand.
News & Analysis
By Joseph White and Sanjana Shivdas (Reuters) -The head of Apple Inc's car project, Doug Field, is going to work for Ford Motor Co to lead the automaker's advanced technology and embedded systems efforts, a hiring coup for Ford Chief Executive Jim Farley.