Nigeria's battle with COVID-19 exacerbated by poor healthcare, 2015 global crude market crash from which it never recovered
The last time Nigeria was gripped by such a panic was when Ebola — around 25 times deadlier than COVID-19 — was knocking on its door in 2014/15
"We pray it goes away soon," says George Akindele, "We are used to living without electricity and managing with little water but the lockdown has created a lot more trouble for us. No work, shortage of food, increase in prices coupled with personal financial challenges — it's been difficult. I don't know what other challenges [lie in store]." These remarks by the Lagos resident — who lives in what could, at best, be regarded a modest part of the city — encapsulate what has been on the mind of most Nigerians ever since the emergence of COVID-19.
At the time of writing, the World Health Organisation had reported 8,344 confirmed cases of the coronavirus in the country, while Lagos and Kano — its largest and second-largest cities — have reported 3,756 and 923 cases respectively.
The state of healthcare 
The last time the country was gripped by such a panic was when Ebola — around 25 times deadlier than COVID-19 — was knocking on its door in 2014/15. Back then, the authorities successfully thwarted the virus and managed to control its spread. Nigeria, it may be recalled, registered only 19 cases with eight fatalities. Meanwhile, such neighbouring countries as Sierra Leone, Guinea and Liberia struggled against Ebola that infected over 20,000 persons (across all three countries), of whom over 12,000 died.
Despite its successes around five years ago, the Nigerian healthcare system is unfortunately a far cry from what could be considered a good healthcare system. The government's neglect of the sector has forced numerous doctors to leave the country and add value to health sectors across the western world, where they have achieved considerable success. The efforts and sacrifices of their counterparts who have stayed on and are on the front-lines of the war on COVID-19, however, have not gone unnoticed by fellow Nigerians.
"I think it could be a lot worse, but our doctors and nurses are giving their best and even city officials have responded well with the resources available," says Francis Ochienu, a resident of Lagos. Nevertheless, the sector — which in recent years has seen a sort of resurgence thanks to its market size, new age investors and enterprises belonging to countries like India and China rushing to invest — is riddled with numerous issues and challenges that will take many years to solve despite bringing in expatriates to staff specialty hospitals.
"There has been a marked change," notes Lagos-based Indian businessman Rakesh Kumar, "Nigerians used to rush to India or other Asian countries for medical treatment, but this trend has reduced as a number of treatments are slowly being provided here. The change was driven by market demand, as a result of the 2015 crude oil market crash — during which the value of the naira (in comparison to the dollar) dropped by over 100 percent — that made it financially difficult for many to consider travelling for medical reasons."
Economic woes
That Nigeria is still trying to claw its way out of that recession has compounded the present situation. The pandemic-driven collapse of the global crude oil market has wrecked the engine of the country's economy, although reports do suggest that oil demand is slowly reaching pre-COVID-19 levels. As it stands, barrel production over the past five years is half of what it used to be in the early 2000s, making Nigeria a small player among Organisation of the Petroleum Exporting Countries (OPEC) countries.
President Muhammadu Buhari and his government are facing criticism about their management of the ongoing pandemic. And while the authorities were swift to order a lockdown — that came to an end on 4 May, cities such as Lagos and Kano are fast becoming epicentres that will dampen the gains stacked up during the lockdown.
Lagos — the burgeoning mega city of Africa that houses both the country's mega rich and its poorest — is as gloomy as its overcast skies. People are expressing their doubts about whether the 'precision lockdown' concept introduced by the federal and state administration will work when worldwide evidence suggests that mega cities are high-risk. "The lockdown has completely affected our business and there is no indication as to when this will all calm down," sighs Kumar, adding, "Doctors are not able to differentiate between malaria and COVID-19 because of limited testing facilities."
"I went for a blood test to a hospital, where I was asked to come back after three days to collect the report — but the hospital shut down the next day," he says.
"There was no choice but to open up the economy. We have to manage this [situation] somehow," reasons Francis Ochienu, another resident of Lagos. There is a general sense among people that the Lagos state government has done the best it can. And although Nigeria's largest city is still a cause of worry, it's the city up north that is swiftly beginning to pose major challenges to the authorities.
Major spike around the corner?
Kano, the second most populous city in Nigeria — situated right on the edge of the Sahara Desert, is a local and international trading hub for the entire West African region. As the cases continue to increase in the city, there is a palpable sense of anxiety among doctors and healthcare workers about the recent Eid al Fitr celebrations. "We are in a difficult situation," says a Kano-based doctor on condition of anonymity, "And we fear that a sudden spike in cases could really hamper our attempts to control the spread of the coronavirus."
The fear of rising cases in Kano, resulting in a widespread outbreak, is justified. The city witnessed a high number of mysterious deaths in April that the government denied were coronavirus-related. Kano State's governor Abdullahi Umar Ganduje has come under fire for the approach his government adopted in dealing with these mysterious deaths — that were attributed to other diseases, but many believe were COVID-19-related.
"We have a critical shortage of PPE kits due to which many doctors and nurses are getting infected, worsening the crisis and further increasing issues in treating patients. Even our rate of testing is not ideal and this just adds to the confusion on the ground which can lead to a serious escalation," the doctor adds, "Although the Nigerian government has tried to arrange for PPE kits — even sourcing them through donations from NGOs and countries like the US, UK and China — it is not enough."
As various reports of masses gathering to celebrate Eid al Fitr surface, it's clear that many disregarded calls from the government and eminent leaders like the Sultan of Sokoto to maintain social distancing and to pray at their own homes. Many are also blaming the nonchalant attitude of a few members of the leadership. "In some quarters, social distancing measures are failing as there is outright denial and arrogance about the pandemic. States such as Kogi and Cross River are refusing to conduct COVID-19 tests, so they can report fewer cases," reveals the doctor.
A Kano resident, who wishes to remain anonymous, adds, "All leadership — traditional, religious and political — has to work together and provide effective management in this time of need. People do not trust our political leaders, but they will listen to our traditional and religious leaders."
The pandemic has bought to the forefront all the challenging aspects of Nigeria — poverty, quality of healthcare and the general lack of resources.
The rise of unemployment in the lower strata of society is also being blamed for the increase of armed robberies across the country. In times of such crisis where issues and pressures keep mounting, perhaps it is best for Nigerians to tap into their one abundant resource: Resilience.
The author is the former chief executive officer of a media and hospitality firm in Nigeria. Views expressed are personal
Health
The sensor used in the mask can respond to as little as 0.3 microlitres of liquid containing viral proteins, about 70 to 560 times less than the volume of liquid produced in one sneeze and much less than the volume produced by coughing or talking
Explainers
The temple is located in Dubai's Jebel Ali neighbourhood, also known as 'Worship Village', with several churches and the Guru Nanak Darbar Gurudwara nearby. It will be open from 6:30 am to 8 pm and can accommodate around 1,200 worshippers every day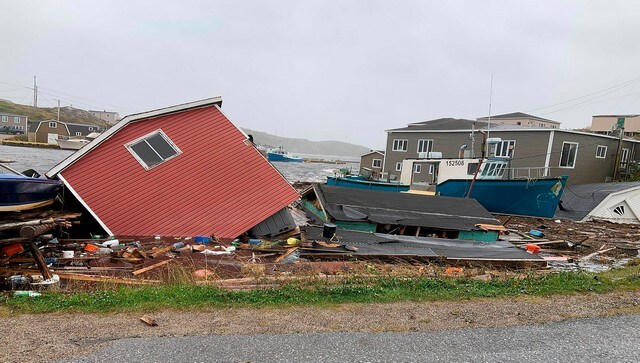 Explainers
Once a storm reaches maximum sustained winds of 119 kmph or higher, it is classified as a hurricane, typhoon, or tropical cyclone. However, the moniker given to it depends on its location