COP24: Civil society groups term Katowice draft 'weak'; developing nations demand more funds to fight climate change
Civil society organisations from India as well as other countries have dubbed the draft rulebook released at COP24, UN Conference on Climate Change, in Katowice, Poland, as weak and inadequate to fight the challenges that the world faces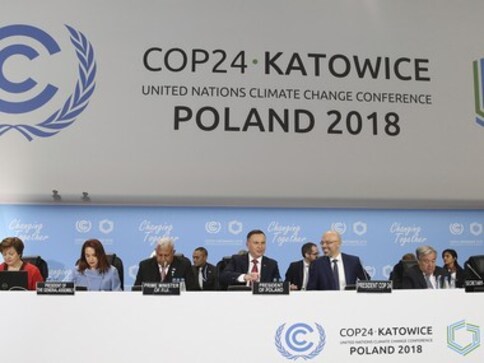 Civil society organisations from India as well as other countries have dubbed the draft rulebook on climate change released at 24th Conference of the Parties (COP) on Thursday in Katowice, Poland, as weak and inadequate to fight the challenges that the world faces currently. Protests erupted in several areas at the COP venue pressurising negotiators for a stronger text.
For developing countries, the biggest bone of contention was the financial commitments that developed countries are willing to make to help developing countries in mitigating climate change.
The Paris Agreement urges developed countries to jointly mobilise $100 billion per year by 2020 to "mitigate greenhouse gas emissions, address gaps in the provision of technology, finance and capacity building to enable increased mitigation and adaptation ambition of developing countries", read the second draft of the rulebook that was released at 10.15 am on Friday.
This draft could be revised, and sources say that the final text would come out by Saturday morning.
The money is clearly not enough, some civil society organisations believe.
"The cost of climate action is not in billions but in trillions. Even the UNEP report in 2016 said that by 2020 we need $280 billion per year and $500 billion per year by 2050. India's own NDC says we need over $2 trillion for climate action," said Harjeet Singh, Global Lead on Climate Change at ActionAid International.
"This $100 billion is the least you need and the rulebook says it can be in the form of loans, concessions, guarantees or insurance. It has to be real money in the form of grants that can be given to people and governments for adaptation," he added.
Speaking at a press conference at the India pavilion at the COP venue, lead negotiator AK Mehta said that all of India's concerns were well received and addressed.
"We need to build a system that is transparent, we must show that we care for everybody, particularly the poor and the marginalised and that we are a collective. We feel that support in terms of finance and technology and capacity building need to be given to developing countries. We also feel that developing countries need a certain differentiation to enable to move them together. I see this happening substantially. There have been no unaddressed concerns that India has," he said on Friday.
The Centre for Science and Environment (CSE) said the rule book has diluted the accountability of developed countries in finance.
"The money they provide cannot be reviewed ex-ante. The references to loss and damages are very weak," said the deputy director general of CSE, Chandra Bhushan.
He also said that there is no mention of raising ambition in action and support post-2020. "Loss and damages (in the draft) are the weakest and it clearly implies that developed countries have turned a blind eye to the most existential impacts of climate change on poor and vulnerable countries," he added.
also read
Photos
The destruction of the dam at Nova Kakhovka in southern Ukraine has led to flooding in villages, endangering crops and threatening drinking supplies. Thousands are evacuated as water is surging down the Dnipro river
World
The United Nations has expressed alarm over a recent cross-border strike on Russia's Belgorod Region but has not confirmed who carried out the operation
Football
United Nations Commissioner for Human Rights Volker Turk's comments came after 22-year-old Real Madrid forward Vinicius was targeted with shouts of "monkey" from the stands during a match in Valencia on Sunday.