Cooler weather helps battle against California wildfires; four missing
By Andrew Hay (Reuters) - Cooler weather helped firefighters battle some of the largest and most ferocious wildfires in California history on Tuesday as authorities searched for four missing people in one blaze. Containment ticked up on the second and third largest wildfires in recorded state history, which are burning in the greater San Francisco Bay Area. Crews from half a dozen states helped fight around 24 major blazes across California sparked by lightning during a record heat wave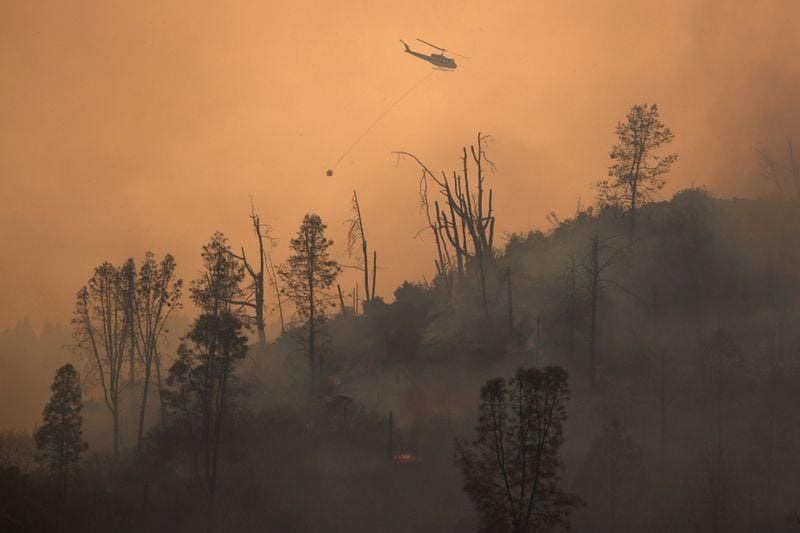 By Andrew Hay
(Reuters) - Cooler weather helped firefighters battle some of the largest and most ferocious wildfires in California history on Tuesday as authorities searched for four missing people in one blaze.
Containment ticked up on the second and third largest wildfires in recorded state history, which are burning in the greater San Francisco Bay Area.
Crews from half a dozen states helped fight around 24 major blazes across California sparked by lightning during a record heat wave. No large population centers were reported threatened as higher relative humidity and gentler winds allowed over 14,000 firefighters to carve out containment lines.
"The weather has really cooperated with us. We are steadily getting a trickle of new resources in," Cal Fire Operations Chief Mark Brunton said of a blaze north of Santa Cruz.
Four people were still reported missing after the fire known as the CZU Lightning Complex destroyed 330 homes and other structures, Santa Cruz County Sheriff Chief Deputy Chris Clark told a press briefing.
Some authorities have blamed climate change for highly-unusual blazes in coastal forests famed for being untouched by wildfires.
Four of the state's five largest wildfires have burned in the last three years, the largest of which was the Mendocino Complex fire in 2018 which blackened 459,123 acres.
Since the dry-lightning siege began Aug. 15, more than 13,000 lightning strikes sparked fires burned across over 1.25 million acres (505,860 hectares), an area larger than the Grand Canyon.
The fires are far from under control, with over 230 strikes in the past 24 hours starting new blazes after more than 650 in the last 10 days, Cal Fire said.
At least seven people have died and over 1,400 homes and other structures destroyed, with property losses possibly rising to over 3,000 structures statewide based on preliminary data, Cal Fire Assistant Deputy Director Daniel Berlant said in an online briefing.
Smoke from fires created unhealthy air quality for a large swath of Northern California and drifted as far away as Kansas. But a number of evacuation orders have been lifted or downgraded to warnings in the Bay Area.
Governor Gavin Newsom on Monday said California was facing "a different climate" after world record high temperatures earlier this month in California's eastern deserts siphoned off moisture from tropical storms to create the worst dry-lightning in decades.
(Reporting by Andrew Hay; Editing by Jonathan Oatis and Tom Brown)
This story has not been edited by Firstpost staff and is generated by auto-feed.
World
ATHENS (Reuters) - Greek police used teargas and water cannon to disperse people who had gathered in central Athens on Saturday to protest against mandatory COVID-19 vaccinations. More than 4,000 people rallied outside the Greek parliament for a third time this month to oppose mandatory inoculations for some workers, such as healthcare and nursing staff.
World
ISTANBUL (Reuters) - Two Turkish soldiers were killed and two were wounded in an attack on their armoured vehicle in northern Syria, and Turkish forces immediately launched retaliatory fire, Turkey's defence ministry said on Saturday. "Our punitive fire against terrorist positions is continuing," the statement on Twitter on said. It did not specify where the attack occurred, but media reports said it was in the al-Bab area.
World
By Marcelo Rochabrun SAO PAULO (Reuters) - Protesters took to the streets in several Brazilian cities on Saturday to demand the impeachment of far-right President Jair Bolsonaro, whose popularity has fallen in recent weeks amid corruption scandals against the backdrop of the pandemic. This week, news broke that Brazil's defense ministry told congressional leadership that next year's elections would not take place without amending the country's electronic voting system to include a paper trail of each vote. Bolsonaro has suggested several times without evidence that the current system is prone to fraud, allegations that Brazil's government has denied