Colombia defence minister resigns amid pressure over bombing casualties
BOGOTA (Reuters) - Colombian Defence Minister Guillermo Botero said on Wednesday he would resign in the midst of mounting political pressure over alleged extrajudicial killings and the threat that Congress could force him out. Botero, a 71-year-old businessman, has been battered by repeated scandals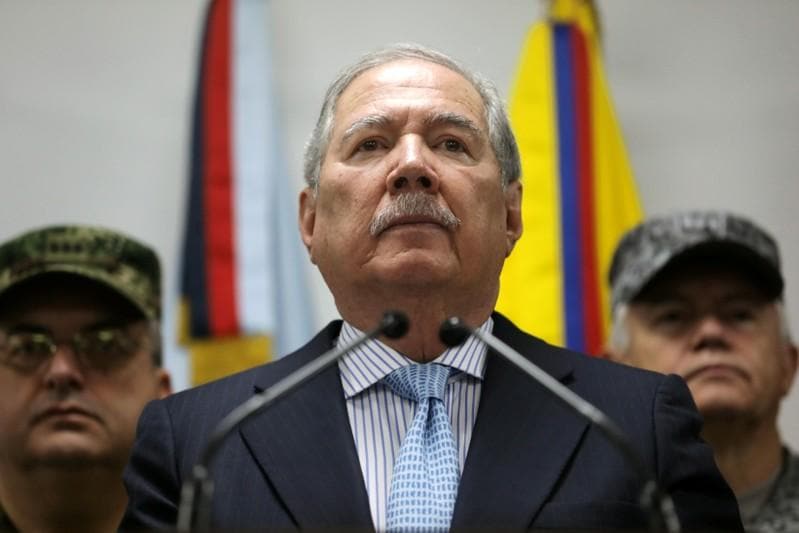 BOGOTA (Reuters) - Colombian Defence Minister Guillermo Botero said on Wednesday he would resign in the midst of mounting political pressure over alleged extrajudicial killings and the threat that Congress could force him out.
Botero, a 71-year-old businessman, has been battered by repeated scandals. This week a senator accused him of hiding information that children were killed in a recent bombing raid targeted at a dissident member of the now-demobilized Revolutionary Armed Forces of Colombia (FARC) rebels.
Botero has said the operation was legitimate and the military was unaware there were minors in the camp. Eight children are believed to have died.
"It is my duty as minister of defence to have an appropriate read on the political climate, which is why I have decided to present my resignation," Botero said in a letter posted on Twitter by the ministry.
Opponents say the alleged murder of two former FARC combatants at the hands of the military and a purported increase in human rights violations also showed Botero was unfit for his post.
In September the government was forced to defend a military report that it said proved the Venezuelan government supports guerrilla groups and drug traffickers, after officials admitted it contained uncredited photographs taken by media outlets in Colombia, not Venezuela.
Both left-wing parties and centrist groups that had previously backed Botero said they would support a motion of censure against him in Congress, which would have obliged the government of right-wing President Ivan Duque to remove him.
Duque does not have sufficient majorities in either house to protect Botero's position with only the backing of his own party and the Conservatives. If Botero had been forced out, he would have been the first minister in the history of Colombia to be removed by censure.
A previous censure motion failed to pass the lower house in June when Botero did have centrist support.
Botero, charged with managing the Andean country's fight against crime gangs, FARC dissidents and the still-active National Liberation Army (ELN), has held his post since the start of Duque's administration in August 2018.
(Reporting by Luis Jaime Acosta; Writing by Julia Symmes Cobb; Editing by Leslie Adler)
This story has not been edited by Firstpost staff and is generated by auto-feed.
Find latest and upcoming tech gadgets online on Tech2 Gadgets. Get technology news, gadgets reviews & ratings. Popular gadgets including laptop, tablet and mobile specifications, features, prices, comparison.
Business
By John McCrank and Anirban Sen (Reuters) -The New York Stock Exchange said on Wednesday it will delist three Chinese telecom companies, confirming its latest reversal on the matter a day after U.S. Treasury Secretary Steve Mnuchin told the NYSE chief he disagreed with an earlier decision to reverse the delistings
Business
(Reuters) - Deal making among oil and gas producers was at its highest for the year in the fourth quarter of 2020 as the pandemic-driven fallout in commodity prices spurred a wave of consolidation between explorers looking to scale up and drive down costs, a report from analytics firm Enverus said. Oil and gas producers made deals worth $27.1 billion in the quarter, up from $21 billion in the third, helped by three multi-billion dollar acquisitions in the prolific Permian basin of West Texas and New Mexico. ConocoPhillips acquired Concho Resources for $13.3 billion, the biggest pure shale acquisition by any company since 2011, topping the list.
Business
By Ritvik Carvalho, Wayne Cole and David Randall NEW YORK/LONDON/SYDNEY (Reuters) - The growing chances of Democratic wins in two pivotal U.S. Senate contests triggered financial market moves Wednesday that mirror hopes of more COVID-19-related stimulus and increased regulatory scrutiny of tech companies