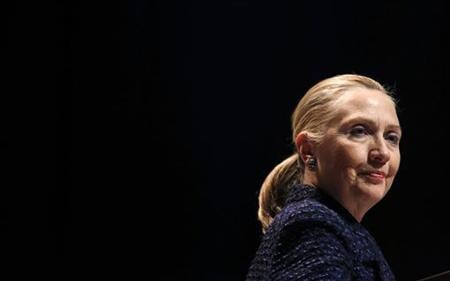 WASHINGTON (Reuters) - U.S. Secretary of State Hillary Clinton suffered a blood clot in a vein between her brain and skull behind her right ear but is expected to make a full recovery, her doctors said on Monday in a statement released by the State Department.
Clinton did not suffer a stroke or neurological damage as a result of the clot, the doctors said, adding that "she is in good spirits, engaging with her doctors, her family and her staff."
The U.S. secretary of state, who has not been seen in public since December 7, was revealed on Sunday evening to be in a New York hospital under treatment for a blood clot that stemmed from a concussion she suffered in mid-December.
The concussion was itself the result of an earlier illness, described by the State Department as a stomach virus she had picked up during a trip to Europe and that led to her becoming dehydrated and fainting after she returned to the United States.
"In the course of a routine follow-up MRI on Sunday, the scan revealed that a right transverse sinus venous thrombosis had formed. This is a clot in the vein that is situated in the space between the brain and the skull behind the right ear," Clinton's doctors, Drs. Lisa Bardack and Gigi El-Bayoumi said in the statement released by the State Department.
"To help dissolve this clot, her medical team began treating the Secretary with blood thinners. She will be released once the medication dose has been established," the doctors said. "In all other aspects of her recovery, the Secretary is making excellent progress and we are confident she will make a full recovery."
Clinton has kept up a punishing schedule as the top U.S. diplomat, flying more than 950,000 miles to visit 112 countries and spending more than a quarter of her tenure - 401 days - on the road, according to the State Department.
Her health setbacks have forced her to cancel an overseas trip and postpone testimony to Congress regarding a report on the deadly attack on the U.S. diplomatic post in Benghazi, Libya. Her two deputies testified instead.
Clinton has said she intends to appear before Congress to discuss the attack - in which four Americans, including the U.S. ambassador to Libya, died - but it is unclear when she will be back at work.
The doctors gave no estimate of when she may go home from the hospital.
On Sunday, a State Department spokesman said Clinton was "being treated with anti-coagulants and is at New York-Presbyterian Hospital so that they can monitor the medication over the next 48 hours." (Reporting by Arshad Mohammed; editing by Todd Eastham)
Updated Date: Jan 01, 2013 05:15 AM