Citizen historians scrambling to collect 10,000 Partition stories
The 1947 Partition Archive that began as a small grassroots effort to preserve the disappearing memory of Partition, at the University of California at Berkeley in 2011, has quickly spread across the globe to 157 cities
Washington: Back in 1947, Pakistan's founder Muhammad Ali Jinnah sent noted Indian author Khushwant Singh a message to stay on in Lahore and become a high court judge, an offer he declined and decided to move to Delhi.
"I drove on a totally empty road, blank road, all the way to Delhi. I didn't see a soul till I reached Delhi," he told 21 year old Manleen Sandhu before his death in March 2014 relating his personal experience of Partition.
"Jinnah sent a message to me through my father — he was his friend — to stay on in Lahore and become a high court judge. I was a lawyer."
"Bad times. No humanity at all... After Partition I returned to Lahore many times. I had no venom against anyone," he said shaking his head as he explained his decision to move amid escalating violence.
Khushwant Singh's story is among nearly 2,000 stories comprising over 4,000 hours of video footage recorded by citizen historians like Sandhu for the 1947 Partition Archive.
What began as a small grassroots effort to preserve the disappearing memory of Partition, at the University of California at Berkeley in 2011, has quickly spread across the globe to 157 cities where Partition witnesses reside.
Young, tech-savvy citizen historians train to record oral histories and spread out in their communities with their phones or any other recording device as part of what has become the largest known oral history collection of South Asian memories.
Today a majority of the stories come from India, Pakistan and Bangladesh, though many pour in from diasporic communities spread across Europe, North America, West Asia and Australia.
They're telling of how far refugees scattered in search of a stable life following Partition.
With those who were teenagers at the time of Partition in their 80s now, the 1947 Partition Archive has announced a manifesto to record 10,000 stories through 2017, commemorating the 70th anniversary of Partition.
The people-powered archive relies in part on trained volunteers, or citizen historians, for recording the stories, according to a media release.
To accelerate the recording of stories and reach the 10,000 story goal, the Archive is announcing its next call for story scholars, a ten month long concentrated story collection fellowship programme.
Anyone who has attended a free training to become a citizen historian and recorded a story is eligible to apply. Applications opened on 30 August and the deadline to apply is 31 October.
An anonymous donor, feeling the urgency for recording stories, has endowed the programme with $100,000 which will fund the field work and back-end archiving for 10 story scholars. Together they will record 1800 stories.
As founding donor Dr Narinder Kapany, an Indian-born American physicist known for his work in fibre optics, says, "Partition affected every community. Stories of Partition are everyone's stories. And time is of the essence to make them known."
The archive will begin releasing the stories for public viewing in 2017.
The archive's long term plans include building Centres for Learning on Partition that combine tolerance education, in India, Pakistan and Bangladesh.
The archive will be launching its task force for institutionalising the memory of partition later in 2015.
The first exhibit based on the archive's stories launched in 2014 at the Canadian Museum for Human Rights in Winnipeg.
IANS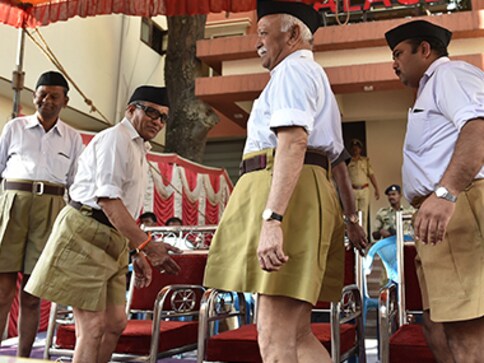 Politics
Short of saying that the RSS should shut shop and appropriate the BJP instead of remote-controlling the politics, Deshmukh was quite critical of the manner in which the RSS manipulated the politics to upstage Advani.
India
Balloons flying in with threatening and confusing messages post the Indian Army's surgical strikes are a form of "psychological operation" being carried out by Pakistan to unsettle those living in hamlets along the International Border in Jammu and Punjab, according to an officer of the border guarding force.
India
Rejecting Pakistan's claim of ownership of the Jinnah House in Mumbai, the MEA said the government is considering using the Jinnah House for holding meetings and hosting banquets for foreign dignitaries