Spies in the Sky: Why was a Chinese balloon lingering over the US? Is this an old tactic?
A 'high-altitude surveillance balloon' found in the US airspace, which it claims was sent by China, has raised concerns. But, this is not the first time that spy balloons have been deployed by nations to gather information on their enemies. They were first used in 1794 during the Battle of Fleurus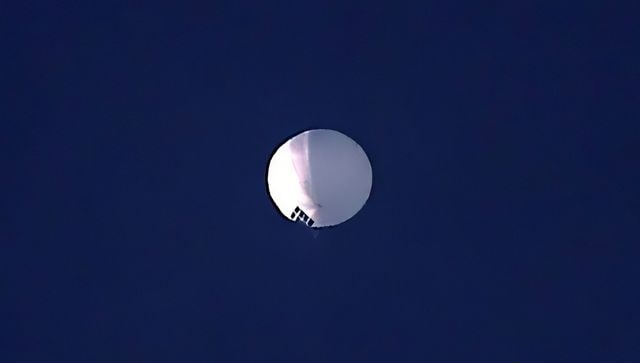 The United States has said it is tracking a suspected surveillance balloon which it believes was sent by China. The balloon, flying at high altitude, has hovered in the US airspace for a couple of days, officials informed on Thursday (2 February).
"The United States government has detected and is tracking a high-altitude surveillance balloon that is over the continental United States right now," Pentagon spokesperson Brigadier General Patrick Ryder was quoted as saying by Reuters.
"The balloon is currently traveling at an altitude well above commercial air traffic and does not present a military or physical threat to people on the ground," the spokesperson added.
A senior defence official told reporters that the US has "very high confidence" it is a Chinese balloon that was flying over "sensitive sites to collect information", reported Associated Press (AP).
It was first spotted over the western state of Montana which houses one of the country's three nuclear missile silo fields at Malmstrom Air Force Base, noted AP.
President Joe Biden was briefed about the situation, prompting him to ask for military options. However, Pentagon recommended against it.
Why did the US not shoot down the high-altitude balloon? What are spy balloons and how have they been used in the past? What advantages do they have over satellites? Let's take a closer look.
Why did the US not shoot down the balloon?
A senior defence official on condition of anonymity said that they had prepared fighter jets, including F-22s, to shoot down the balloons if the White House ordered.
However, a senior administration official said that Defense Secretary Lloyd Austin and Army General Mark Milley advised Biden against taking "kinetic action" in order to avoid risking the safety of people from the debris.
"We wanted to make sure we were coordinating with civil authorities to empty out the airspace around that potential area," Reuters cited an official as saying.
"But even with those protective measures taken, it was the judgment of our military commanders that we didn't drive the risk down low enough. So we didn't take the shot."
Before it entered US airspace, the spy balloon was tracked near the Aleutian Islands – the long island chain stretching from southern Alaska – and Canada, Reuters reported citing an American official.
Separately, Canada's national defence department also said it had detected a "high-altitude surveillance balloon" and was "monitoring a potential second incident", as per The Guardian.
What are spy balloons?
A spy balloon, usually carrying a camera, is used for surveillance and aerial reconnaissance. The balloon, swayed by wind currents, may also have equipment such as radar attached to it, as per The Guardian.
These balloons generally operate at 24,000-37,000 metres (80,000-120,000 feet), much above where commercial airlines fly which mostly never go higher than 12,000 metres (40,000 feet), says a Reuters report.
As per a 2005 study for the Air Force's Airpower Research Institute, these balloons are not "directly steered" but can be "roughly guided to a target area by changing altitudes to catch different wind currents", Reuters noted.
History of surveillance balloons
Deploying spy balloons, especially during wars, is not new.
Nations have used three types of balloons during warfare – free balloons, captive balloons and large dirigibles.
According to National World War I Museum and Memorial website, while free and captive balloons can be traced back to the French Revolution (1789-1794), dirigibles were launched during World War I, also known as the Great War (1914-1918).
The Print noted that French Aerostatic Corps was the first known military formation to dispatch balloons to monitor the movement of Austrian troops during the Battle of Fleurus in 1794.
During the American Civil War in 1861, the US set up Union Army Balloon Corps. John Blaxland, professor of international security and intelligence studies at the Australian National University, told The Guardian that Union troops perched on hot air balloons with binoculars and would try to collect information about Confederate States Army.
"They sent signals back via morse code or a piece of paper tied to a stone", Blaxland added.
During World War I, free balloons – carried by the wind and not easily controlled – were deployed as "vehicles of propaganda" with the Allies using them to "scatter leaflets like confetti over enemy lines in Verdun and along the St. Mihiel Salient", according to National World War I Museum and Memorial.
In September 1918, a captive balloon of the US' 8th Balloon Company flew 20 miles (32 km approximately) forward during the Meuse-Argonne Offensive, as per the website.
German military sent zeppelins or airships to drop bombs on England throughout 1915-16.
According to The Western Front Association, each Royal Flying Corps (RFC) Brigade of the UK had a Kite Balloon Wing.
There were as many as 35 US balloon companies in France during World War I.
"The reconnaissance of these balloon observers was invaluable, sighting thousands of instances of enemy planes, infantry and artillery fire," the National World War I Museum and Memorial website noted.
These balloons made a comeback during World War II.
During Second World War (1939-1945), British armed forces attacked Germany using free-flying balloons under the military operation dubbed Operation Outward.
These balloons were "filled with hydrogen and carried either a trailing steel wire intended to damage high voltage power lines by producing a short circuit, or incendiary devices that were intended to start fires in fields and forests," as per the StratoCat website.
The US used barrage balloons, large helium balloons tethered with cables, during the Second World War to prevent enemy bombers from flying close to the ground, as per The Seattle Times report.
In 1944, the Japanese deployed around 9,000 unmanned hydrogen balloons, carrying small explosives, reported PBS.
The Japanese military also used balloons "designed to float in jet stream air currents" to dump bombs in the US. Though it failed to damage any military targets, several civilians were killed after one of the balloons crashed at a forest in Oregon, reported Reuters. 
During the Cold War, the US launched hundreds of balloons to carry out aerial reconnaissance on the Soviet Union and China.
Deploying balloons in recent times
Besides the war, balloons with new technology have remained in use even in modern times.
Before its withdrawal from the war-torn country in 2021, the US had deployed helium-filled aircraft called aerostats mounted with cameras in Afghanistan to keep a check on the Taliban.
America has also used it within its territory, with the Pentagon sending 25 unmanned solar-powered balloons to conduct surveillance tests across six midwest states in 2019.
Spy balloons vs satellites
A 2009 report to the US Air Force's Air Command and Staff College noted that balloons have an advantage over satellites as they can scan a large area from lower height as well as spend more time over a target area as they move slower than satellites, The Guardian reported.
"For the last few decades, satellites were de rigueur. Satellites were the answer," Blaxland, the author of the book Revealing Secrets, told The Guardian.
But now that lasers or kinetic weapons have been developed to target satellites, the interest in using balloons is reviving.
As per The Guardian report, though balloons do not have the same "level of persistent surveillance as satellites", they are much cheaper to launch and easier to recover.
To send satellites into space, a space launcher is required which can cost millions of dollars, the report explained.
Blake Herzinger, an expert in Indo-Pacific defence policy at the American Enterprise Institute, said even though balloons travel slowly, they are not always easy to spot, reported CNN.
On why China purportedly sent the suspected balloon to the US, Peter Layton, a fellow at the Griffith Asia Institute in Australia and former Royal Australian Air Force officer, told CNN that it may be to collect intelligence on US communication systems and radars.
"Some of these systems use extremely high frequencies that are short range, can be absorbed by the atmosphere and being line-of-sight are very directional. It's possible a balloon might be a better collection platform for such specific technical collection than a satellite," Layton was quoted as saying by CNN.
With inputs from agencies
Read all the Latest News, Trending News, Cricket News, Bollywood News,
India News and Entertainment News here. Follow us on Facebook, Twitter and Instagram.
Explainers
The research conducted by scientists in Australia and China found that more than 99 per cent of people around the world are exposed to levels PM2.5 that the WHO defines as unhealthy. East Asia, South Asia and North Africa are worst affected while New Zealand and Australia face the lowest threat
Explainers
Eric Garcetti, a close aide of President Joe Biden, is set to take over as relations between New Delhi and Washington continue to deepen. Here's what the former Los Angeles Mayor said on the Citizenship Amendment Act and China
Explainers
Experts say bird flu, which has a nearly 100 per cent mortality rate in chickens, has left millions of egg-laying hens dead around the world. The Russia-Ukraine war has also caused prices of grain, which farmers use as chicken feed, to shoot up