Chinese Premier Li Keqiang promises further market opening for domestic and foreign investors
China will open up its economy further to the outside world, Premier Li Keqiang vowed on Tuesday, promising a level playing field for domestic and foreign investors in the world's second-largest economy.
Beijing: China will open up its economy further to the outside world, Premier Li Keqiang vowed on Tuesday, promising a level playing field for domestic and foreign investors in the world's second-largest economy.
The Chinese economy is so integrated into the global economy that closing the doors would only block China's own way, Li said at his customary press conference at the conclusion of the annual session of China's national legislature.
Li, 62, was re-elected last Sunday for a second five-year tenure by China's rubber-stamp parliament. On systemic financial risks being faced by China, Li said the fundamentals of the country's economy are "sound".
"The fundamentals of the Chinese economy are sound and the financial sector is stable," he said.
China is capable of forestalling systemic financial risks, Li said here ruling out the possibility of such risks in the country.The premier said China will open up to the rest of the world.
"We aim to make the vast Chinese market a fair place for both domestic and overseas firms with all kinds of ownerships to compete to offer more options for about 1.3 billion Chinese consumers, expediting upgrading of Chinese products and services," Li said.
China's opening-up is a gradual process and should be perceived in a long-term and holistic view, as some seemingly minor reform steps might produce impressive dividends later, citing China's booming overseas tourism market thanks to streamlined private visa application procedures. "Like rowing a boat, opening up is a two-way movement entailing mutual efforts," Li added.
Li said China still has much room for further opening up its market and will lower overall tariffs on imports. Tariffs on popular consumer goods, including drugs, will be slashed, while the much-needed anti-cancer drugs might phase in zero tariffs.
Despite a deficit in service trade, China will increase efforts in relaxing control over the market access to the service sector, including old-age care, medical care, education and financial services, according to him.
China will gradually relax and even scrap foreign-owned equity limits in some sectors and shorten the negative list for foreign investment, Li added. No compulsory technology transfers will be imposed on foreign investment in the general manufacturing sector and intellectual property rights will be protected, he said. He also promised to further improve the business environment.
China will continue to streamline administrations and delegate power to improve business environment and further stimulate market vitality, Li said. "We will cut the time it takes for opening a business in China by another half and we will reduce the time required for reviewing a project application by another half," he promised.
Measures will also be taken to have an e-platform in a national level for accessing government services online and ensure any requirement for certification that has no basis in laws and regulations will be abolished, he said. "We must further cut the red tape and simplify administrative procedures," he said.
He also said China aims to generate more than 13 million new urban jobs this year to ensure stable job placement for over eight million fresh graduates this year. Over the past five years, more than 66 million new urban jobs have been created, Li said, adding that employment has always been an important thing not only for each family, but for governments at all levels.
Li said at least three million new rural migrant workers will seek jobs in cities in 2018. "It is the responsibility of the government to provide stable job opportunities for these people," he said. China has downsized 2.3 million strong army by demobilising three lakh troops.
The state-run Xinhua news agency reported in January that the balance of local government debt stood at a whopping 16.5 trillion yuan (U$2.6 trillion) by the end of 2017. But the government played down the risks, saying the debt limit is below the government ceiling of 18.8 trillion yuan.
President Xi Jinping has made tackling financial risk a priority over the next three years while the government has set up the Financial Stability and Development Commission to coordinate efforts to contain a possible crisis.
World
The Chinese President also said that the two sides should consolidate political mutual trust, respect each other's core interests and consolidate the political foundation of China-Turkey strategic cooperative relations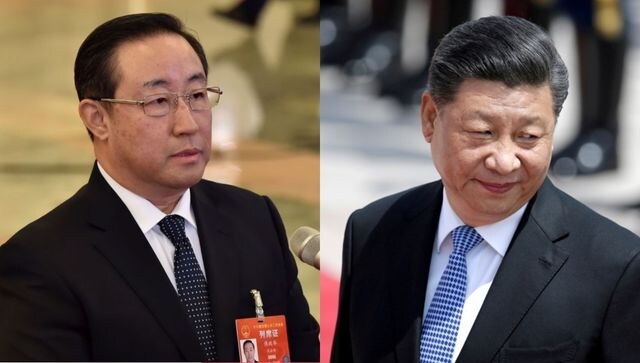 World
China's former Justice Minister Fu Zhenghua was sentenced to death on Thursday with a two-year reprieve for corruption and abuse of power.
India
Narendra Modi's reference to 'democracy' in the context of India's hopes for a dialogue-based solution to the Ukraine war would have been noticed as much in Moscow as in Western capitals