Chinese dams under U.S. scrutiny in Mekong rivalry
By Kay Johnson and Matthew Tostevin BANGKOK (Reuters) - A U.S.-funded project using satellites to track and publish water levels at Chinese dams on the Mekong river was launched on Monday, adding to the superpowers' rivalry in Southeast Asia. The 4,350-km (2,700-mile) waterway - known as the Lancang in China and flowing south through Myanmar, Laos, Thailand, Cambodia and Vietnam - has become a focus of competition. Beijing has dismissed U.S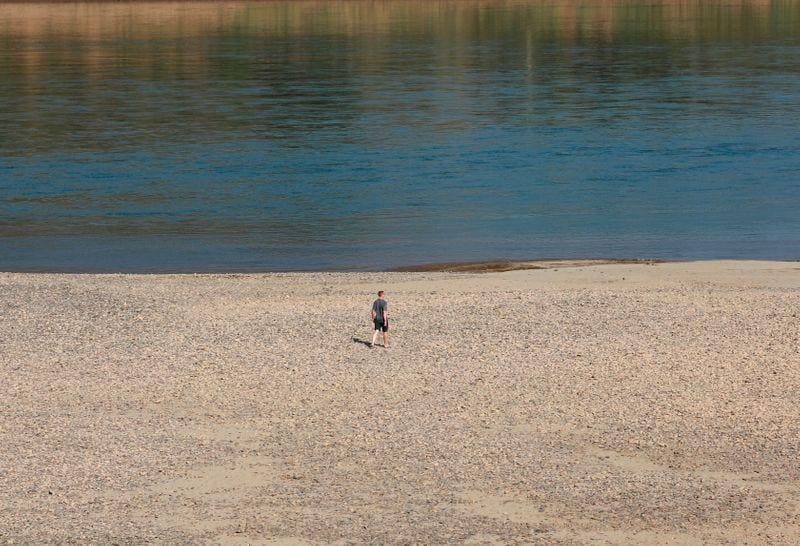 By Kay Johnson and Matthew Tostevin
BANGKOK (Reuters) - A U.S.-funded project using satellites to track and publish water levels at Chinese dams on the Mekong river was launched on Monday, adding to the superpowers' rivalry in Southeast Asia.
The 4,350-km (2,700-mile) waterway - known as the Lancang in China and flowing south through Myanmar, Laos, Thailand, Cambodia and Vietnam - has become a focus of competition.
Beijing has dismissed U.S. research saying Chinese dams have retained water to the detriment of downstream nations, where 60 million people depend on the river for fishing and farming.
The Mekong Dam Monitor, part-funded by the State Department, uses data from cloud-piercing satellites to track levels of dams in China and other countries.
The information will be open for everyone in near real-time.
A separate indicator of "surface wetness" is to show which parts of the region are wetter or drier than usual: a guide to how much natural flows are being affected by the dams.
"The monitor provides evidence that China's 11 mainstream dams are sophisticatedly orchestrated and operated in a way to maximize the production of hydropower for sale to China's eastern provinces with zero consideration given to downstream impacts," said Brian Eyler of the Washington-based Stimson Center, a global think tank which operates the virtual water gauges.
'POSITIVE BENEFITS'
China has been critical of past research, including a study by Eyes on Earth - part of the Mekong Dam Monitor project - which said water had been held back in 2019 as other countries suffered severe drought.
"The United States has been unable to provide good evidence throughout," the state-backed China Renewable Energy Engineering Institute said in a Dec. 4 report.
"The positive benefits of upstream Lancang river hydropower on downstream Mekong neighbours are clear and obvious," it said, adding that water stored in reservoirs during the flood season helped prevent both downstream floods and droughts.
China agreed earlier this year to share water data with the Mekong River Commission (MRC) - an advisory body to Thailand, Laos, Cambodia and Vietnam that had long sought the information for better planning.
China and the United States have rival bodies working with Mekong countries: the Beijing-based Lancang-Mekong Cooperation and the Mekong-U.S. Partnership.
The two nations are also at odds in the South China Sea, where Washington challenges Beijing's claim to most of the waterway, a major conduit for trade that is also rich in energy resources.
(Additional reporting by David Stanway in Shanghai; Editing by Andrew Cawthorne)
This story has not been edited by Firstpost staff and is generated by auto-feed.
Find latest and upcoming tech gadgets online on Tech2 Gadgets. Get technology news, gadgets reviews & ratings. Popular gadgets including laptop, tablet and mobile specifications, features, prices, comparison.
World
MEXICO CITY (Reuters) - Mexico's president said on Thursday that women should decide whether the country should legalize abortion, but he declined to take a position on the issue, which is still opposed by many Mexicans.
World
CAIRO - (Reuters) - Islamic State on Thursday claimed responsibility for a bus attack in Syria the previous day, saying it had killed 40 Syrian army soldiers and badly wounded six others. The statement was carried by Islamic State's Amaq news agency. Syrian state media said on Wednesday that 28 people had died in an attack on a bus along a main highway in Syria's Deir Zor province that borders Iraq.
World
By Joyce Lee GOYANG, South Korea (Reuters) - Global K-Pop sensation BTS celebrated New Year's Eve with an online concert on Thursday along with other K-pop groups from its management agency Big Hit Entertainment and fans from around the world. Halsey, Lauv and Steve Aoki, who have all collaborated with BTS in recent years, joined on a special stage by connecting remotely.