Xi Jinping to visit Russia, hold talks with Vladimir Putin next week: What does this mean for world politics?
As the Russia-Ukraine war intensifies, China's Xi Jinping is reported to meet his Russian counterpart Vladimir Putin 'as soon as next week'. The visit comes on the heels of Beijing's offer to play peacemaker between the two warring countries
They are the world's most powerful autocrats. In 2019, Chinese president Xi Jinping described his Russian counterpart Vladimir Putin as his "best friend". Last year, when the two leaders met just before the Ukraine invasion, they sealed a "no limits" partnership, which caused concern to the West.
As the Russia-Ukraine war enters its second year of battle and ties between the United States and Beijing worsen over Taiwan and the spy balloon, Xi plans to visit Vladimir Putin in Russia as soon as next week, reported Reuters.
What do we know about the visit?
Xi's visit to Moscow after Putin invited the Chinese leader during a video call between the leaders on 30 December. Xi, who secured an unprecedented third term in office last week, had been expected to travel to Moscow in April or early May.
Both sides — Russia and China — declined to provide further details on the visit, with sources citing sensitivity of the issue.
However, the early visit to Moscow by Xi comes after China had earlier offered to broker peace between the two countries and released a 12-point proposal to end the fighting.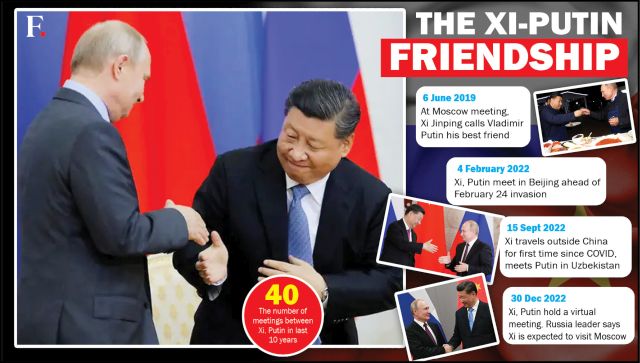 Commenting on Xi's visit earlier, Russia's foreign ministry had said that the two countries will look to strengthen their economic and financial relations and expand energy cooperation. The ministry said that the two nations are coordinating foreign policy courses "to maintain global peace and stability, to settle regional conflicts, to overcome confrontation and promote a unifying agenda".
Xi's visit to Russia comes after China's top foreign diplomat Wang Yi visited Moscow in February, just days before the first anniversary of the war, and met Vladimir Putin. Following the meeting, he had said, "Chinese-Russian relations aren't directed against any third countries and certainly can't be subject to pressure from any third countries."
Also read: New friendship with China is Moscow's biggest prize of the year
What does the visit mean for the war?
There's increased support for Ukraine from the West – with battle tanks and military aid – despite fears of escalation. Russia could face further losses. But Beijing is looking at this differently.
According to a report in South China Morning Post, Chinese observers believe that the fight between Russia and the West could drag on for months, if not years. If the US gets tied up in the conflict, it would only benefit Beijing. "For China, a protracted conflict would prove a useful distraction from Washington's great power rivalry with Beijing," reporter and former diplomat Shi Jiangtao writes. It's why the Communist nation is doubling down on its bet that Putin can sustain the war.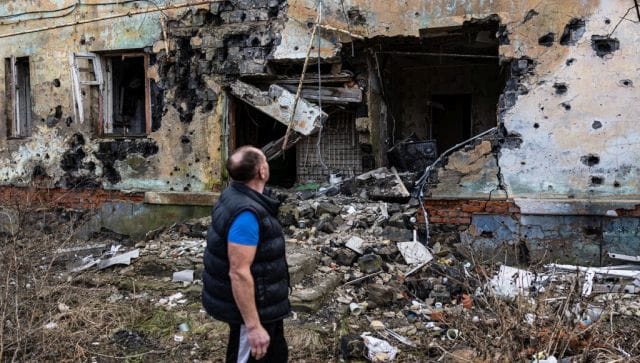 Xi's visit would send a message of defiance to the US, which has been pressuring China to distance itself from Russia. "If it goes ahead, Xi's trip will be a milestone event in China's diplomacy with far-reaching implications for its global standing, and its ties with the US and other major powers. Such a visit would underline Beijing's strategic choice to side with Moscow in their geostrategic rivalry with the West and send a message of defiance," says Shi Jiangtao.
Of course, the biggest beneficiary would be Russia. For Putin, the support from powerful China as his country continues to be isolated provides a big boost. Bejing has been largely neutral in the war but the visit will be seen used by the Kremlin to tomtom that Xi has finally picked a side.
How will this impact US-China ties?
The tensions between the two nations are rising with Washington's growing support to Taiwan. A US air force commander said that a military conflict with mainland China could come as early as 2025. The claim has been supported by a top Republican in the US Congress.
The recent spy balloon incident has only added more strain to the China-US ties. US secretary of state Antony Blinken cancelled his visit to Beijing owing to the shooting down of a balloon, which China claims was used for weather research.
With Xi visiting Moscow, it may further worsen the ties between the two nations and cause geopolitical tensions across the world, especially in the Pacific region.
How has China responded to the war so far?
Xi met Putin just days before the invasion and according to a Chinese official the Russian leader did not tell him "the truth". Beijing was caught off guard by Moscow's decision to attack Ukraine.
Yet China has been tactical in its response to the war. It has refrained from calling it an invasion, it has opposed West-imposed sanctions and sided with Russia or abstained from voting on matters related to the conflict at the United Nations.
Xi has in the past offered to play peacemaker and has spoken against the use of nuclear weapons.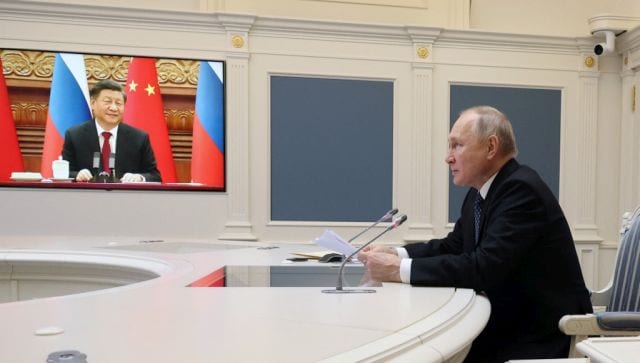 In December, China's foreign minister Wang Yi defended the country's stance on the Ukraine war and hinted that it would deepen ties with Russia in the coming months. Now Xi's possible visit reiterates that position. He added said that China would "deepen strategic mutual trust and mutually beneficial cooperation" with Russia.
But there have been limits to the partnership: China has not provided direct material support which could provoke the West. But recently, the US said that there were indications that Beijing would provide lethal aid to Russia in the war.
This is in addition to reports that stated that state-owned firms in China were helping Russia in the war. A Bloomberg News report had reported that the support from Chinese companies consists of non-lethal military and economic assistance that stops short of a wholesale evasion of the sanctions regime the US and its allies imposed on Russia after the invasion.
Beijing had rubbished the report, with Chinese foreign ministry spokesperson Mao Ning saying that the country "would never add fuel to the fire, still less exploit the crisis".
She said that the US was the one who started the Ukraine crisis. "Rather than reflecting on its own acts, the US has been sowing paranoia and pointing fingers at China. We reject such groundless blackmail, and would not sit by and watch the US harm the legitimate rights and interests of Chinese companies," Mao Ning said, according to Bloomberg.
But much before the war, the two countries have forged a partnership over the years. China is Russia's largest trade partner for more than a decade. Moscow is China's largest oil supplier, second largest supplier of pipeline gas and fourth largest provider of liquefied natural gas.
It remains to be seen what Xi's visit will yield, but it's bound to make the world worry.
With inputs from agencies
Read all the Latest News, Trending News, Cricket News, Bollywood News,
India News and Entertainment News here. Follow us on Facebook, Twitter and Instagram.
World
"As a whole, our interaction on the international scene undoubtedly contributes to strengthening the fundamental principles of the world order and the multipolar system," Vladimir Putin said
World
The talks failed to achieve a breakthrough in the Ukraine conflict, reported CNN
World
"To consolidate and develop well China-Russia relations is a strategic choice China has made on the basis of its own fundamental interests and the prevailing trends of the world," China's MFA said on its website