China warns India to withdraw from border zone, says it is 'precondition for meaningful dialogue'
China on Thursday warned India it will escalate the current border row if it did not withdraw troops from 'Chinese territory' and said this was a 'precondition' for a 'meaningful dialogue' with New Delhi
Beijing: China on Thursday warned India it will escalate the current border row if it did not withdraw troops from "Chinese territory" and said this was a "precondition" for a "meaningful dialogue" with New Delhi.
Beijing said it had pictures of Indian troops "trespassing" the Chinese border.
Talking to the media, Foreign Ministry spokesperson Lu Kang displayed the "photos" from the lectern for a few seconds. The pictures were not clear from a distance. Lu said these will be put up on the Foreign Ministry website after the press briefing.
"We again urge the Indian side to abide by historical boundary convention, respect Chinese territorial sovereignty and withdraw the troops to the Indian side of the boundary to avoid further escalation. This is the precondition for the settlement of the incident and also the basis for us to conduct a meaningful dialogue," he said.
By Chinese territory, Lu meant Donglong or Doklam, a disputed territory between China and Bhutan where troops from the People's Liberation Army and the Indian Army had scuffled.
China has accused India of obstructing the road construction in Donglong at Bhutan's behest.
Following the face-off, China has suspended the pilgrimage to Kailash Mansarovar in Tibet where Indians travel via Nathu La Pass, which is shut now.
Lu said the fact of Indian troops crossing into Chinese territory was "undeniable". "It is violating our historical boundary conventions as well as promised Indian government. I can show you the pictures and photos concerning borders trespassed by Indian troops."
China also brushed aside Bhutan's protest against Beijing building a road towards a Bhutanese Army camp in Zomplri area of Doklam or Donglong, calling the construction "just and lawful" in Chinese territory".
Bhutan has issued a demarche to the Chinese Embassy over the incident in New Delhi since both countries have no diplomatic ties.
"Donglong has been Chinese territory since ancient time. This is an indisputable territory and we have adequate legal basis concerning this," Lu said. "And this is just a sovereign action by China to conduct the road construction in its territory. This is totally justifiable and lawful."B
Barring India and Bhutan, China has settled its land border dispute with its remaining 12 neighbours.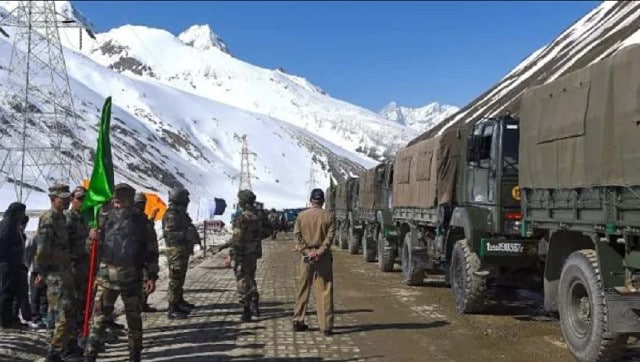 India
The meeting between corps commander-ranked officers of the Indian Army and the Chinese PLA began at 10.30 am and ended at 7.30 pm at Moldo on the Chinese side of the LAC, officials familiar with the development said
World
The torrential rain has affected about three million people in Henan province and a total of 376,000 local residents have been relocated to safe places, the provincial emergency management department said
World
Rainfall in the region was the heaviest since record-keeping began 60 years ago, with Zhengzhou seeing the equivalent of a year's average rainfall in just three days