China state media warn Trump against renouncing free trade deals | Reuters
SHANGHAI Chinese state media warned U.S. President-elect Donald Trump on Saturday against flip-flopping on trade deals in Asia, as Asia-Pacific leaders gathered for a summit amid fears that growing protectionism will stunt global economic growth.During the raucous election campaign, Trump fuelled concerns among many of the United States' trading partners by pledging to renegotiate trade accords such as the North American Free Trade Agreement (NAFTA) and impose tariffs on imports from countries such as China.'Turning his trade-bashing campaign talks into actual policies could bash any hope that the Asia-Pacific will finally have its much-wanted free trade deal,' said a commentary in the official Xinhua news agency on Saturday.'Worse, it could drag his country and the wider world into deeper economic distress,' added the agency, which is a barometer of government thinking
SHANGHAI Chinese state media warned U.S. President-elect Donald Trump on Saturday against flip-flopping on trade deals in Asia, as Asia-Pacific leaders gathered for a summit amid fears that growing protectionism will stunt global economic growth.During the raucous election campaign, Trump fuelled concerns among many of the United States' trading partners by pledging to renegotiate trade accords such as the North American Free Trade Agreement (NAFTA) and impose tariffs on imports from countries such as China."Turning his trade-bashing campaign talks into actual policies could bash any hope that the Asia-Pacific will finally have its much-wanted free trade deal," said a commentary in the official Xinhua news agency on Saturday."Worse, it could drag his country and the wider world into deeper economic distress," added the agency, which is a barometer of government thinking. Xinhua also said that the exclusion of China from the proposed Trans-Pacific Partnership (TPP) free trade agreement was not about boosting trade and instead was U.S. President Barack Obama's strategy to make sure Washington "rules supreme in the region."Obama, Chinese President Xi Jinping and other Pacific Rim leaders are meeting at the annual Asia Pacific Economic Cooperation (APEC) forum in Peru this weekend. [nL8N1DJ3DZ]
Though Obama championed the TPP as a way to counter China's rise, his administration has now stopped trying to win congressional approval for the deal that was signed by 12 economies in the Americas and Asia-Pacific, but excluded China. Without U.S. approval the agreement as currently negotiated cannot come to fruition.China's Xi is selling an alternate vision for regional trade by promoting the Beijing-backed Regional Comprehensive Economic Partnership (RCEP), which as it stands excludes the Americas.
Chinese state media has warned Trump against isolationism and interventionism, calling instead for the United States to actively work with China to maintain the international status quo. [nL4N1DB3TC]"The billionaire-turned-politician needs to prove that derailing the global economy has not been one of the reasons why he ran for U.S. president," Xinhua said.
(Reporting by Engen Tham; Editing by Kim Coghill)
This story has not been edited by Firstpost staff and is generated by auto-feed.
World
Russia is set to host the Taliban and other Afghan factions for talks Wednesday in a move that reflects Moscow's efforts to expand its clout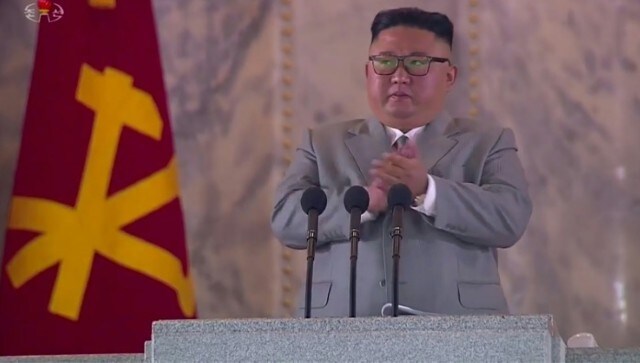 World
Kim also accused South Korea of hypocrisy because it criticises North Korea's weapons development as provocations while spending heavily to increase its own military capabilities
World
Their comments came as Iran has hinted it's ready to return to indirect negotiations with the US in Vienna but has not committed to a date