China-Pakistan Economic Corridor: The dragon's master plan is making India nervous, and with good reason
The China-Pakistan Economic Corridor (CPEC) is an extension of China's One Belt One Road (OBOR) policy, the brainchild of Chinese president Xi Jingping.
The China-Pakistan Economic Corridor (CPEC) is an extension of China's One Belt One Road (OBOR) policy, the brainchild of Chinese president Xi Jingping.
While OBOR is aimed at linking China to Eurasia and fostering economic cooperation between countries, CPEC has one aim: Strengthening the relationship between China and Pakistan to almost symbiotic proportions through a $50 billion investment to expand and upgrade Pakistan's infrastructure.
India has been wary of CPEC from the outset, even going as far as to boycott the high-profile Belt and Road Forum in Beijing. And with good reason.
At the heart of CPEC are a series of roads, power plants and development projects connecting China's restive Xinjiang province to Gwadar in southwestern Pakistan. The trouble is: CPEC passes straight through Pakistan-occupied Kashmir (PoK).
Little wonder then that, according to a report in Al Jazeera, after the announcement of CPEC by Xi in June 2015, Prime Minister Narendra Modi told China that this plan was "unacceptable".
Suchitra Vijayan, a New York-based lawyer told Al Jazeera that India has taken this position because it wants to keep Kashmir as a bilateral issue. However, with the introduction of China and CPEC, Kashmir could become an international issue, which plays into Pakistan's strengths, Vijayan added.
According to a report in The Tribune, Beijing has positioned its armed forces in Gilgit and Baltistan to protect the workers who are constructing CPEC.
Meanwhile, Pakistan has "gifted" 1942 square kilometres of PoK to China to build the Karakoram highway, which is dangerously close to the Siachen glacier, the highest battleground in the world and which happens to be under the control of India.
Strategic analysts in the Indian Army speaking off the record to The Tribune, said that Pakistan has been insisting on demilitarising Siachen and that if India does so, they will be unable to recapture the glacier. They said that the manner in which Beijing and Islamabad were manoeuvring and encroaching on India's territory would have "long-term consequences" for India.
China has looked to assuage India's fears and signalled that they would stay neutral on Kashmir.
According to a report in the Indian Express, Xi, at the opening of China's Belt and Road Forum, said: "All countries should respect each other's sovereignty, dignity and territorial integrity, each other's development paths and social systems, and each other's core interests and major concerns."
While Xi did not mention India or CPEC, the implication was clear. However, political analysts worry if China, given the high stakes involved in CPEC, will be able to stay neutral if the Kashmir issue heats up.
For now, India has no choice but to wait and watch.
With inputs from agencies
Find latest and upcoming tech gadgets online on Tech2 Gadgets. Get technology news, gadgets reviews & ratings. Popular gadgets including laptop, tablet and mobile specifications, features, prices, comparison.
India
From the moment she steps out of her home till she reaches her Chepauk office, Aruna Devi requires assistance from passersby at multiple points. "That there is still no policy to cater to something as basic as transportation shows that there is no concern for us," says the Chennai revenue official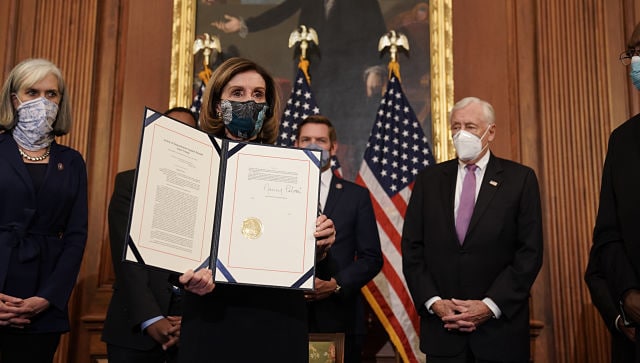 World
While the House moved with remarkable speed to impeach Trump, a Senate trial to determine whether to remove him cannot begin until 19 January, his final full day in office
India
Tapestry Pooling, the initiative developed by the team from Mumbai, is today a finalist in the Open Innovation Track of the $500,000 XPRIZE, a worldwide COVID-19 testing competition