China getting interested in political developments in countries around India
China, which earlier provided support to terrorists in northeast India, is now trying to get involved in political developments in the countries adjoining India, security experts from India and Bangladesh said.
Agartala: China, which earlier provided support to terrorists in northeast India, is now trying to get involved in political developments in the countries adjoining India, security experts from India and Bangladesh said.
Security and terrorism experts, addressing a conclave on cross-border terrorism late on Friday, said that mutual cooperation and in-depth study of the threat could be an effective means to deal with terrorism.
"China has been a factor for northeast India. It earlier supported terrorism in the region. Now China has been showing keen interest in the political development of the countries adjoining India," intelligence official and retired IPS officer AB Mathur said.
He said: "China may take active interest in the next elections in Bangladesh. China has a role in Pakistan and Sri Lankan politics too."
Mathur, who earlier worked in the Indian High Commission in Islamabad, said that Pakistan is the "single source of terrorism in Southeast Asia". The ISI (Inter Services Intelligence) and Pakistan Army are the custodian of Pakistani nationalism, he said.
"ISI and Pakistan Army have an active role in that country's foreign policy, especially diplomacy relating to India. A colonel in the Pakistani Army is more important than a cabinet minister in that country," he added.
"NGOs in Pakistan overtly and covertly are collecting money for terrorist groups and in different forms they advocate for the radical forces. Some so-called Pakistani thinkers are always trying to describe that country's terrorist groups as benevolent groups."
Praising the Bangladesh government for dealing with terrorism, Mathur said that Sheikh Hasina has been courageously dealing with terrorism and fundamentalists in her country.
"Growth of fundamentalists in Bangladesh is of big concern for both India and Bangladesh," he said, adding that Bangladesh could be the gateway for India's 'Act-East Policy'.
The conclave, which was organised by a news portal, was inaugurated by Tripura Governor Tathagata Roy.
Commodore Nurul Absar of Bangladesh said: "Earlier it was thought that poor people or people influenced by madrasas are getting involved in terrorism, but in the recent incidents in Bangladesh, these thoughts proved wrong."
"Affluent people, highly educated men, technocrats and intellectually sound citizens are running terrorism," said Absar, who is the Director (Security) in Bangladesh Prime Minister's Office.
He suggested regular exchange of information, intelligence inputs and continuous research among the affected countries as very vital to curb terrorism in Southeast Asia.
"We have to gather information from all sides and analyze them properly. The form of terrorism is changing everyday, that's why tackling them with an apt method is imperative," said Absar, a former Bangladesh Navy officer.
US-based communication expert, Saumen Sarkar, said that terrorist groups through internet facilities are expanding their base, collecting money, mobilising people and spreading their theories and philosophy.
"Cyber-security and counter terrorism experts in advanced countries like USA, Rusia and Israel work in sync with law enforcement professionals to contain terrorism. By using technology it is possible to crack the networking among the terror groups," said Sarkar, who worked in New York City government and Bank of New York.
"After the 9/11 experience, the US is following all the techniques and they have been successful in technically fighting against terrorism", he added.
Writer and counter-terrorism expert Subir Bhaumik said that India's dealing with Pakistan is not effective and New Delhi should respond in such a way that Islamabad can understand.
"This is a war not fought with guns alone. It is a battle of wits, where to win the argument is more important and specially in cyberspace where the terrorists are learning to thrive and use it as a force multiplier," said Bhaumik, an expert on India's northeastern region.
The Governor, in his speech, questioned that if India has a long standing water treaty with Pakistan, then why is the Teesta water treaty not signed with Bangladesh despite the two neighbours being the closest and natural friends for a long time.
Writer and terrorism expert Jaidip Sakia said that a joint interrogation mechanism between India and Bangladesh is the need of the hour to deal with terror threats in both the countries.
Additional Director General (Special Branch) of Assam Police Pallab Bhattacharya moderated the conclave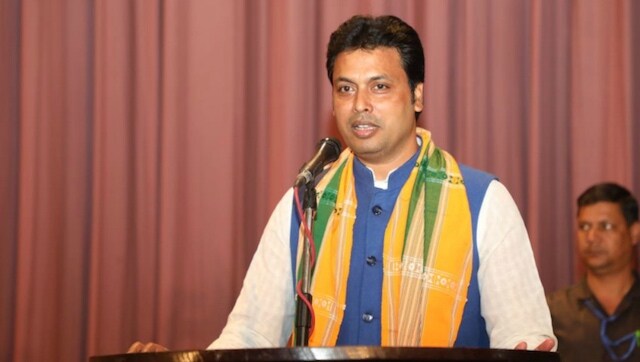 World
Vandalisation continues in the neighbouring state of Bangladesh, with Hindu-owned temples and shops damaged and Hindus attacked in parts of the country
science
The first crew who served a 90-day mission aboard the main Tianhe core module of the space station returned in mid-September.
India
The Centre's move brings a partial uniformity in defining the area of BSF's jurisdiction and avoids state to state differentials