China General's warning: AK Antony must not back down
Antony cannot afford to lower his guard and needs to speak to the Chinese in the language that they best understand.
AK Antony is on trial by fire as he has begun his four-day official visit to China, the first Indian defence minister to do so in seven years.
Even before he set foot on Chinese soil, Antony found himself up against familiar Chinese tactics. Major General Luo Yuan, an unabashed soldier known for his jingoistic views, told reporters in Beijing on 4 July that India should not trigger "new problems" by ramping up its military infrastructure along the Sino-India border.
Luo's views are regularly carried by the state media in the form of signed articles. The Major General, who takes pride in describing himself as a "reasonable hardliner", also went on record as saying that "India is the only country in the world that says it is developing its military power because of China's military threat."
These are familiar Chinese tactics and Antony must read the Chinese tea leaves carefully as he engages with his Chinese interlocutors on key issues impinging on India's national security.
It is a well known ploy by the Chinese to use its state media for airing views (read warnings) of a serving or retired official or even a commentator from the state-controlled media or a think tank before the incoming visit by a top minister of a country with which China has difficult relations.
This serves a useful purpose for Beijing. While the commentator is ostensibly airing his personal views in a personal capacity, the Chinese foreign ministry can afford to roll out a red carpet for the visiting foreign dignitary and have the Chinese foreign office speak sweet nothings.
This is the intricate ancient art of reading the Chinese tea leaves. While the visiting foreign dignitary (Antony in this case) is left in no doubt as to what the real Chinese position is, he is invariably spoken to in much different and milder tones by his official Chinese interlocutors.
So, what is General Luo trying to tell Antony? The Chinese message, routed through Luo with a very high deniability quotient in the unlikely event of the foreign dignitary (Antony) remonstrating, is simple. The two-pronged message is: (i) do not increase your troops' level along the Sino-Indian border; and (ii) do not try to take on China militarily by boosting your military infrastructure, especially along the international border.
After Pranab Mukherjee became the President of India, Antony holds the de facto number two position in the Indian government. Incidentally, Pranab Mukherjee was the last Indian Defence Minister to have visited China in 2006. Therefore, Antony's foreign visits must be seen from this political perspective; more so, when his host country is a difficult neighbour like China.
Antony, who reached Beijing on 4 July, is accompanied by a high level delegation including Defence Secretary RK Mathur, GOC-in-C, Eastern Command, Lt General Dalbir Singh; FOC-in-C, Southern Naval Command, Vice Admiral Satish Soni and other senior officials of the defence ministry and the armed forces.
During this visit, Antony is scheduled to have formal delegation level talks with his Chinese counterpart, State Councilor and the Minister of National Defence, General Chang Wanquan. Both Ministers are expected to discuss a number of issues, including those related to maintenance of peace and tranquility on the border; exchanges and interactions between the armed forces of both sides and matters relating to regional and global security, according to Sitanshu Kar, the chief spokesperson of the MoD.
One of Antony's main talking points is going to be the Border Defence Cooperation Agreement (BDCA), a new proposal by China. The main provision of the BDCA is that India and China must not disturb current troop levels at the borders and also not beef up the military infrastructure at the border.
India has already rejected the Chinese proposal, rightly so, because the Chinese military infrastructure at the borders has already reached saturation point and China enjoys an overwhelming advantage over India.
It is from this perspective that General Luo's outburst has to be seen and analysed. The Chinese, though well aware of the fact that the Indian military preparations along the Sino-Indian border are rudimentary and primitive in comparison to China's already-achieved military capability, are still apprehensive of India.
Beijing knows that Indian government's ongoing border development programme is China-centric and would offset Chinese military plans if this programme were to carry on unchecked. At the same time, the Chinese are aware that there is precious little that they can do to halt or reverse the Indian plans, just as the Indians could not do anything when the Chinese boosted their military infrastructure along the border over the years.
Therefore, the next best option for the Chinese is to indulge in downright threats and arm-twisting and this is precisely what General Luo has done.
The Chinese tactic holds no novelty for India's China-watchers. It is inconceivable for any Indian defence minister, no matter which political party is at the helm of affairs in New Delhi, to miss this vital point. Antony cannot afford to lower his guard and needs to speak to the Chinese in the language that they best understand.
Antony has to tell the Chinese that it takes two to tango and it is entirely India's prerogative as to how it manages its national security and China has no right to interfere, just as India has not interfered when the Chinese juggernaut was going whole hog while beefing up its military infrastructure along the borders.
This is the only template India can, and should, bear in mind while negotiating with China on their proposed BDCA. A good old Chinese proverb can be Antony's beacon light as he negotiates his difficult ongoing Mission China: the dog may bark, but the elephant moves on.
-----------
*The writer is a Firstpost columnist and a strategic analyst who can be reached at bhootnath004@yahoo.com
Subscribe to Moneycontrol Pro at ₹499 for the first year. Use code PRO499. Limited period offer. *T&C apply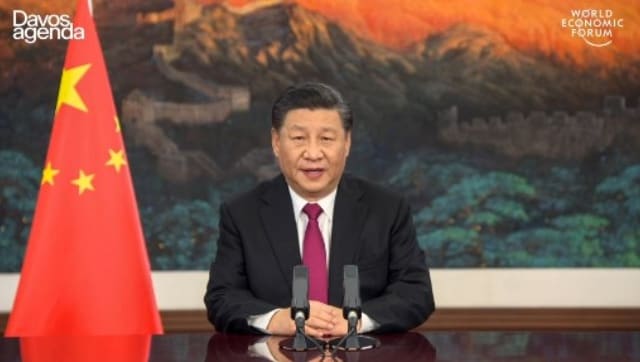 World
China is the second biggest spender of defence after the US, and plans to build a fully modern military on par with the United States by 2027
science
A successful bid to land Tianwen-1 would make China only the second country after the US to place a spacecraft on Mars.
World
China is also at work on reusable spacecrafts, a crewed moon mission and a possible permanent research base on the moon, though no dates have been proposed.