India's anti-bribe campaign inspires Chinese netizens
Chinese activists clone a popular Indian anti-bribery portal, but doubts linger about how long they will be allowed to operate.
The anti-corruption movement in India, which has acquired fever pitch in recent months, is proving contagious, and is influencing people in China, which too faces just as serious a problem with corruption.
In recent days, Chinese netizens have launched three anti-bribery whistleblowers' website, inspired by an Indian website – ipaidabribe.com – where users can anonymously post details of bribes that they either paid or refused to pay.
The Chinese-language websites – ibribery.com and woxinghuile.info (which in Chinese means 'I paid a bribe')  and 522phone.com – have proved enormously popular: they've drawn over 5 million hits and a blizzard of posts in just days, forcing their servers to crash. An administrator's post this morning notifies visitors to the server overload and urges them to be patient as new servers were being drawn in to handle the enhanced traffic.
Yet, there are already doubts about how long they will be allowed to operate, since they are perceived to challenge the government's emphasis on maintaining "social harmony" by giving a platform for voicing anger at government officials.
As several commentators noted, the Chinese experiment is doomed to fail because the country lacks the environment in which the Indian anti-bribery platform, run by Bangalore-based NGO Janaagraha , operates and thrives: an open, democratic ecosystem that protects free speech.
"This site will soon be 'harmonised'," noted one commentator, invoking the slang phrase for rigorous Net censorship that the Chinese government enforces, ostensibly in the interest of maintaining "social harmony". A few others speculated cynically that the website would soon become a "rent-seeker" and start deleting posts for monetary considerations.
Concerns that the anonymous posts could also invoke cases of libel also run high, since a few of the posts resort to borderline reckless slandering without adequate substantiation of charges of bribery. The websites' owners, a group of anti-corruption activists and lawyers, however argue that in fact they hope to secure the government's support for the anti-corruption platform since in fact it was corruption that feeds social disharmony.
The websites' administrators urge visitors to "expose bribery" but not resort to slanders and lies against honest people. They claim that the anonymity of posters will be protected and that as an adequate measure of protection, the servers are sited overseas.
On the sites, the posts that allege bribery range from the mundane to the monumental, but given the nature of the medium, they are not easy to verify. Yet, taken in their entirety, they show up a society that is just as overwrought about the widespread corruption of public officials as people in India are.
Those concerns manifest themselves frequently in China. Tales of official corruption are legion, and Internet vigilantes take great pride in unmasking official corruption.
Recently, a senior Sinopec official was demoted following widespread public outrage after it was revealed that the official had spent over 2.5 million yuan (over $100,000) of official funds on expensive liquor. On another occasion, an official in Nanjing was unmasked by Netizens who dug out photographs to show his extravagant lifestyle way beyond his known sources of income.
A couple of years ago, a video documentary from a newspaper reporting on children's first day at school – and asking them innocuous questions about what they would like to be when they grow up – kicked up a storm in China after one of the children said he wanted to become a "corrupt official – since they make a lot of money."
"It seems like the decadence of society has already reached the point where pretension and hypocrisy are not even needed," noted Ho-fung Hung, sociology professor at Indiana University.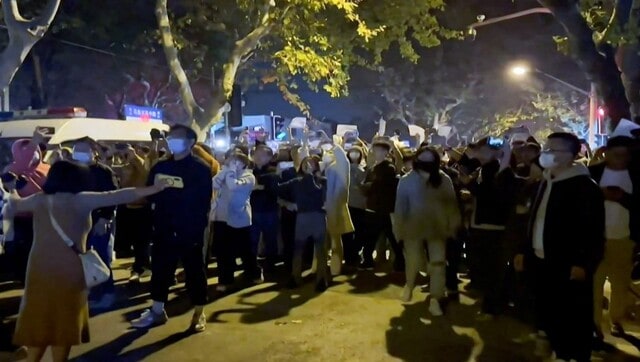 World
China's hardline virus strategy is stoking public frustration, with many growing weary of snap lockdowns, lengthy quarantines and mass testing campaigns
World
The protest at Tsinghua follows an overnight demonstration at neighbouring Peking University, and videos have spread on social media of similar gatherings in other Chinese cities
World
Employees complained Foxconn Technology Group changed the terms of wages offered to attract them to the factory in the central city of Zhengzhou