China asks Pakistan to relocate Hafiz Saeed; Beijing's gradual change in stance over JUD chief would please India
The Chinese government has asked Pakistan to relocate 26/11 attacks mastermind and Jamat-ud-Dawa chief Hafiz Mohammad Saeed amid mounting international pressure over his terror links, reports claimed on Thursday.
The Chinese government has asked Pakistan to relocate 26/11 attacks mastermind and Jamaat-ud-Dawa chief Hafiz Mohammad Saeed amid mounting international pressure over his terror links, reports claimed on Thursday.
According to The Hindu, Saeed, formed a major part of a 35-minute meeting between Chinese president Xi Jinping and Pakistan prime minister Shahid Khaqan Abbasi on the sidelines of Boao Forum in China last month, during which the Xi pressed Khaqan "to find an early solution to keep Saeed away from the limelight", a close aide of the Pakistan prime minister told the newspaper. The Chinese president reportedly suggested that Saeed be allowed "to live a quiet life in a West Asian country".
Though, China has denied the reports, terming it "shocking" and "baseless", if true, this suggestion marks a significant shift in Beijing's stand on the Saeed issue, which has been a sore point in India-China relations, especially because of Beijing repeatedly using its Veto power in the UN Security Council to block all anti-Saeed moves, be it from India or the US.
So, what brought this change of stance? To understand that one needs to go through how China has reacted to the Hafiz Saeed issue, and things that may have brought a change in his stand over the issue.
China in its capacity as the permanent member of the UN Security Council has the veto power and nothing can be approved by this 15-member high-powered body of the United Nations without the consent of Beijing. The country has been using this veto power in the UN Security Council time and again to block any move against Pakistan and Hafiz Saeed.
In fact, China's efforts to impede actions against Saeed go back to as early as 2006.
Though China, allowed Saeed and the JuD to be added to UN 1267 Sanctions list after the 26/11 Mumbai attacks, according to a US state department cable signed off by the then secretary of state Hillary Clinton, and released by WikiLeaks, Beijing thwarted efforts to impose sanctions on Saeed, way before the 26/11 attacks on Mumbai.
Between April 2006 and May 2008 — China stalled two proposals by the United States, United Kingdom, and France to put Saeed and JuD on the 1267 list, citing insufficient evidence, claims a The Hindu article.
Pakistan, as a result, closed more than more than 100 JuD offices in Pakitan and arrested several senior members of the organisation. But despite the sanctions and a $10 million reward that the US announced later in 2012, Saeed remained a largely free man in Pakistan. A 2013 article in The New York Times offers a clear picture of the level of freedom that Saeed enjoyed in Pakistan despite being put in a prescribed list.
That the US Department of the Treasury designated Saeed as a Specially Designated Global Terrorist, and the US, since 2012, has offered a $10 million reward for information that brings Saeed to justice, failed to move Beijing.
Between September 2014 and April 2016, China blocked India five times, from seeking stricter actions against the JuD chief, or seeking action against Pakistan for violating the ban on Saeed. It used its veto power to block similar move again in October 2016.
In overall, 2016 marked one of the lowest points in India-China relations in terms of security as Beijing blocked New Delhi's every move to pressure Pakistan into containing terrorist organisations in Pakistan soil. Not happy with souring India-China relations, a former Chinese diplomat went on to stress the need to change Beijing's anti-India policy.
In February 2017, amid mounting international pressure, Pakistan put Saeed on house arrest. Notably, China is believed to be the invisible hand which put Saeed under House arrest in February 2017.
Over the next few months, even as skirmishes along the border and the Dokalam issue became a major talking point of India-China relations, India-China managed to keep their channels of communication open.
In December 2017, at the 15th edition of the trilateral meeting of foreign ministers of India, China, and Russia, New Delhi made a major gain on the Saeed and JuD issue as Sushma Swaraj and her Russian and Chinese counterparts Sergey Lavrov and Wang Yi emphasised the need for a comprehensive approach in combating terrorism in their joint statement. "We agree to strengthen cooperation to take decisive and concerted actions against globally proscribed terrorists and terror entities," the joint communique said.
In February 2018, even though China initially resisted any action against Pakistan by the Financial Action Task Force (FATF), a global money-laundering watchdog, the US succeeded in persuading China to clear a motion to 'grey list' Pakistan in June this year. Though being put in the FATF grey-list is not going to be a major deterrence for Pakistan, considering it was in the list between 2012 and 2015 as well, that China and the Kingdom of Saudi Arabia changed their earlier stance by remaining silent during the second round of voting, makes for a pro-New Delhi statement.
Now, if Pakistan accepts the move, and it ought since Beijing is said to be irked with Pakistan seesawing over the Saeed issue, it would prove two things: first, Beijing's control over Islamabad is actually deeper than one would like to think, and second, even though not the best, this move points to some success of New Delhi's new foreign strategy, especially in terms of its relationship with China.
New Delhi must continue its policy of diplomacy and international pressure both at the same time.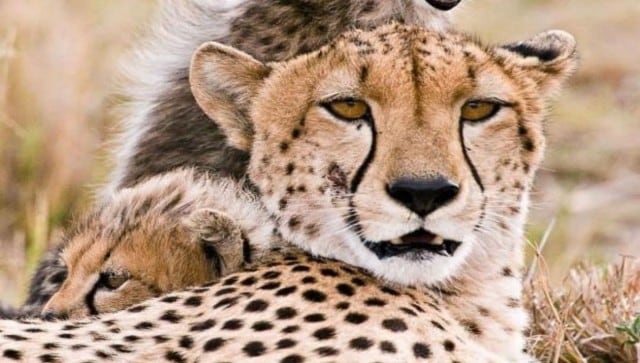 Explainers
Some say the presence of leopards in Kuno National Park could pose a problem for the big cats, while others point to reports of camera traps being removed and remain wary of poaching. But authorities say these lines of thinking miss the big picture
World
The Chinese economy is expected to grow by just 3 per cent this year, the slowest since 1976, saving 2.2 per cent during the initial COVID hit in 2020 since there are not many signs of the zero-COVID policy to be relaxed significantly any time soon
World
This is the first time that PM Narendra Modi and China's Xi Jinping have met face-to-face at a global summit since the military standoff between the two Asian giants that began with a clash among soldiers of the Indian Army and China's People's Liberation Army in Galwaan Valley in June 2020