China advocates non-intervention in Maldives political crisis, but call likely motivated by 'strategic interests'
It's become something of a State policy for Beijing to advocate non-intervention in foreign affairs of other countries. But in Maldives, it does have a dog in the fight.
China on Tuesday hit back at former Maldivian president Mohammad Nasheed, dismissing his allegations that it grabbed land  in the Maldives as "groundless".
It was the latest in a long line of statements Beijing has made regarding the ongoing political crisis in the Indian Ocean archipelago. Last week, China said other countries shouldn't interfere in Maldives, and that the international community should "respect the sovereignty and independence" of the Maldives.
"China does not interfere in the Maldives' internal affairs, which is also an important criterion of the rules of the United Nations charter," Chinese foreign minister Wang Yi said, adding that it supported the Maldives government. "The international community should play a constructive role in promoting the Maldives' stability and development on the basis of respecting the Maldives' wishes," Wang said.
This came two days after a similarly worded response to talks about a possible military intervention by India. China said such a move would "complicate the situation" in Male. "We hope relevant parties in the Maldives can properly resolve the issue through consultation and restore national stability and social order as soon as possible. We believe they (have) wisdom and capability to address the situation independently," he said without directly mentioning India.
The Global Times, a part of the ruling Communist Party of China's publications, came out with an editorial entitled 'India must stop intervening in Male'.
"Political struggles are supposed to be internal affairs, and New Delhi has no justification to intervene in Male's affairs. The Maldives must be under huge pressure from India," it said. "The Maldives' sovereignty should be respected. The political unrest should be left to the Maldivian people to address. We urge all sides in the country to exercise restraint and end the crisis at the minimum cost, striking the correct balance between legal and governmental authority," it said.
China's dog in the Maldivian fight
It's become something of a State policy for Beijing to advocate non-intervention in foreign affairs of other countries. In Syria, where President Bashar al-Assad has been battling rebels for seven years, China teamed up with Russia to veto sanctions proposed by the United Nations on the Assad regime. Unlike Russia, which has directly intervened in the crisis, China has done so from afar, insisting that Syria's future must be decided by the Syrian people and foreign powers shouldn't intervene.
It's similar to the stance taken by Beijing in the Maldivian crisis. However, while in Syria, its call for non-intervention may be altruistic in nature, things are slightly different in Maldives, where it does have a dog in the fight.
China has been one of the biggest supporters of the Abdulla Yameen government in Male. As analysed by Firstpost in a previous article, the Maldivian economy is hugely dependent on China, be it for tourism or for trade.
China provides it with the maximum number of tourists from a single country: One-fifth of all tourists to Maldives are Chinese nationals. Given the fact that Maldives is a tourism-dependent economy, it's critically important for Male that China doesn't issue a travel advisory.
But far more important are infrastructural investments made by China in Maldives.
Ever since Abdulla Yameen took charge in 2013, Maldives has grown increasingly close to China, a marked change from the policies of his predecessor, Mohamed Nasheed, who had once said ties with India were 2,000-3,000 years old, and Maldives would prioritise this over the billions of dollars of funds pumped in by Beijing.
However, Yameen has pursued a different course. Yameen became the first Asian Head of State to visit China after the 19th National Congress of the Communist Party of China (CPC) was held in October.
In December, the two countries signed 12 agreements, including a memorandum of understanding on the One Belt One Road initiative,  a free trade agreement and agreements on the economy, human resources, oceans, environment, health care and finance.
In September 2014, Chinese president Xi Jinping made a State visit to Male, whereby he called his host country as being a "string of pearls that God left on the Indian Ocean". He also promised to extend all help for the construction of the 'Male-Hulhule Bridge'.
China also considers Maldives to be an important ally in its ambitious Belt and Road Initiative to build trade and infrastructure networks connecting Asia with Europe and Africa on and beyond the ancient Silk Road routes. It comprises the Silk Road Economic Belt and the 21st Century Maritime Silk Road.
World
Poet Hu Minzhi has reportedly been banned from both social media platforms- Weibo and Douyin -after she claimed that, in early September, she had been "asked to drink tea," which is code for being brought in to speak to state security officers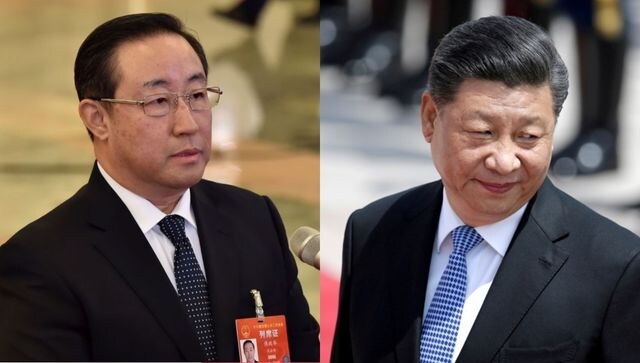 World
China's former Justice Minister Fu Zhenghua was sentenced to death on Thursday with a two-year reprieve for corruption and abuse of power.
India
Narendra Modi's reference to 'democracy' in the context of India's hopes for a dialogue-based solution to the Ukraine war would have been noticed as much in Moscow as in Western capitals