Chile to re-write Pinochet-era constitution in win for protesters
By Natalia A.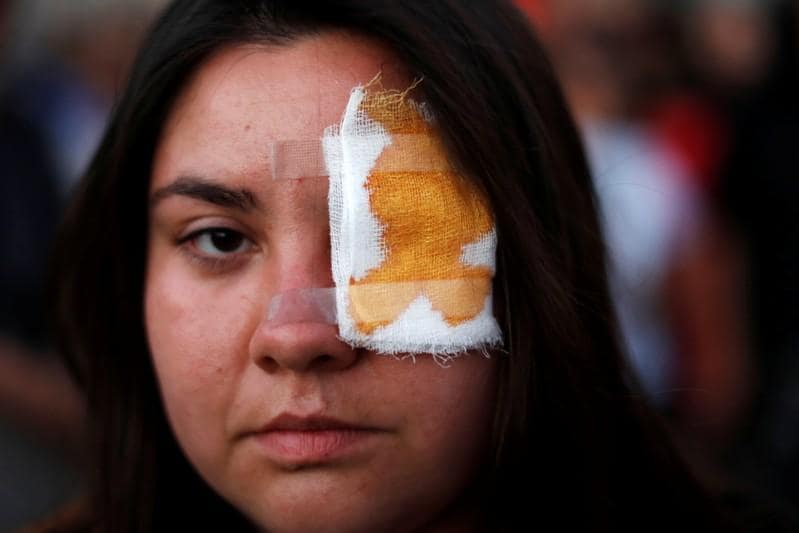 By Natalia A. Ramos Miranda
SANTIAGO (Reuters) - The Chilean government has agreed to write a new constitution to replace one dating back to the Pinochet dictatorship, bowing to demands of protesters who have taken to the streets in often violent demonstrations in recent weeks.
Interior Minister Gonzalo Blumel said the president, cabinet members and political allies had agreed Congress should lead the process of re-writing the constitution. The document would be put to a public referendum.
"Above all, we must focus on the goal of reconfiguring the social contract, which has arisen as a fundamental demand of our citizens," Blumel told a news conference on Sunday night.
The announcement from President Sebastian Pinera's centre-right government follows three weeks of protests sparked by a hike in metro fares.
The demonstrations have sometimes devolved into arson, riots and looting, leaving at least 20 dead and wreaking billions of dollars in damages to public infrastructure and private business. Santiago's public transport system has been hobbled.
A new constitution has repeatedly arisen as a central demand of protesters. Critics have long said the existing document, written and approved during General Augusto Pinochet's 1973-1990 military dictatorship, lacks legitimacy.
Chile's communist party said in a statement the Pinera administration had still not gone far enough, demanding a referendum even before the process begins so the "people can determine the mechanism for drafting the new Constitution."
On Monday, Pinera's spokeswoman Karla Rubilar held firm on the importance of routing the process through lawmakers.
"We believe firmly that the best deal will be achieved by going through Congress," Rubilar said, adding that the administration recognised the importance of "active participation" of Chileans.
Chile's constitution has been tweaked several times since it was enacted in 1980. But those calling for change say any new text must add further protection of social rights and increase citizen participation in the 30-year old democracy.
Opponents of the overhaul say the current charter has been a pillar of stability for Chile, among the region's strongest and most investor-friendly economies.
Blumel did not give a timeline for the process but said the government would move quickly to begin.
"The best way to proceed is via Congress, with participation from citizens, and then, to submit it to a plebiscite," Blumel said.
(Reporting by Natalia Ramos, writing by Dave Sherwood, Editing by Angus MacSwan and David Gregorio)
This story has not been edited by Firstpost staff and is generated by auto-feed.
Find latest and upcoming tech gadgets online on Tech2 Gadgets. Get technology news, gadgets reviews & ratings. Popular gadgets including laptop, tablet and mobile specifications, features, prices, comparison.
World
By Anna Koper and Joanna Plucinska WARSAW (Reuters) - Polish presidential challenger Rafal Trzaskowski tried to rally supporters of other opposition candidates to his centrist cause on Monday, vowing to hold the nationalist government to account ahead of what looks set to be a knife-edge run-off vote. Incumbent president Andrzej Duda, an ally of the ruling Law and Justice (PiS) party, led the first round of the presidential election on Sunday, but fell short of the 50% needed for outright victory, setting the stage for a run-off with Trzaskowski on July 12. "I am directing my words to all those who want change," Trzaskowski, the liberal mayor of Warsaw, told supporters in the city of Plock
World
By Tangi Salaün PARIS (Reuters) - A French court on Monday sentenced former Prime Minister Francois Fillon to five years in jail, three of them suspended, for embezzling public funds in a scandal that wrecked his 2017 run for president.
World
By Ben Kellerman NEW YORK (Reuters) - The coronavirus pandemic forced the cancellation of most in-person Pride events this year, but a march in Manhattan on Sunday drew thousands to the streets in solidarity with protesters demanding an end to racial injustice and police brutality. The second annual Queer Liberation March capped a month of Pride events, virtual and live, during which the celebration of LGBTQ lives has merged with the nationwide demonstrations ignited by the death of George Floyd in Minneapolis last month. People chanted "No justice, no peace" as the crowd snaked through Manhattan, while techno music blasted from a pickup truck carrying two DJs, one of whom led marchers in chanting "Black lives matter." Reclaim Pride Coalition, the group that organized the march, staged its first protest last year by walking in the opposite direction to New York City's marquee Pride parade, rejecting that event's large uniformed police presence and the ubiquitous corporate-sponsored floats that normally drift down Manhattan's 5th Avenue each year