Chicago mayor lashes out after prosecutors drop Jussie Smollett charges
By Brendan O'Brien and Gina Cherelus CHICAGO/NEW YORK (Reuters) - Chicago Mayor Rahm Emanuel angrily lashed out on Tuesday after prosecutors dropped charges that had accused 'Empire' actor Jussie Smollett of staging a phony hate crime that hit hot-button issues of race, sexuality and America's political divide. Smollett, who is black and gay, had earlier described the move as a complete vindication, and said he had told the truth when he said two masked men threw a noose around his neck and poured chemicals on him while yelling racist and homophobic slurs in January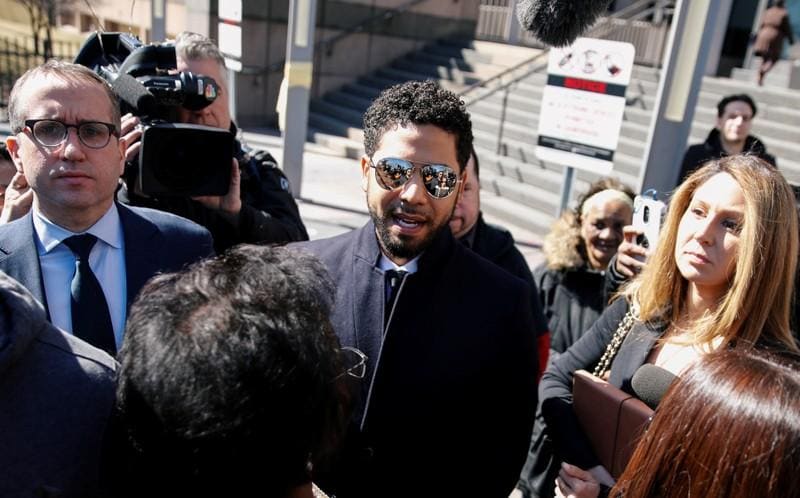 By Brendan O'Brien and Gina Cherelus
CHICAGO/NEW YORK (Reuters) - Chicago Mayor Rahm Emanuel angrily lashed out on Tuesday after prosecutors dropped charges that had accused "Empire" actor Jussie Smollett of staging a phony hate crime that hit hot-button issues of race, sexuality and America's political divide.
Smollett, who is black and gay, had earlier described the move as a complete vindication, and said he had told the truth when he said two masked men threw a noose around his neck and poured chemicals on him while yelling racist and homophobic slurs in January.
Emanuel criticized the move by Cook County prosecutors, saying he stood by the police investigation.
"This is a whitewash of justice," Emanuel told a news conference. "From top to bottom, this is not on the level."
Prosecutors could not immediately be reached for a response.
That came hours after Smollett stood by his earlier accusations, which drew worldwide attention.
"I've been truthful and consistent on every single level since day one," Smollett told reporters earlier on Tuesday outside a Chicago courthouse, where he posed for photos with supporters after a brief court hearing during which prosecutors abandoned the case.
Prosecutors had charged Smollett on Feb. 21 with filing a false report, accusing the actor of paying two brothers $3,500 to stage the attack in an effort to use the notoriety to advance his career.
The brothers, who were arrested after getting captured on surveillance footage near the site of the alleged assault, confessed to their role in Smollett's plot and were released without charges, authorities said in February. One of them had worked with Smollett on "Empire," Fox's hip-hop drama, according to police.
(Reporting by Brendan O'Brien in Chicago and Gina Cherelus in New York; Additional reporting by Peter Szekely; Writing by Joseph Ax; Editing by Scott Malone and Matthew Lewis)
This story has not been edited by Firstpost staff and is generated by auto-feed.
Find latest and upcoming tech gadgets online on Tech2 Gadgets. Get technology news, gadgets reviews & ratings. Popular gadgets including laptop, tablet and mobile specifications, features, prices, comparison.
Business
By James Davey LONDON (Reuters) - Distribution of several British newspapers was disrupted on Saturday after climate change activists blockaded printworks used by Rupert Murdoch's News UK, publisher of The Times and The Sun, drawing condemnation from Prime Minister Boris Johnson.
Business
PARIS (Reuters) - France denied the European Union's Brexit negotiator Michel Barnier was about to be sidelined by EU leaders in a bid to break the deadlock in trade talks, as reported by British newspaper the Daily Telegraph. Twisting a famous British war slogan, European affairs minister Clement Beaune tweeted on Saturday: "Keep calm and support Michel Barnier".
World
MEXICO CITY (Reuters) - Mexico's National Electoral Institute (INE) has denied former President Felipe Calderon's bid to register his Free Mexico movement as a new political party, saying some of its funding was questionable.