Chaos reigns in Sri Lanka Parliament as Mahinda Rajapaksa supporters clash with UNP MPs, threaten Speaker Karu Jayasuriya
The situation inside the Sri Lanka parliament turned violent on Thursday with MPs supporting Mahinda Rajapaksa clashing with UNP Mps amid allegations of malpractice against the House Speaker Karu Jayasuriya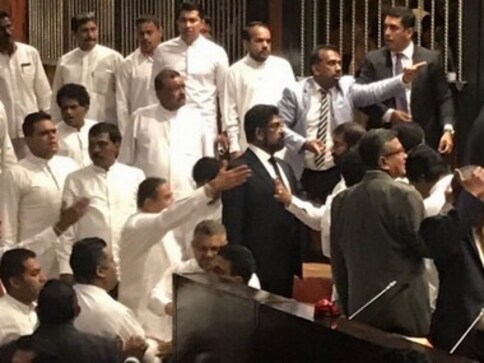 Day after the Sri Lankan Parliament passed no confidence motion against recently appointed prime minister Mahinda Rajapaksa, the situation turned violent inside the House on Thursday as MPs clashed with each other amid allegations of malpractice against the House Speaker, reports said.
Azzam Ameen, a Sri Lanka-based journalist tweeted images and videos of scenes inside the Sri Lankan Parliament where MPs could be seen clashing with each other and hurling waste paper basket at House Speaker Karu Jayasuriya. According to Ameen, several MPs were injured in the clashes that broke out soon after recently appointed prime minister Mahinda Rajapaksa gave his speech inside the Parliament.
According to Sri Lanka-based Daily Mirror, UNP MP Lakshman Kiriella requested a Parliament vote by name for the speech delivered by Rajapaksa. The request, however, was challenged by MPs supporting Rajapaksa with some MPs, according to State Minister of Finance Eran Wickramaratne, physically threatened the speaker and clashed with each other. What followed soon after that was chaos with MPs clashing with each other.
Jayasuriya had said on Thursday that in his view the country did not have a prime minister or Cabinet after Wednesday's no-confidence vote. The Sri Lankan Parliament is currently divided into two camps — the Rajapaksa camp, which supports the prime ministership of the former Sri Lankan president and is demanding fresh elections as called by the President Maithripala Sirisena, and the UNP camp, which is seeking reinstatement of the Wickremsinghe government.
Sirisena had sacked Wickremsinghe and appointed Rajapaksa as the new prime minister in an abrupt decision on 26 October. The decision, however, was tremed unconstitutional by UNP and other supporters of Wickremsinghe, and chaos prevailed with two people claiming to run the government. Meanwhile, Wickremesinghe refused to leave his residence, Temple Trees. Though Sirisena had earlier agreed to convene parliament on 14 November, he dramatically reversed course on 9 November and dissolved the Parliament.
Sirisena also announced fresh elections to be held on 5 January. However, both the decisions were challenged in the Supreme Court, which revoked it till it had heard petitions challenging the move as unconstitutional.
On Wednesday, when the Parliament reconvened, the Rajapaksa government lost a no confidence motion. The parliament passed the no-confidence motion against Rajapaksa and his government, with the backing of 122 lawmakers from the 225-member legislature.
However, Sirisena in a letter to the speaker said he cannot accept the no-confidence vote as the speaker appeared to have ignored the constitution, parliamentary procedure and traditions.
Rajapaksa's party, the Sri Lanka Podujana Peramuna (SLPP), also shared a copy of the letter that the president wrote to Jayasuriya, while also accusing the Speaker of "substituting MPs Attendance List of 2nd November for that of 14th November".
Earlier on Thursday, UNP leaders along with the Speaker had refused to attend a meeting called by the President.
With inputs from AP
World
The police last week asked the protesters to leave the Galle Face site by 5 August, but they defied the order and filed writ applications in the Appeal Court, claiming their right to protest
Sports
A video circulating on social media platforms showed the man emulating Presidential credentials while sitting on the President's chair as anarchy mounted in Sri Lanka amid an unprecedented financial crisis
World
Backed by the Rajapaksas' party, Wickremesinghe became the president. Now at the helm of affairs, he faces multiple challenges including how to keep the Rajapaksas at bay