India eyes Iran's energy resources, commits over Rs 1 lakh crore investment in Chabahar
India will invest billions of dollars in setting up industries -- ranging from aluminum smelter to urea plants -- in Iran's Chabahar free trade zone.
Tehran: India will invest billions of dollars in setting up industries -- ranging from aluminum smelter to urea plants -- in Iran's Chabahar free trade zone after it signed a pact to operate a strategic port on the Persian Gulf nation's southern coast.
The inking of commercial contract to build and run the strategic port of Chabahar will help India gain a foothold in Iran and win access to Afghanistan, Russia and Europe, thus circumventing Pakistan, Road Transport, Highways and Shipping Minister Nitin Gadkari told PTI.
"The distance between Kandla and the Chabahar port is less than the distance between New Delhi and Mumbai, and so what this agreement does is to enable us quick movement of goods first to Iran and then onwards to Afghanistan and Russia through a new rail and road link," he explained.
"Over Rs 1 lakh crore investment can happen in Chabahar free trade zone," Gadkari said.
Prime Minister Narendra Modi arrived here on Sunday on a two-day visit seeking to further cement Indo-Iranian ties and explore avenues to bolster trade in a big way in the wake of lifting of sanctions against Iran.
Iran, Gadkari said, has cheap natural gas and power that Indian firms are keen to tap to build a 0.5-million tonne aluminium smelter plant as well as urea manufacturing units.
"We spend Rs 45,000 crore annually on urea subsidy, and if we can manufacture it in the Chabahar free trade zone and move it through the port to Kandla and onward to hinterland, we can save that amount," he said.
Gadkari said Nalco will set up the aluminium smelter while private and co-operative fertiliser firms are keen to build urea plants provided they get gas at less than USD 2 per mmBtu.
Railway PSU IRCON will build a rail line at Chabahar to move goods right up to Afghanistan, he said.
Gadkari said India Ports Global Pvt, a joint venture of the Jawaharlal Nehru Port Trust and the Kandla Port Trust, will invest USD 85 million in developing two container berths with a length of 640 metres and three multi cargo berths.
The Indian consortium has signed the port pact with Aria Banader Iranian.
"The contract is for 10 years and can be extended. We will take 18 months to complete phase one of the construction," he said, adding that first two years of the contract are grace period where India doesn't have to guarantee any cargo.
From the third year, India will guarantee 30,000 TEUs of cargo at the Chabahar port which will go up to 2,50,000 TEUs by the 10th year.
An initial pact to build the Chabahar port was first inked during the Atal Bihari Vajpayee's government in 2003, but the deal slipped through during subsequent years. It has been aggressively pushed in the past one year, leading to signing of the agreement for phase-1 today, Gadkari said.
"This is a historic event which will herald in a new era of development. We can now go to Afghanistan and further to Russia and Europe without going through Pakistan," he said.
The Zaranj-Delaram road constructed by India in 2009 can give access to Afghanistan's Garland Highway, setting up road access to four major cities in Afghanistan -- Herat, Kandahar, Kabul and Mazar-e-Sharif.
India is also reported to finance another road network inside Afghanistan to enable Iran to access as far as Tajikistan through a shorter route.
The Indian joint venture company will invest more than USD 85.2 million in development of the port. India's Exim Bank will provide a credit line of another USD 150 million.
India will install equipment and operate two berths in the first phase of the Chabahar port with an investment of USD 85.2 million and annual revenue expenditure of USD 22.9 million on a 10-year lease, Gadkari said.
Gadkari also said India will build a 500-km railway between Chabahar and Zahedan which will connect Chabahar to Central Asia.
Chabahar port, located in the Sistan-Baluchistan Province on Iran's southern coast, is of great strategic utility for India. It lies outside the Persian Gulf and is easily accessed from India's western coast.
The port project will be the first overseas venture for an Indian state-owned port.
First Cricket News
''Extremely delighted & proud to receive the Guinness World Record for the largest attendance at a T20 match when 101,566 people witnessed the epic IPL final at @GCAMotera's magnificent Narendra Modi Stadium on 29 May 2022. A big thanks to our fans for making this possible,'' Shah tweeted.
India
Addressing a rally in Rajkot in poll-bound Gujarat in support of BJP candidates, the prime minister compared his performance with former PM Manmohan Singh's tenure of ten years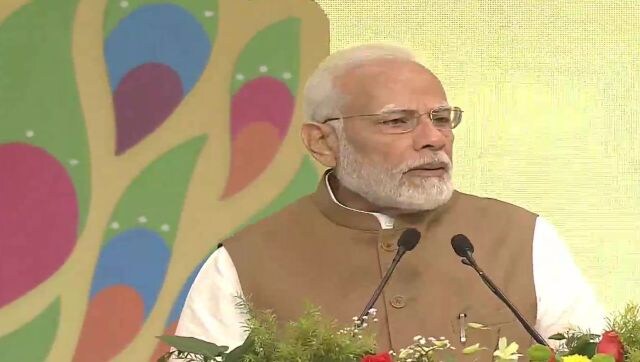 India
In September, PM Modi's carcade stopped to make way for an ambulance en route to Gandhinagar from Ahmedabad