Will CBS 60 minutes Stormy Daniels show air March 25?
Stormy Daniels passed a 2011 polygraph test in which she said she had unprotected sex with President Donald Trump, Wall Street Journal is reporting.
The Trump White House is toiling hard to block all avenues for porn star Stormy Daniels from talking on the top rated 'CBS 60 minutes' show Sunday, March 25 as news came in that Daniels passed a lie detector test in 2011 about her alleged affair with Trump. Michael Avenatti, lawyer for Daniels, whose real name is Stephanie Clifford, has tweeted a picture of himself, Clifford and CBS interviewer Anderson Cooper in preparation for Sunday prime time. There's still no official date for the CBS 60 minutes with Stormy even as a Playboy model Karen McDougal is suing today to break her silence on Trump. Legal experts on TV are saying this case imperils Trump in a far greater way than Stormy's. Reason is that McDougal claims that she was hoping to write and share her story and was misled by Trump's lawyer Michael Cohen into silence. So, why is Micheal Cohen involved in hush agreements with so many women who are gunning for Trump and why is Trump scared are among the top talking points across panels Tuesday.
Stormy Daniels launches fundraiser to cover legal costs to break confidentiality agreement https://t.co/SsusAhgoIE

— Washington Post (@washingtonpost) March 14, 2018
NEW: In 2011, Stormy Daniels told a polygraph examiner that she had unprotected sex with Donald Trump in 2006.

The exam concluded she was being truthful, according to copy of report obtained by @NBCNews on Tuesday. https://t.co/lRaabJ1C8e pic.twitter.com/8plef08qeP

— NBC News (@NBCNews) March 20, 2018
Stormy Daniels, whose real name is Stephanie Clifford, stars in and directs pornographic films. She is suing Donald Trump to dissolve a "hush agreement," which she signed on October 28, 2016, about an affair she says she had with him in 2006, shortly after Trump's wife gave birth to their son Barron.  Trump's legal challenges mount as a Wall Street Journal report out Tuesday says Daniels passed a lie detector test in 2011.
If you're following the Stormy on CBS story, here's all the latest:
Stormy passed lie detector test, reports WSJ
Stormy Daniels passed a 2011 polygraph test in which she said she had unprotected sex with President Donald Trump, Wall Street Journal is reporting. "Daniels answered "yes" when asked whether she had sex with Trump, and her answer was deemed "truthful" by the investigator conducting the test. She also said her encounter with Trump had been unprotected, an answer that was also deemed "truthful."", reports Business Insider
Might Trump stop the Stormy interview from airing?
CBS News President Rhodes, in remarks reported by Variety magazine, said he could not "imagine" on what basis Trump's team may take legal action against the network for the Stormy interview. BuzzFeed has reported that Trump's lawyers were thinking of an injunction to stop the airing. Expect Trump's massive phalanx of lawyers to throw everything they've got at stopping the Stormy talkfest until the 11th hour.
Court date set for July 12
Porn star Stormy Daniels will go to court on July 12 in a bid to dissolve an agreement stopping her discussing an affair she says she had with President Donald Trump, according to court papers published Wednesday. Lawyer Michael Avenatti filed a lawsuit on behalf of Daniels last week seeking to toss out the confidential settlement she signed just days before the November 2016 election. The lawsuit alleges that Daniels, whose real name is Stephanie Clifford, began an "intimate relationship" with Trump in the summer of 2006 that continued well into 2007.
Trump lawyer says Stormy liable for $20 million
Donald Trump's lawyer claims porn actress Stormy Daniels is liable for at least $20 million for violating a nondisclosure agreement she says prevents her from discussing an affair with the president, according to a court filing. A lawyer for Michael Cohen's Essential Consultants limited liability company - which paid Daniels $130,000 under the agreement - made the filing, and said that Daniels violated the deal "at least" 20 times.
Find latest and upcoming tech gadgets online on Tech2 Gadgets. Get technology news, gadgets reviews & ratings. Popular gadgets including laptop, tablet and mobile specifications, features, prices, comparison.
World
The sanctions freeze any assets the targets may have in US jurisdictions and bar Americans from doing business with them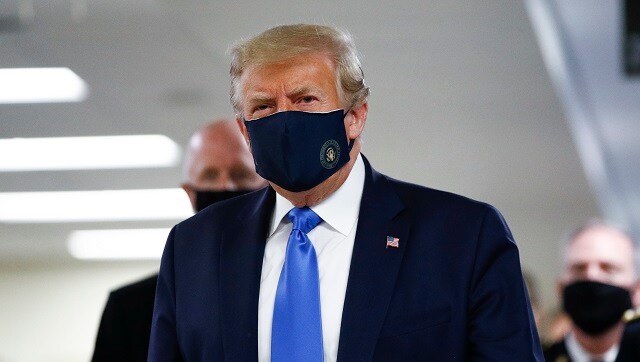 World
The US is doing over 50 million tests, said Donald Trump said, adding that the second country is India with 12 million tests.
World
Aides are increasingly worried that the campaign may already be defined as a referendum on the beleaguered yet defiant president's handling of COVID-19