Catalonia independence declaration likely to be symbolic as Spain opposes secession; France, Germany, US back NATO ally
Germany does not recognise Catalonia's unilateral declaration of independence, a government spokesman said on Friday, calling for dialogue between the two sides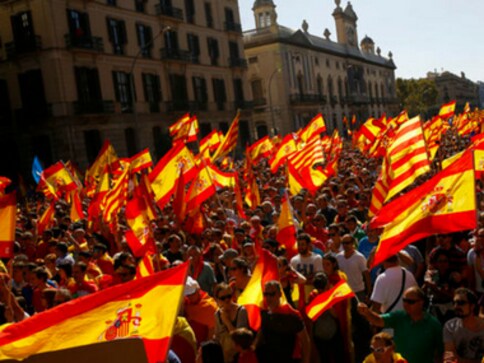 Germany does not recognise Catalonia's unilateral declaration of independence, a government spokesman said on Friday, calling for dialogue between the two sides.
"The (German) federal government does not recognise such an independence declaration," spokesman Steffen Seibert said in a statement posted on Twitter. "The sovereignty and territorial integrity of Spain are and always will be inviolable," he added.
"We hope that those involved will use all available opportunities for dialogue and de-escalation."
The political crisis in Spain escalated sharply after Catalan lawmakers voted to declare independence and Madrid in turn vowed to "restore legality" and quash the region's secessionist bid.
Seibert's comments echoed those of EU president Donald Tusk who called for calm and said that Madrid remained the bloc's "only interlocutor".
The European Union and its member states have stood firmly behind Madrid in the standoff triggered by Catalonia's hotly contested 1 October referendum on splitting from Spain.
Seibert said the German government was following the latest developments "with concern".
Emmanuel Macron says PM Mariano Rajoy has his full support
French president Emmanuel Macron said Friday Spain's prime minister Mariano Rajoy had his "full support" in enforcing the law in Catalonia as Madrid readies to take direct control of the rebellious province.
"I have one partner in Spain, that's Prime Minister Rajoy... the rule of law prevails in Spain, with constitutional rules. He wants to ensure they are respected and he has my full support," Macron told reporters on the sidelines of a visit to the overseas territory of French Guiana.
United States supports Spanish government
The United States said Catalonia is an "integral part of Spain" and that it supported Spanish government efforts to keep the nation "strong and united."
State Department spokeswoman Heather Nauert says the two NATO allies "cooperate closely to advance our shared security and economic priorities."
Her statement shows America's clear opposition to Catalonia seceding from Spain and establishing an independent republic.
Lawmakers in the Spanish region's parliament voted to do exactly that on Friday. Moments later, the Spanish Senate voted to authorise the government to take control of the prosperous northeastern region.
Nauert said: "The United States supports the Spanish government's constitutional measures to keep Spain strong and united."
European Commission chief Jean-Claude Juncker warns of further divide
European Commission chief Jean-Claude Juncker warned Friday of the danger of "more cracks" opening up in the 28-member bloc following a vote by Catalonia's regional parliament to declare independence from Spain.
The EU "doesn't need any more cracks, more splits," Juncker told journalists while on a trip to French Guiana in South America in a statement that implicitly backed the Spanish government in Madrid.
"We shouldn't insert ourselves into what is an internal debate for Spain, but I wouldn't want the European Union to consist of 95 member states in the future," he added in a warning about the crisis encouraging other secessionist bids.
With inputs from agencies
World
The plan is expected to include higher military spending in line with NATO expectations that members spend 2% of GDP on defense
World
Earlier, US and European officials were looking into a far-right militant Russian outfit behind the six letter-bombs sent to high-profile targets
World
The sculpture was created as a part of a campaign to promote breastfeeding in public