Canada's Trudeau says will not back down in dispute with China, urges restraint in Hong Kong
OTTAWA (Reuters) - Canadian Prime Minister Justin Trudeau on Wednesday said he would not escalate a deepening trade and diplomatic dispute with China but added his government had no intention of backing down as it defended its interests. Trudeau, speaking to an audience in Montreal just days after Beijing warned Ottawa not to meddle in Hong Kong's affairs, also repeated his call for restraint and respect for human rights as protests sweep the former British colony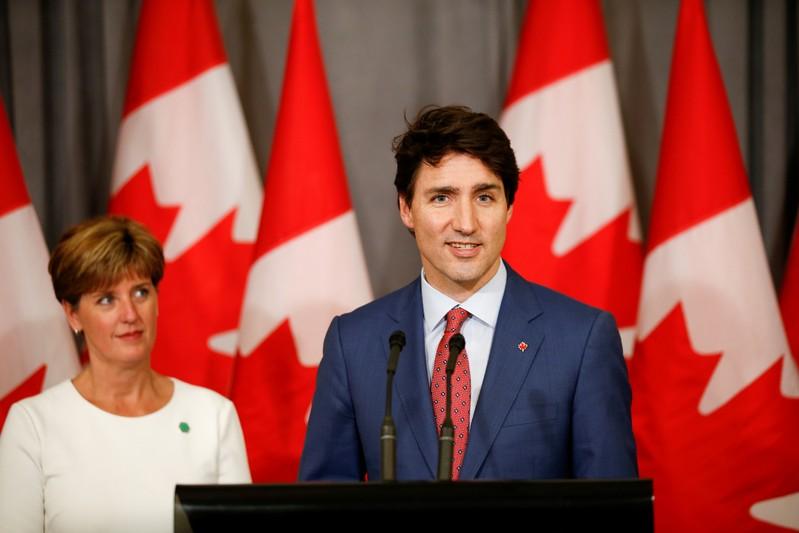 OTTAWA (Reuters) - Canadian Prime Minister Justin Trudeau on Wednesday said he would not escalate a deepening trade and diplomatic dispute with China but added his government had no intention of backing down as it defended its interests.
Trudeau, speaking to an audience in Montreal just days after Beijing warned Ottawa not to meddle in Hong Kong's affairs, also repeated his call for restraint and respect for human rights as protests sweep the former British colony.
China detained two Canadian citizens and halted imports of canola seed and meat products from Canada after Vancouver police detained a senior Huawei Technologies Co Ltd executive on a U.S. arrest warrant last December.
"We must recognize that China is a growing power and increasingly assertive towards its place in the international order. But make no mistake - we will always defend Canadians and Canadian interests," Trudeau said.
"We have a long history of dealing directly and successfully with larger partners. We do not escalate, but we also don't back down," he added.
China on Sunday warned Ottawa to stop meddling in Hong Kong affairs a day after Canada issued a joint statement with the European Union in defense of the "fundamental right of assembly" for Hong Kong citizens.
(Reporting by David Ljunggren; editing by Jonathan Oatis and Chris Reese)
This story has not been edited by Firstpost staff and is generated by auto-feed.
Find latest and upcoming tech gadgets online on Tech2 Gadgets. Get technology news, gadgets reviews & ratings. Popular gadgets including laptop, tablet and mobile specifications, features, prices, comparison.
Business
By James Davey LONDON (Reuters) - Distribution of several British newspapers was disrupted on Saturday after climate change activists blockaded printworks used by Rupert Murdoch's News UK, publisher of The Times and The Sun, drawing condemnation from Prime Minister Boris Johnson.
Business
PARIS (Reuters) - France denied the European Union's Brexit negotiator Michel Barnier was about to be sidelined by EU leaders in a bid to break the deadlock in trade talks, as reported by British newspaper the Daily Telegraph. Twisting a famous British war slogan, European affairs minister Clement Beaune tweeted on Saturday: "Keep calm and support Michel Barnier".
World
MEXICO CITY (Reuters) - Mexico's National Electoral Institute (INE) has denied former President Felipe Calderon's bid to register his Free Mexico movement as a new political party, saying some of its funding was questionable.