Canada postpones U.N. address to focus on NAFTA
UNITED NATIONS (Reuters) - Canadian Foreign Minister Chrystia Freeland postponed her country's 2018 address to the United Nations General Assembly so she could focus on ongoing trade talks with the United States, the government said on Saturday. For the past month, Canada has been locked in tense discussions with the United States to reach common ground on revamping the North American Free Trade Agreement (NAFTA) after Mexico and Washington said they had reached a deal on Aug. 27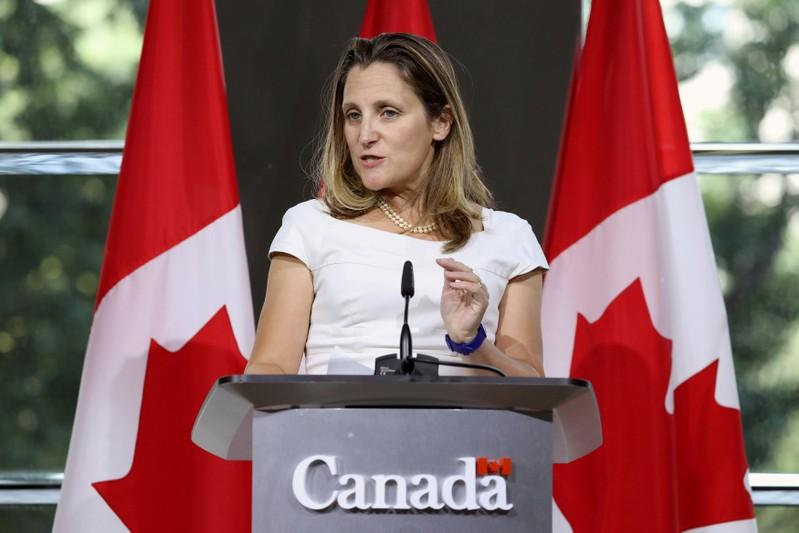 UNITED NATIONS (Reuters) - Canadian Foreign Minister Chrystia Freeland postponed her country's 2018 address to the United Nations General Assembly so she could focus on ongoing trade talks with the United States, the government said on Saturday.
For the past month, Canada has been locked in tense discussions with the United States to reach common ground on revamping the North American Free Trade Agreement (NAFTA) after Mexico and Washington said they had reached a deal on Aug. 27.
Mexico on Friday said the U.S. Trump administration and Canada were making efforts to resolve their differences, raising hopes the pact could be kept trilateral.
Freeland spokesman Adam Austen said Freeland had returned to Canada to take part in work on NAFTA. However, he added that she had no plans to return to Washington for the moment.
Freeland was due to address the General Assembly on Saturday. Canada's spot on the list of speakers has been moved to Monday, Canada's U.N. mission said.
(Reporting by Dave Graham and Michelle Nichols at United Nations and David Ljunggren in Ottawa; Editing by Matthew Lewis)
This story has not been edited by Firstpost staff and is generated by auto-feed.
World
ATHENS (Reuters) - Greek police used teargas and water cannon to disperse people who had gathered in central Athens on Saturday to protest against mandatory COVID-19 vaccinations. More than 4,000 people rallied outside the Greek parliament for a third time this month to oppose mandatory inoculations for some workers, such as healthcare and nursing staff.
World
ISTANBUL (Reuters) - Two Turkish soldiers were killed and two were wounded in an attack on their armoured vehicle in northern Syria, and Turkish forces immediately launched retaliatory fire, Turkey's defence ministry said on Saturday. "Our punitive fire against terrorist positions is continuing," the statement on Twitter on said. It did not specify where the attack occurred, but media reports said it was in the al-Bab area.
World
By Marcelo Rochabrun SAO PAULO (Reuters) - Protesters took to the streets in several Brazilian cities on Saturday to demand the impeachment of far-right President Jair Bolsonaro, whose popularity has fallen in recent weeks amid corruption scandals against the backdrop of the pandemic. This week, news broke that Brazil's defense ministry told congressional leadership that next year's elections would not take place without amending the country's electronic voting system to include a paper trail of each vote. Bolsonaro has suggested several times without evidence that the current system is prone to fraud, allegations that Brazil's government has denied