Canada PM puzzled by minister's resignation, despite briefing
By David Ljunggren OTTAWA (Reuters) - Canadian Prime Minister Justin Trudeau on Thursday said he was still puzzled by the decision of former veterans affairs minister Jody Wilson-Raybould to quit last week, even after she addressed the Cabinet on Tuesday. Trudeau is battling allegations that his officials last year pressured Wilson-Raybould, then justice minister, to ensure construction company SNC-Lavalin Group Inc avoided a corruption and bribery trial. Trudeau insists there was no wrongdoing and said Wilson-Raybould has not made clear her reasons for leaving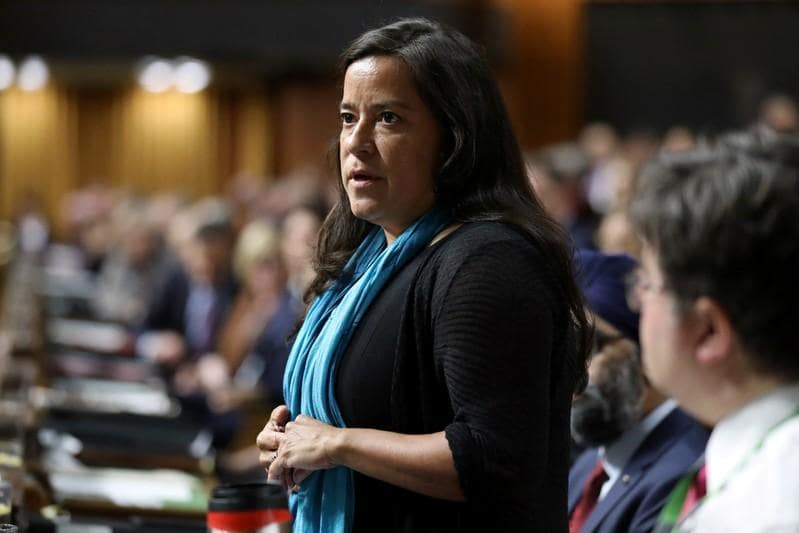 By David Ljunggren
OTTAWA (Reuters) - Canadian Prime Minister Justin Trudeau on Thursday said he was still puzzled by the decision of former veterans affairs minister Jody Wilson-Raybould to quit last week, even after she addressed the Cabinet on Tuesday.
Trudeau is battling allegations that his officials last year pressured Wilson-Raybould, then justice minister, to ensure construction company SNC-Lavalin Group Inc avoided a corruption and bribery trial.
Trudeau insists there was no wrongdoing and said Wilson-Raybould has not made clear her reasons for leaving. In an unusual move, she was allowed to address her Cabinet colleagues on Tuesday, even though she was no longer a minister.
"I continue to be surprised by Jody Wilson-Raybould's decision ... This is not a decision that remains clear to me," he told a televised news conference in Dartmouth, Nova Scotia.
Trudeau's version of events was backed up by Michael Wernick, the head of the federal civil service, who was present for several top-level meetings with Wilson-Raybould last year and said nothing untoward had happened.
"There was no inappropriate pressure put on the minister at any time," Wernick told the House of Commons justice committee on Thursday, saying Wilson-Raybould had had plenty of opportunities to complain had she felt the need to.
Wilson-Raybould, who on Wednesday said "I hope that I have the opportunity to speak my truth", is consulting lawyers to determine how much she is able to say. She is due to address the justice committee next week.
The Globe and Mail on Thursday said Wilson-Raybould told the Cabinet she had come under improper pressure from officials.
"How she interprets and perceives those conversations she can tell you next week. I can tell you my view very firmly is they were entirely appropriate, lawful, legal," said Wernick, a civil servant who is not a member of Parliament.
The issue could threaten the ruling Liberals' election chances this October. Opposition politicians have accused the Liberals of a cover-up and want a full public inquiry.
SNC-Lavalin is a major employer in the province of Quebec province, where the Liberals say they need to capture more seats in the October election to have a chance of holding on to power.
"We believe in the independence of the judiciary and we believe in fighting for good jobs," said Trudeau.
The prime minister on Wednesday sought to calm restless parliamentarians at a meeting to discuss the resignations of Wilson-Raybould and Trudeau aide Gerald Butts, a major architect of the Liberals' surprise victory in October 2015, who quit on Monday while insisting he had done nothing wrong.
Trudeau sidestepped questions about how he planned to handle the crisis, party sources said.
Signs of stress remain. Two Liberal legislators voted with the opposition on Wednesday in a failed bid to launch a public inquiry, while a female Liberal member of parliament tweeted her support for Wilson-Raybould, adding the hash tag #IStandWithHer.
The former minister, who the Globe and Mail said had ignored the pressure to go easy on SNC-Lavalin, was demoted from the justice ministry last month.
(Reporting by David Ljunggren; editing by Jonathan Oatis and Steve Orlofsky)
This story has not been edited by Firstpost staff and is generated by auto-feed.
Find latest and upcoming tech gadgets online on Tech2 Gadgets. Get technology news, gadgets reviews & ratings. Popular gadgets including laptop, tablet and mobile specifications, features, prices, comparison.
Business
By Jessica Resnick-Ault NEW YORK (Reuters) - Oil prices strengthened on Wednesday, as OPEC and its allies were seen complying with a pact to cut oil supply in September, even as concerns loomed that recovery in fuel demand will be stalled by soaring global coronavirus cases. Early in the day crude was boosted by a bullish stock market. Even as equities whipsawed on pandemic worries, oil stayed higher, buoyed by expectations that OPEC could staunch a supply glut
Business
By Tina Bellon and C Nivedita (Reuters) - Tesla Inc will further cut the price of its Model S "Long Range" sedan in the United States to $69,420, the electric carmaker's chief executive, Elon Musk, announced in a tweet https://bit.ly/2H0JCP0 on Wednesday. The anticipated drop marks the second time this week Tesla has cut the price for the high-end sedan, following a 4% cut of the Model S's price in the United States on Tuesday to $71,990.
World
By Jeff Mason DES MOINES, Iowa (Reuters) - Under siege over his handling of the novel coronavirus pandemic, President Donald Trump on Wednesday cited what he said was his son's mild bout of the virus as a reason why American schools should reopen as soon as possible. Trump made the comment about his son, Barron, as the president swept into Iowa on a mission to shore up support in battleground states that he won in 2016 but is in danger of losing to Democrat Joe Biden barely three weeks before the election. First lady Melania Trump announced in a statement earlier in the day that the virus that struck both her and her husband had also infected their 14-year-old son