Canada, EU impose additional sanctions against 13 Belarus government officials
OTTAWA (Reuters) - Canada and the European Union on Friday imposed additional sanctions against 13 Belarus government officials to protest against Minsk's crackdown following a disputed election in August, Ottawa said. 'Despite international calls for (President) Alexander Lukashenko to end the violence in Belarus, his regime's aggression continues,' Canadian Foreign Minister Francois-Philippe Champagne said in a statement. (Reporting by David Ljunggren)
OTTAWA (Reuters) - Canada and the European Union on Friday imposed additional sanctions against 13 Belarus government officials to protest against Minsk's crackdown following a disputed election in August, Ottawa said.
"Despite international calls for (President) Alexander Lukashenko to end the violence in Belarus, his regime's aggression continues," Canadian Foreign Minister Francois-Philippe Champagne said in a statement.
(Reporting by David Ljunggren)
This story has not been edited by Firstpost staff and is generated by auto-feed.
Find latest and upcoming tech gadgets online on Tech2 Gadgets. Get technology news, gadgets reviews & ratings. Popular gadgets including laptop, tablet and mobile specifications, features, prices, comparison.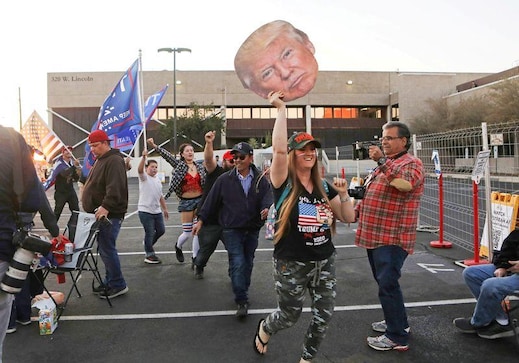 World
By Jarrett Renshaw and Joseph Tanfani (Reuters) - As President Donald Trump seeks to discredit last week's election with baseless claims of voter fraud, his team has bombarded his supporters with requests for money to help pay for legal challenges to the results: "The Left will try to STEAL this election!" reads one text. But any small-dollar donations from Trump's grassroots donors won't be going to legal expenses at all, according to a Reuters review of the legal language in the solicitations
World
RIYADH (Reuters) - Saudi Arabia's King Salman bin Abdulaziz urged the world on Thursday to take "a decisive stance" to address efforts by Iran to develop nuclear and ballistic missile programs, in an annual address to the top government advisory body. "The kingdom stresses the dangers of Iran's regional project, its interference in other countries, its fostering of terrorism, its fanning the flames of sectarianism ..
World
By Jose Sanchez BELIZE CITY (Reuters) - Belizeans headed to the polls on Wednesday to replace a veteran prime minister, with many in the tiny Central American country saying they were ready for change to repair an economy battered by pandemic-driven shutdowns. Dean Barrow, the outgoing prime minister, ran Belize for more than a dozen years.