Can true news stories outperform lies on Twitter? MIT study reveals stunning insights
After studying 126,000 "contested" stories tweeted by ~3 million people more than 4.5 million times, three scholars from the prestigious Media Lab at Massachusetts Institute of Technology have placed before the world a stunning piece of research to read and learn from - recently published in Science magazine. That lies travel faster, deeper and father than the truth on Twitter is the grim conclusion the study comes to. Buried deep within the text and graphs are mirrors to society's rough edges when online is a lived space.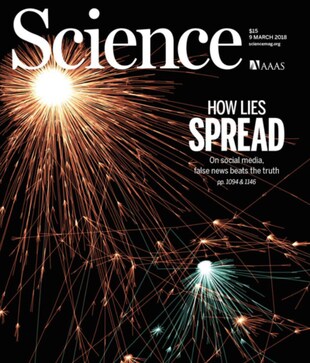 When does a boring tweet die? How long must you wait before a killer tweet flies? What do we know now about how false stories journey on Twitter that informs how we must craft memorable tweets for true stories?
After poring over 126,000 "contested" stories tweeted by ~3 million people more than 4.5 million times, three scholars from the prestigious Media Lab at Massachusetts Institute of Technology (MIT) - Deb Roy, Soroush Vosoughi and Sinan Aral have placed before the world a stunning piece of research recently published in Science magazine.
Rather than drumming on about structural vitality, the grim conclusion that Vosoughi, Roy and Aral come to is that lies travel faster, deeper and farther than the truth on Twitter. Buried deep within the text and graphs are mirrors to society's rough edges when online is (almost) a lived space. "Contrary to conventional wisdom, robots accelarated the spread of true and false news at the same rate, implying that false news spreads more than the truth because humans, not robots, are more likely to spread it," reads the summary extract.
We spoke with lead author Dr. Soroush Vosoughi and riffed on the study's findings for a finer understanding of how true news can outperform and dominate in a world where lies are flying thick and fast while facts peter out. A 10 minute chunk of that conversation happened on Facebook Live (embedded above) before audio dropped off. Below are excerpts from the full conversation:
Firstpost: The diagram Professor Roy and you created (see tweet above) to define the scope of your study has many layers. How does the innermost core ( the study) inform the concentric circles until we reach what is commonly called news which is not fact checked.
Soroush Vosoughi: We didn't look at fake news anywhere in the paper. As you know, it is a very political term nowadays, it's very loaded. You could term a completely accurate piece of news as fake news just because it does not agree with your point of view. Our study is about false news - news that has been fact checked and shown to be false or true. That was one of the reasons we tweeted out this diagram today because we saw a lot of articles saying this study is about fake news. It is not.
Firstpost: You say that false news travels farther faster because it is novel. What about a headline like the one based on your study - "False news travels faster, deeper, farther than true news." Does that meet the test of novelty?
Vosoughi: On average, false news is more novel than true news. That does not mean every piece of falsity is more novel, it means on balance, this is the case. We believe that if you are writing a false news story, you don't have to adhere to any standards, so you can make it as juicy as you want it to be. So, if you're reporting a true news story, it could be something really interesting or boring but if it is boring, you don't really have that leeway to make it more juicy…right?
Firstpost: How do retweet cascades work differently from reply cascades?
Vosoughi: A retweet is an endorsement or agreement. A reply thread is different - there is debate and conversation there. Replies don't generally mean endorsement. That does not mean there is disagreement in all retweets, but there is a good chunk. In our study, we focused on retweets which means looking at how people believe (false news) and spread false information. If you see the reply cascades closely, there's a lot of pushback to false news there.
Firstpost: In the differential diffusion graphs, there is a significant movement northward in cascades after the 6 or 7th minute - specially around the 10th minute. Is that unremarkable or is there some meaning hidden there?
Vosoughi: That particular movement you're seeing in the graph, that's an artefact of the data but you're right, something does happen around the 6th or 7th minute and that is the speed at which things spread….either they really take off or they really die down. It's that decision point between something going viral and not going viral, basically. If a tweet does not get retweeteed much in the first 10 minutes, the chance of it going viral is much less - it passes a crucial threshold and that's what you're seeing in the 10th minute.
Firstpost: You've fact checked contested news from 6 different sources and invested enormous time and resources to this project. People who are on Twitter don't have all those resources to check stuff the moment it hits them….
Vosoughi: I think the really good next step would be for platforms like Facebook and Twitter to have a built-in score for the information that you're reading the same way that you go to a restaurant and you get information about the food you're eating and the calories that the food contains so you can make healthy choices. Platforms providing information about the quality of information that you're seeing would be useful and essential. The platforms need to step up to provide this because users cannot be expected to have the resources to fact check by themselves all the time. Before they actually do that, the best way is to use reputation of sources as a proxy for whether something is true or false. Even a reputable source like, say, NYT, could at times put out something false but the probability of that happening is much lower.
Firstpost: How many of the contested news stories were about people already on social platforms?
Vosoughi: It's not so much about being on social media or not but people in the public sphere were more the subject of these contested stories. Actual presence on social media did not seem to matter when it came to false news spreading about you.
Firstpost: You say the findings may help create "measurements or indicators that could become benchmarks" for social networks, advertisers, and publishers...
Vosoughi: If you want something to be shared by people, make it juicy. If you're doing the same thing your competitors are doing, the same methods which people have done a 1000 times, the novelty factor is going to be low and people are much less likely to share it. The other thing is not something nice - people tend to share negative content more than positive content. By that I mean content that elicit emotions like disgust rather than content that sparks happy reactions. Being able to tell true stories in a way that moves people is enormously important. I don't mean that true stories should be spun on a negative axis just as a means to make it spread faster. That's not ethically right….to play with people's emotions.
Firstpost: You have rummaged through 11 years' worth of English sentences. What patterns of writing did you notice which did better than others?
Vosoughi: The only thing we looked at was the novelty factor. It's really hard to quantify patterns of writing but it's important for us to do that too in the course of our future work - how one way of saying something verus an alternative way spreads the same story to more or less people.
Firstpost: What do you think about publishers engaging with audiences on the reply thread?
Vosoughi: Although this falls outside the scope of our paper, more engagement is better. Like I said, a retweet signifies endorsement, a reply thread is very different. There's space for conversation there.
India
In a viral video, social media influencer Bobby Kataria can be seen sitting on a chair in the middle of a road and consuming alcohol. The lyrics of the music which was playing in the background says, 'Roads apne baap ki'
India
Several users had reported glitches while making the transactions through the app on social media
India
Mumbai-based woman Yasmin Sheikh said that her mother, Hamida Banu, went to Dubai to work as a cook there and never contacted her family again