Camera spots Kenya's rare black panther
By George Sargent LONDON (Reuters) - Images of a rare African black leopard have been captured in Kenya, the first verifiable record of the animal for nearly 100 years, researchers have said.     British wildlife photographer Will Burrard-Lucas set up motion-sensitive cameras to capture the largely nocturnal cat in Laikipia Wilderness Camp in January.     'I'm able to set up a kind of studio-like lighting and just leave my cameras set up for weeks or months,' he told Reuters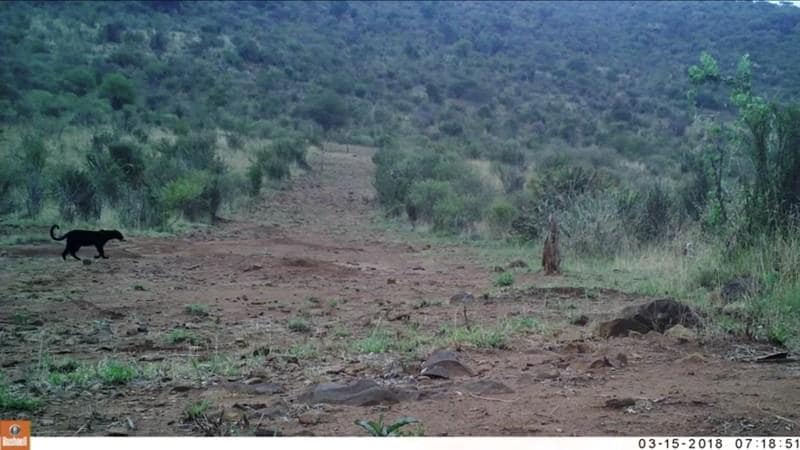 By George Sargent
LONDON (Reuters) - Images of a rare African black leopard have been captured in Kenya, the first verifiable record of the animal for nearly 100 years, researchers have said.
    British wildlife photographer Will Burrard-Lucas set up motion-sensitive cameras to capture the largely nocturnal cat in Laikipia Wilderness Camp in January.
    "I'm able to set up a kind of studio-like lighting and just leave my cameras set up for weeks or months," he told Reuters.
Black leopards - or panthers - carry a gene mutation for "melanism" that makes their coats black, but the night-time infrared cameras used by Burrard-Lucas can reveal their spots.
While he was capturing stills, researchers from San Diego Zoo Global studying leopards in the area set up remote video cameras nearby, publishing their findings in the African Journal of Ecology.
"Collectively, these are the first confirmed images in nearly 100 years of black leopard in Africa," said Nicholas Pilfold of the San Diego team, also lead researcher for a leopard conservation program in Laikipia County.
Burrard-Lucas heard from a friend that a black leopard had been spotted in the area and, after contacting the landowners, headed off to set out his cameras near the animal's tracks.
    "It's very dusty, so you can pick up tracks especially early in the morning after the night," he said. "You can see everything that's passed."
    Scientists had assumed that a black coat was an evolutionary response to leopards moving out of the dense forests where their spots camouflage them, San Diego Zoo said in its statement. The discovery of a black leopard in a open, arid habitat in Kenya raises questions about that theory, however.
(Editing by Kevin Liffey)
This story has not been edited by Firstpost staff and is generated by auto-feed.
Find latest and upcoming tech gadgets online on Tech2 Gadgets. Get technology news, gadgets reviews & ratings. Popular gadgets including laptop, tablet and mobile specifications, features, prices, comparison.
Business
By Jessica Resnick-Ault NEW YORK (Reuters) - Oil prices strengthened on Wednesday, as OPEC and its allies were seen complying with a pact to cut oil supply in September, even as concerns loomed that recovery in fuel demand will be stalled by soaring global coronavirus cases. Early in the day crude was boosted by a bullish stock market. Even as equities whipsawed on pandemic worries, oil stayed higher, buoyed by expectations that OPEC could staunch a supply glut
Business
By Tina Bellon and C Nivedita (Reuters) - Tesla Inc will further cut the price of its Model S "Long Range" sedan in the United States to $69,420, the electric carmaker's chief executive, Elon Musk, announced in a tweet https://bit.ly/2H0JCP0 on Wednesday. The anticipated drop marks the second time this week Tesla has cut the price for the high-end sedan, following a 4% cut of the Model S's price in the United States on Tuesday to $71,990.
World
By Jeff Mason DES MOINES, Iowa (Reuters) - Under siege over his handling of the novel coronavirus pandemic, President Donald Trump on Wednesday cited what he said was his son's mild bout of the virus as a reason why American schools should reopen as soon as possible. Trump made the comment about his son, Barron, as the president swept into Iowa on a mission to shore up support in battleground states that he won in 2016 but is in danger of losing to Democrat Joe Biden barely three weeks before the election. First lady Melania Trump announced in a statement earlier in the day that the virus that struck both her and her husband had also infected their 14-year-old son