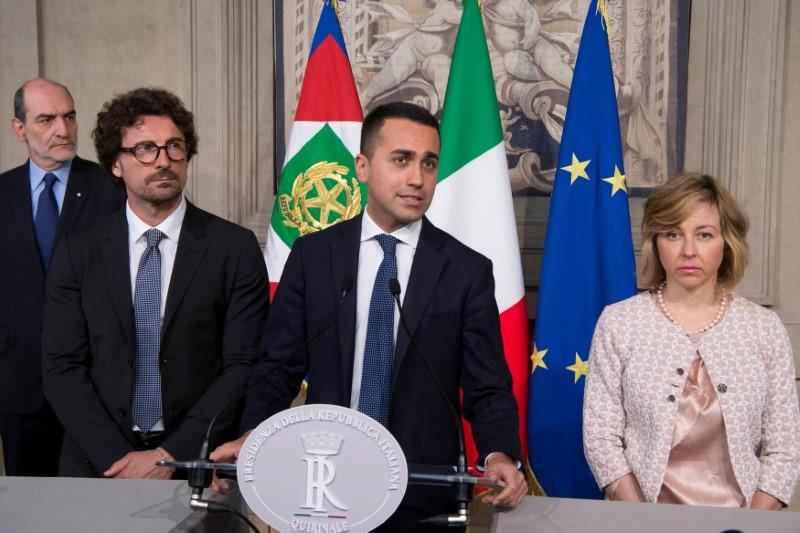 By Gavin Jones and Crispian Balmer
ROME (Reuters) - President Sergio Mattarella called on Monday for Italy's bickering parties to rally behind a "neutral government", saying the only alternative would be a swift re-vote after March's inconclusive election.
However, Italy's two largest parties, the far-right League and anti-establishment 5-Star Movement, immediately came out against the proposal, raising the likelihood of an unprecedented immediate return to the polls, even as early as July.
Italy has been stuck in political limbo since the March 4 ballot, which saw 5-Star emerge as the single largest group while an alliance of centre-right parties took the most seats.
However, both fell well short of an absolute majority, and Mattarella conceded on Monday, after a third round of consultations with all the main party leaders, that there was no room for a coalition deal.
However, he urged politicians to rally around a "neutral" administration, which he said would be tasked with drawing up a 2019 budget to stave off the threat of an automatic increase in sales taxes that would be triggered if the deficit floundered.
This government would then resign in December, he said, to open the way for fresh elections in the spring -- the time of the year when all post-war votes have been held in Italy.
"Let the parties decide of their own free will if they should give full powers to a government ... or else new elections (should be held) immediately in the month of July or the autumn," Mattarella said in a televised statement.
Both the League and 5-Star, which have enough seats between them in parliament to prevent any government from winning the confidence votes needed to take office, rapidly came out against the formation of a non-political administration.
"(We have) no faith in a `neutral" government', which is synonymous with a government of technocrats. We are going to vote in July," 5-Star chief Luigi Di Maio wrote on Twitter.
League leader Matteo Salvini echoed the sentiment: "There is no time to lose, there is no space for technocrat government."
Di Maio has previously said he would be ready to form a government with the League. However, he has refused to enter into any coalition deal with the League's main ally, the Forza Italia party led by former prime minister Silvio Berlusconi, who 5-Star considers a symbol of political corruption.
Salvini has refused to abandon Berlusconi, saying that would break his word with voters after they had stood together at the polls and presented a common manifesto.
In a statement, Berlusconi's Forza Italia party said it wanted to discuss the situation with its allies and warned against a rush to the ballot box in July.
"We are not afraid of an election, but a summer (vote) does not help turnout. Autumn is better," Forza Italia said.
Whatever path the parties chose, Mattarella said Prime minister Paolo Gentiloni's caretaker government had reached the end of its life, indicating he would appoint a new administration even if it could not win parliamentary backing.
Gentiloni is a leading figure in the centre-left Democratic Party which had ruled Italy since 2013 but was roundly beaten in March, as voters punished it for the sluggish economic recovery, growing poverty and a surge in migrant numbers from Africa.
(Additional reporting by Massimiliano di Giorgio, Giuseppe Fonte and Alberto Sisto, editingby Larry King)
This story has not been edited by Firstpost staff and is generated by auto-feed.
Firstpost is now on WhatsApp. For the latest analysis, commentary and news updates, sign up for our WhatsApp services. Just go to Firstpost.com/Whatsapp and hit the Subscribe button.
Updated Date: May 08, 2018 01:06:15 IST