California wildfires toll rises to 81: With 75 percent of blaze contained, officials now hope for significant rain
In northern California, the so-called Camp Fire has scored 152,000 acres of land and destroyed more than 12,600 homes.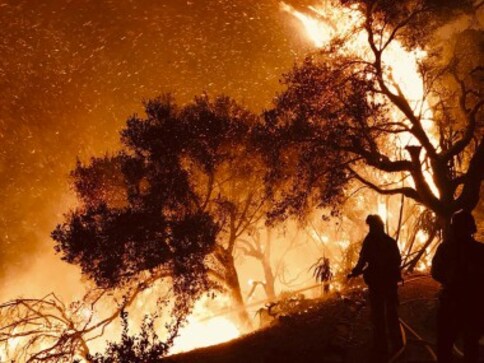 Los Angeles: The toll from the devastating wildfire in northern California rose on to 81 Tuesday with the discovery of two more sets of remains, officials said.
The number of people listed as unaccounted for in the deadliest and most destructive fire in state history jumped up by nearly 200 to 870.
This number has been fluctuating a lot in recent days amid the confusion of the search for bodies in the town of Paradise, which was largely destroyed by the flames.
The figure peaked Saturday at 1,276, and on Monday was down to 699.
"Now the number has gone back up after police worked through a backlog of voice calls," Butte County sheriff Kory Honea said.
Another three people died in a second major blaze that struck Malibu in southern California.
In the north, the so-called Camp Fire has scored 152,000 acres of land and destroyed more than 12,600 homes. It started on 8 November and is only now 75 percent contained.
And officials are now bracing for significant rain on Wednesday and perhaps later in the week, which will help put out the fire but could bring flash floods, turning ash and soot into a thick paste and possibly washing away human remains.
"It is the potential of dealing with one disaster and having, you know, something else pile on top of us," Honea said.
World
Collectively dubbed the Mendocino Complex, the wildfires have burned through 283,800 acres (114,850 hectares) — an area nearly the size of the sprawling city of Los Angeles — and are just 30 percent contained, according to state fire authority CalFire. Two people have died in the inferno in California.
World
The woman has been identified as Alexandra Souverneva, 30, and is currently facing felony arson charges
World
A fierce California wildfire expanded Sunday, burning several thousand acres and forcing evacuations as tens of millions of Americans sweltered through scorching heat.