California wildfire: Death toll rises to 42, dozens still missing as firefighting efforts continue
About 5,000 firefighters were still battling 10 wildfires in California on Monday, that has killed 42 and displaced thousands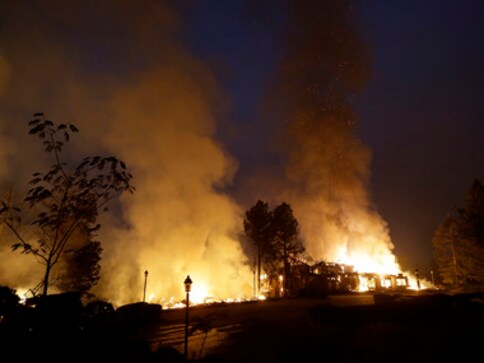 Los Angeles: About 5,000 firefighters were still battling 10 wildfires in California on Monday, and the authorities said they hope to have many of them fully contained in the next few days.
The death toll remained at 42, meanwhile, from the deadliest blazes in the history of the sprawling western US state.
The wildfires ignited on 8 October and as many as 11,000 firefighters — some from as far away as Australia — were involved at one point in battling move than two dozen large blazes.
The California Department of Forestry and Fire Prevention (Cal Fire) said on Monday that only 10 active fires remained, "many of which are projected to be fully contained within the next few days."
Cal Fire warned, however, that there was "potential high fire activity" in southern California due to gusty winds and low humidity.
Cal Fire said the wildfires had burned more than 99,150 hectares, forced the evacuation of 100,000 people and destroyed an estimated 8,400 homes and businesses.
The highest death toll was in wine-producing Sonoma County, where 22 people lost their lives.
Entire neighborhoods of Santa Rosa, population 175,000, the county seat of Sonoma, were razed to the ground.
Forest fires are common in the western United States during the summer, but this year's blazes in California are the deadliest series of fires to hit the state.
The Griffith Park fire in Los Angeles County in 1933 killed at least 29 people, and 25 people died in the 1991 Oakland Hills fire.
News & Analysis
The new iPhone 13 series models will be available for pre-order from 17 September and will go on sale on 24 September.
News & Analysis
The iPhone 13 series is said to come with hardware and software for easy connectivity with LEO satellites.
World
Newsom said he wanted to focus on what California said 'yes' to as a state: 'We said yes to science, we said yes to vaccines, we said yes to ending this pandemic'