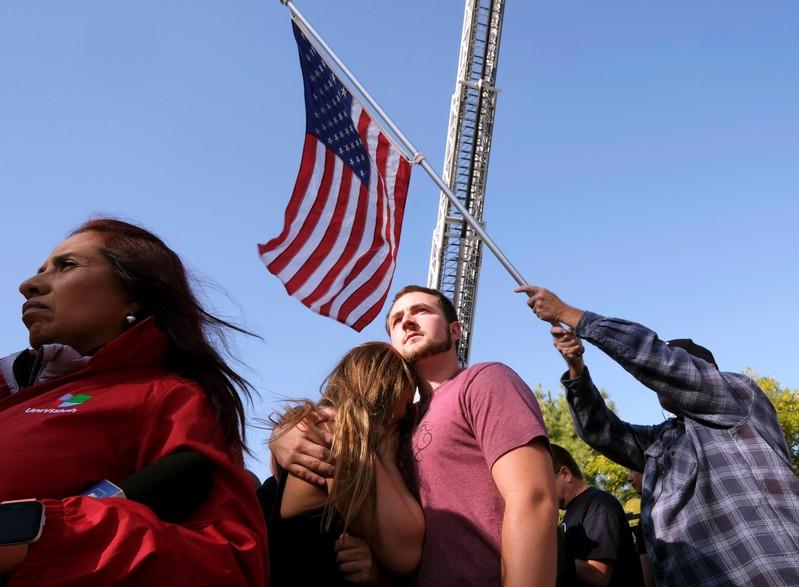 By Dana Feldman and Gabriella Borter
(Reuters) - It is a moment many Californians have come to dread: Seeing smoke from one of the state's increasingly devastating wildfires approaching and knowing they may soon be forced to leave their homes, perhaps forever.
For residents of the Los Angeles suburb of Thousand Oaks, that moment came at the end of a gut-wrenching week in which a combat veteran entered a local bar and killed a dozen people in the kind of mass shooting that has become increasingly commonplace in the United States.
Andrea Campbell Conant, a public relations executive who grew up in Thousand Oaks, said on Friday that roads had begun to close as a precaution, even as she drove to one of the vigils for victims of Wednesday night's shooting at the Borderline Bar & Grill.
"It's almost like we haven't had enough time to process how we feel," she said in a phone interview, describing a head-spinning shift from a tear-filled vigil to fielding calls from friends and relatives in need of help after receiving evacuation orders.
Authorities have ordered some 75,000 homes near Thousand Oaks evacuated as the 14,000-acre (5,700-hectare) Woolsey Fire approached. The blaze broke out on Thursday northeast of the town located about 40 miles (64 km) north of downtown Los Angeles.
Conant's father, Jesse Campbell, was among those ordered to leave his home, just four blocks from the Borderline, where an ex-Marine walked in on Wednesday night and opened fire before turning the gun on himself, according to authorities.
"We had to wake up in the middle of the night and leave," Campbell, a retired cook and party planner, said in a phone interview, referring to the wildfire evacuation.
He and his wife, who have lived in Thousand Oaks for 34 years, took refuge in a nearby shopping centre before returning to their home later on Friday.
As the inferno approached in the hours after the attack, Campbell recalled seeing people with blank faces wherever he turned - at the gym, at the gas station, all over town.
"A lot of people didn't really know what to do," he said.
Heather Wynalda, 47, said her brother and his family lost their home to the fire, only a day or so after her niece and nephew heard the screams and gunshots from the Borderline Bar while visiting their mother's house nearby.
"It's just devastating," she wrote in a message to Reuters. "This community pulled together so beautifully in the midst of yesterday's shooting. And today, it is being frantically scattered in an effort to escape the fires."
(Reporting by Dana Feldman in Marina Del Ray, California, and Gabriella Borter in New York; Writing by Jonathan Allen; editing by Bill Berkrot)
This story has not been edited by Firstpost staff and is generated by auto-feed.
Firstpost is now on WhatsApp. For the latest analysis, commentary and news updates, sign up for our WhatsApp services. Just go to Firstpost.com/Whatsapp and hit the Subscribe button.
Updated Date: Nov 10, 2018 07:05:35 IST