California, Florida report record increases in COVID-19 deaths
By Lisa Shumaker (Reuters) - California and Florida, two of the most populous U.S. states, reported record increases in COVID-19 deaths on Friday, according to a Reuters tally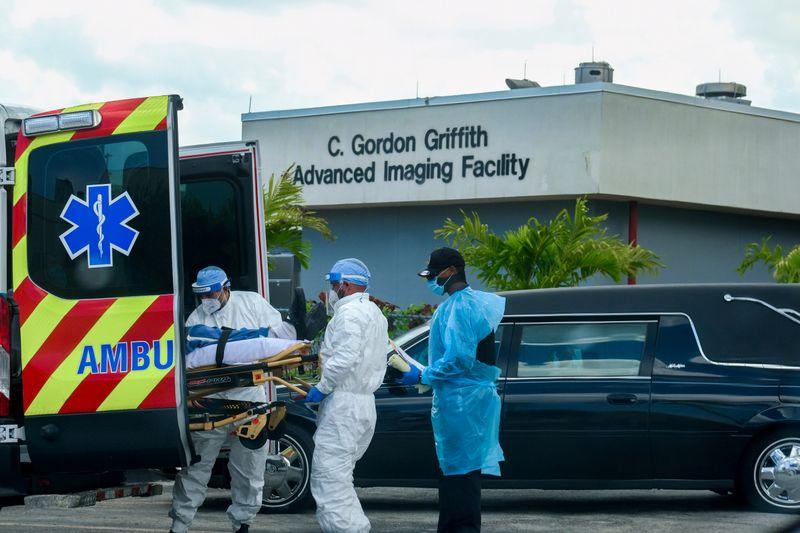 By Lisa Shumaker
(Reuters) - California and Florida, two of the most populous U.S. states, reported record increases in COVID-19 deaths on Friday, according to a Reuters tally.
Florida reported 257 deaths and California 208 fatalities.
In numerical terms, the loss of life in each state is roughly equivalent to the number of passengers on a single-aisle airplane.
For Florida this is the fourth day in a row with a record rise in deaths and for California the second this week. Mississippi, Montana and Nevada also had a one-day record increase in deaths on Friday.
Overall in the United States, deaths have increased by over 25,000 in July to 153,000 total lives lost since the pandemic started.
California became the first U.S. state to have over half a million cases on Friday. Florida is in second place with over 470,000 infections.
California's death toll rose to over 9,200, the third highest in the country behind New York and New Jersey. Florida ranks eighth with nearly 7,000 deaths.
California and Florida are among 19 states that saw cases more than double in July.
Florida had over 311,000 new cases in July, more than triple the 96,000 new cases it reported in June. The state also recorded over 3,400 deaths in July compared with about 1,000 the prior month.
Florida reported record one-day increases in cases three times during the month, with the highest on July 12, at 15,300 new cases in a single day.
California had over 260,000 new cases in July with a record one-day increase of 12,120 on July 22.
Nationally, deaths are rising at their fastest rate since early June and one person in the United States died about every minute from COVID-19 on Wednesday, the day with the largest increase in deaths so far this week. (Graphic: https://tmsnrt.rs/2P87LUu)
(Reporting by Lisa Shumaker in Chicago and David Shepardson in Washington, Editing by Rosalba O'Brien and Cynthia Osterman)
This story has not been edited by Firstpost staff and is generated by auto-feed.
Find latest and upcoming tech gadgets online on Tech2 Gadgets. Get technology news, gadgets reviews & ratings. Popular gadgets including laptop, tablet and mobile specifications, features, prices, comparison.
Business
By Foo Yun Chee BRUSSELS (Reuters) - The European Union's executive on Friday wrapped up preliminary talks with French drugmaker Sanofi aimed at securing its COVID-19 vaccine for the 27-country EU bloc, the latest deal with vaccine producers. Armed with an emergency fund of more than 2 billion euros ($2.4 billion), the European Commission wants to strike deals with up to six drugmakers for their vaccines for their 450 million citizens against the coronavirus that has killed 674,000 people worldwide
Business
By Lucia Mutikani WASHINGTON (Reuters) - U.S. consumer spending increased for a second straight month in June, setting up consumption for a rebound in the third quarter, though the recovery could be limited by a resurgence in COVID-19 cases and the end of expanded unemployment benefits.
Business
By Steve Holland and Daphne Psaledakis WASHINGTON (Reuters) - The United States intensified its economic pressure on China's Xinjiang province on Friday, imposing sanctions on a powerful Chinese company and two officials for what it said were human rights abuses against Uighurs and other ethnic minorities. The move, the latest blow to U.S.-China relations, came a week after U.S