Burning Gaza becomes a spectacle for popcorn-munching Israelis
The conflict in Gaza flared up after three Israeli teenagers were abducted and murdered while hitchhiking in West Bank on 2 June.
Over the last nine days, Israel has struck over a 1,000 targets in Gaza in a bid to stamp Hamas out of the disputed area. Even as Gaza reeled from the punishing strikes, which has resulted in the death of 200 Palestinians, unfazed Israelis are sitting back to enjoy the view.
Dutch journalist Allan Sørensen, who works for Dutch publication Kristeligt Dagblad tweeted the photo below, terming it "Sderot cinema," which shows Israelis on a hilltop near the southern town of Sderot, sitting on couches, smoking hookahs and munching on popcorn with a clear view of Gaza--the choice of entertainment.
Sderot cinema. Israelis bringing chairs 2 hilltop in sderot 2 watch latest from Gaza. Clapping when blasts are heard. pic.twitter.com/WYZquV62O7

— Allan Sørensen (@allansorensen72) July 9, 2014
Sørensen, who captured and tweeted the dehumanising moment when several Israelis cheered as the military relentlessly struck Gaza told the New York Times that this wasn't a new sight:
"Explaining that he has also previously witnessed Palestinians cheering news of bombings that killed Israelis, Mr. Sørensen said that, in a war, "this is what happens." Civilians and fighters on both sides, he said, "go through a process of dehumanizing the enemy,"
Other such photos show many with monoculars watching the strikes, taking eyes off the bloodshed only when they needed to take cover against Hamas' rockets.
"We are here to see Israel destroy Hamas," Eli Chone, a 22-year-old American living in Israel tells Kristeligt Dagblad  which also quotes his friend as describing the spectacle as "just good fun."
Tamar Hermann, professor of Political Science at Tel Aviv University explaining that violence and entertainment have gone together through history.
"It's not that it must be defended, but it reflects, however, a vision of war that has deep historical roots," says Hermann.
The conflict flared up after three Israeli teenagers were abducted and murdered while hitchhiking in West Bank on 2 June. The next day Israeli PM made his intentions clear as he pledged revenge. Netanyahu's response, a reflection of Israeli anger over the killing of the innocent teenagers prompted Jewish Extremists to kidnap and murder a 16-year-old Palestinian boy, sparking clashes across the region.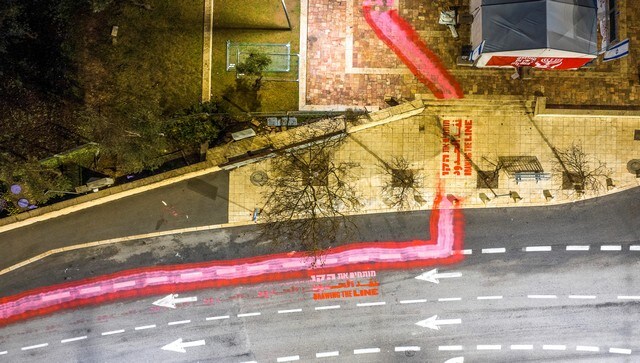 World
Drone footage showed a small group of people in protective suits spraying a wide red stripe along mostly deserted roads leading from a police and magistrate's compound up to the Supreme Court in central Jerusalem
World
Protesters were kicking off a third day of disruption since the crisis began, with roads set to close to make way for demonstrators
World
Saudi Arabia had felt that the West's position towards Iran had weakened, the official said. Nonetheless, it would not impact Israel's bid to establish diplomatic ties with Riyadh, the official said.