British police name suicide bomber, threat level raised to critical | Reuters
By Michael Holden and Andy Bruce | MANCHESTER, England MANCHESTER, England British police on Tuesday identified the suicide bomber who killed 22 people, including children, in an attack on a crowded concert hall in Manchester, and said they were trying to establish whether he had acted alone or with help from others.The man suspected of carrying out Britain's deadliest bombing in nearly 12 years was named as Salman Abedi, aged 22, but police declined to give further details about him.U.S. security sources, citing British intelligence officials, said he was born in Manchester in 1994 to parents of Libyan origin
By Michael Holden and Andy Bruce
| MANCHESTER, England
MANCHESTER, England British police on Tuesday identified the suicide bomber who killed 22 people, including children, in an attack on a crowded concert hall in Manchester, and said they were trying to establish whether he had acted alone or with help from others.The man suspected of carrying out Britain's deadliest bombing in nearly 12 years was named as Salman Abedi, aged 22, but police declined to give further details about him.U.S. security sources, citing British intelligence officials, said he was born in Manchester in 1994 to parents of Libyan origin. He is believed to have travelled by train from London before the attack, they said."Our priority, along with the police counter-terrorism network and our security partners, is to continue to establish whether he was acting alone or working as part of a wider network," Manchester Police Chief Constable Ian Hopkins said.The attacker set off his improvised bomb as crowds streamed out of the Manchester Arena after a pop concert by Ariana Grande, a U.S. singer especially popular with teenage girls."All acts of terrorism are cowardly," Prime Minister Theresa May said outside her Downing Street office after a meeting with security and intelligence chiefs."But this attack stands out for its appalling sickening cowardice, deliberately targeting innocent, defenceless children and young people who should have been enjoying one of the most memorable nights of their lives." Britain has increased its security threat level to "critical" from "severe" following the attack, May said in a later televised statement, adding that members of the armed forces would boost security at key sites and military personnel might be deployed at public events such as concerts and sports events.Islamic State, now being driven from territories in Syria and Iraq by Western-backed armed forces, claimed responsibility for what it called a revenge attack against "Crusaders", but there appeared to be contradictions in its account of the operation.FRANTIC SEARCHES
Witnesses related the horror of the blast, which unleashed a stampede just as the concert ended at Europe's largest indoor arena, full to its capacity of 21,000. "We ran and people were screaming around us and pushing on the stairs to go outside and people were falling down, girls were crying, and we saw these women being treated by paramedics having open wounds on their legs ... it was just chaos," said Sebastian Diaz, 19. "It was literally just a minute after it ended, the lights came on and the bomb went off."
A video posted on Twitter showed fans, many of them young, screaming and running from the venue. Dozens of parents frantically searched for their children, posting photos and pleading for information on social media. Singer Grande, 23, said on Twitter she was devastated: "broken. from the bottom of my heart, i am so so sorry. i don't have words." The attack was the deadliest in the UK since four British Muslims killed 52 people in suicide bombings on London's transport system in 2005. But it will have reverberations far beyond British shores.Attacks in cities including Paris, Nice, Brussels, St Petersburg, Berlin and London have shocked Europeans already anxious over security challenges from mass immigration and pockets of domestic Islamist radicalism. Islamic State has repeatedly called for attacks as retaliation for Western involvement in the conflicts in Syria and Iraq. While claiming responsibility on its Telegram account, the group appeared to contradict the police description of a suicide bomber. It suggested explosive devices were placed "in the midst of the gatherings of the Crusaders"."What comes next will be more severe on the worshippers of the cross," the Telegram posting said.
It did not name the bomber, as it usually does in attacks it has ordered, and appeared also to contradict a posting on another Islamic State account, Amaq, which spoke of "a group of attackers". That reference, however, was later removed."DEPRAVED"
May said security services were working to see if a wider group was involved in the attack, which fell less than three weeks before a national election. Campaigning was suspended as a mark of respect.May spoke to U.S. President Donald Trump, French President Emmanuel Macron and several other foreign leaders on Tuesday about the attack, her spokesman said. She also visited the police headquarters and a children's hospital in Manchester.The White House said Trump had agreed with May during their telephone conversation that the attack was "particularly wanton and depraved".Macron and senior French ministers walked to the British embassy in Paris to sign the condolence book.
German Chancellor Angela Merkel said it "will only strengthen our resolve to...work with our British friends against those who plan and carry out such inhumane deeds".The U.N. Security Council condemned "the barbaric and cowardly terrorist attack" and expressed solidarity with Britain in the fight against terrorism.Queen Elizabeth held a minute's silence at a garden party at Buckingham Palace in London. Manchester remained on high alert, with additional armed police drafted in. London Mayor Sadiq Khan said more police had been ordered onto the streets of the British capital.Police raided a property in the Manchester district of Fallowfield where they carried out a controlled explosion. On Tuesday evening thousands of people attended a vigil in central Manchester in sombre but defiant mood."There's hard times again in these streets of our city, but we won't take defeat and we don't want your pity, because this is the place where we stand strong together with a smile on our face, Mancunians forever," local poet Tony Walsh said in a poem he read to the crowd that drew loud cheers and applause.British police do not routinely carry firearms, but London police said extra armed officers would be deployed at this weekend's soccer cup final at Wembley and rugby at Twickenham. Security would be reviewed also for smaller events.In March, a British-born convert to Islam ploughed a car into pedestrians on London's Westminster Bridge, killing four people before stabbing to death a police officer who was on the grounds of parliament. The man was shot dead at the scene.In 2015, Pakistani student Abid Naseer was convicted in a U.S. court of conspiring with al Qaeda to blow up the Arndale shopping centre in the centre of Manchester in April 2009. (Additional reporting by Alistair Smout, Kate Holton, David Milliken, Elizabeth Piper, Paul Sandle and Costas Pitas in LONDON, Mark Hosenball in LOS ANGELES, John Walcott in WASHINGTON, D.C., Leela de Kretser in NEW YORK, Omar Fahmy in CAIRO and Ben Blanchard in BEIJING; Writing by Guy Faulconbridge, Nick Tattersall, Gareth Jones and James Dalgleish; Editing by Mark Trevelyan)
This story has not been edited by Firstpost staff and is generated by auto-feed.
Find latest and upcoming tech gadgets online on Tech2 Gadgets. Get technology news, gadgets reviews & ratings. Popular gadgets including laptop, tablet and mobile specifications, features, prices, comparison.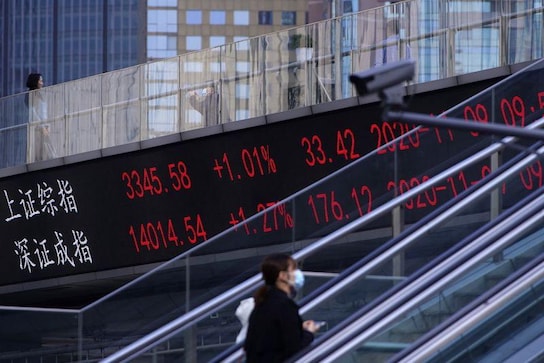 Business
By Chuck Mikolajczak NEW YORK (Reuters) - A gauge of global stocks hit a record and oil prices jumped on Monday as the newest positive data for a potential COVID-19 vaccine and signs of economic recovery in Asia boosted sentiment. U.S. stocks advanced, with the Dow Industrials setting a record as it neared the 30,000 mark for the first time, after pharma company Moderna said its prospective vaccine was 94.5% effective in preventing the illness, which has crushed economies across the globe
Business
By Anirban Sen and Joshua Franklin (Reuters) - Airbnb Inc's initial public offering (IPO) registration showed on Monday that the home rental startup turned a profit in the third quarter despite the COVID-19 pandemic, as it gears up for one of the most anticipated stock market debuts in recent years. The filing, published ahead of Airbnb's anticipated stock market debut in December, showed a dramatic recovery in its fortunes, after the coronavirus outbreak dragged down its core home rental business during the first half of the year. The slump forced it to lay off 25% of its workforce in May, suspend marketing activities for the year and seek $2 billion (£1.5 billion) emergency funding from investors, including Silver Lake and Sixth Street Partners, at a valuation of $18 billion
Business
By David Lawder WASHINGTON (Reuters) - U.S. President-elect Joe Biden said on Monday the United States needed to negotiate with allies to set global trading rules to counter China's growing influence but declined to say whether he would join a new China-backed Asian trade pact signed on Sunday.