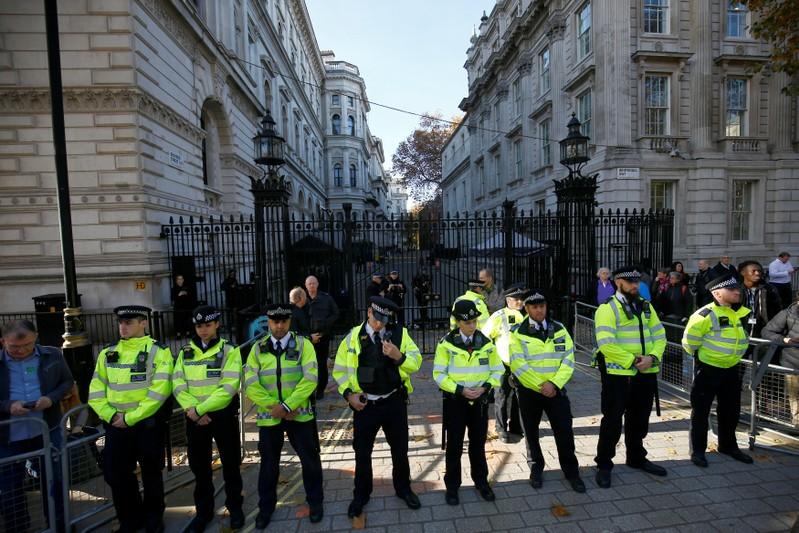 By William James and Kylie MacLellan
LONDON (Reuters) - British Prime Minister Theresa May sought to sell a draft Brexit deal to her ministers on Wednesday but faced mounting opposition from some lawmakers and allies who said it threatened the government and the unity of the United Kingdom.
The BBC's political editor said anger among Brexit-supporting lawmakers in May's Conservative Party was so high that it was likely they would call on Thursday for a vote of no confidence in her leadership of the party.
May, the weakest British leader in a generation, hailed her deal ahead of a crunch meeting with senior ministers, but opponents in her party said it was a surrender to the EU and they would vote it down.
The cabinet meeting began at 1400 GMT but was still going on more than four hours later, prompting speculation that May could be struggling to convince her most senior allies that she should put the draft deal to the test in parliament.
"Senior Tory (Conservative) tells me Brexiteer anger so high that seems likely there will be a call for no-confidence vote tomorrow - letters going in," BBC Political Editor Laura Kuenssberg said.
A leadership challenge can be triggered if 15 percent of Conservative members of parliament write letters demanding a confidence vote to the chairman of the party's "1922 Committee", which represents lawmakers who have no government jobs.
The Conservatives have 315 MPs, so 48 would need to write such letters for a confidence vote to be called.
Sterling, which has seesawed downward since reaching $1.50 just before the 2016 referendum, was down around 0.5 percent on the day at $1.2898.
The ultimate outcome for the United Kingdom remains uncertain: scenarios range from a calm divorce to rejection of May's deal, potentially sinking her premiership and leaving the bloc with no agreement, or another referendum.
May, an initial opponent of Brexit who won the top job in the turmoil following the referendum, has staked her future on a deal that she hopes will solve the Brexit riddle: leaving the EU while preserving the closest possible ties.
To get the deal approved, May needs about 320 votes in the 650-seat parliament.
(Additional reporting by Elizabeth Piper and Kate Holton; Writing by Guy Faulconbridge and Michael Holden; Editing by Kevin Liffey)
This story has not been edited by Firstpost staff and is generated by auto-feed.
Firstpost is now on WhatsApp. For the latest analysis, commentary and news updates, sign up for our WhatsApp services. Just go to Firstpost.com/Whatsapp and hit the Subscribe button.
Updated Date: Nov 15, 2018 02:05:31 IST