Britain's work and pensions minister McVey quits over Brexit deal
LONDON (Reuters) - Britain's work and pensions minister Esther McVey quit Prime Minister Theresa May's cabinet, the second senior minister to resign on Thursday over a Brexit deal agreed between London and Brussels. 'The deal you put before the Cabinet yesterday does not honour the result of the referendum', McVey wrote in a letter to May, joining Brexit Secretary Dominic Raab in quitting over May's draft Brexit deal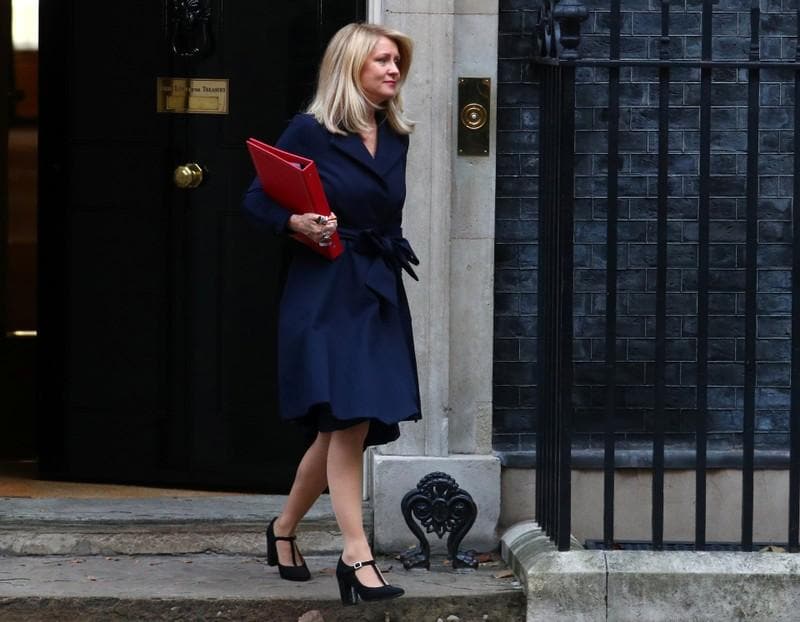 LONDON (Reuters) - Britain's work and pensions minister Esther McVey quit Prime Minister Theresa May's cabinet, the second senior minister to resign on Thursday over a Brexit deal agreed between London and Brussels.
"The deal you put before the Cabinet yesterday does not honour the result of the referendum", McVey wrote in a letter to May, joining Brexit Secretary Dominic Raab in quitting over May's draft Brexit deal.
May gained collective but not unanimous approval for her Brexit plan from senior ministers on Wednesday, and McVey said that the withdrawal agreement was not what Britons voted for when they chose to leave the European Union in 2016.
"It will be no good trying to pretend to (Britons) that this deal honours the result of the referendum when it is obvious to everyone it doesn't," she wrote.
"The proposals put before Cabinet, which will soon be judged by the entire country, means handing over around 39 billion pounds to the EU without anything in return... We have gone from no deal is better than a bad deal, to any deal is better than no deal."
The resignations of the senior ministers thrust the United Kingdom into a political crisis just as May was attempting to garner support for a Brexit deal which her opponents have warned could sink her premiership.
(Reporting by Costas Pitas, Sarah Young and Alistair Smout; editing by Guy Faulconbridge)
This story has not been edited by Firstpost staff and is generated by auto-feed.
Business
(Reuters) - Alphabet Inc's self-driving unit Waymo said on Thursday it had partnered with Google's Maps to let users book fully autonomous ride-hailing services through the app.
Business
FRANKFURT (Reuters) - Tesla on Thursday revised its application for a planned gigafactory in Europe to include details for plans to produce battery cells on site and an expansion of other production lines, German officials said. It also includes plans to reduce water consumption so that usage remains constant compared to earlier proposals despite the expansion. Tesla has sharply criticised the lengthy regulatory processes in Germany and has pushed back the factory's opening date.
Business
By Mathieu Rosemain PARIS (Reuters) - U.S. social media giant Facebook has offered to commit to providing its partners with clear and objective conditions of access to advertising inventories and ad campaign data, France's antitrust authority said on Thursday following an investigation.